Do you enjoy traveling? Are you always excited to talk about vacations, worldwide attractions, and short trips? If you answered yes, perhaps you should consider becoming a work at home travel agent. Why not?
It's a flexible job, and agents are able to work comfortably from home online while enjoying several benefits.
This post may contain affiliate links. For more information read full disclosure.
What Do Travel Agents Do?
Planning a trip can be hard. That is why travel agents are here to help and make the process easier so that you can have the best travel experience.
A travel agent also called a travel arranger acts as an advisor for individuals, families, and other clients.
They give recommendations for trips, cruises, resorts, the best vacation destinations, and business travel.
They're also seen as sales agents that provide information about travel advisories, passport regulations, vaccination, currency exchange, and weather conditions in different countries.
Clients can relax as their flights are booked, travel packages from multiple hotels or resorts are ready, and rental arrangements are made.
Agents also stay tuned into news updates from international countries to ensure the destination chosen by customers is safe and are also tasked with last-minute itinerary changes for existing customers.
What Qualifications Are Needed?
Worried that you'd like to be a work-at-home travel agent but have no experience? Take comfort in knowing experience is not essential at the start of your career.
No specific qualification is required to become a travel agent but a travel consultant course or bachelor's degree can be quite useful in marketing your services. Here are a few essential skills that will boost your experience in the field.
Everyone loves good customer service and clients feel valued when agents exert this skill.
Travel agents are not just advisors but they also need to be persuasive sales agents. Engaging with clients is good but conquering competition by securing a deal is crucial to a successful career.
Being a good travel agent requires quality communication skills and patience in helping persons make decisions.
Organizational skills and time management skills are valuable for you to manage multiple clients and also if you have another full-time job.
The best travel agents have excellent research skills to give up-to-date advice. If you're passionate about travel and helping people it's easier to create a genuine flow of information.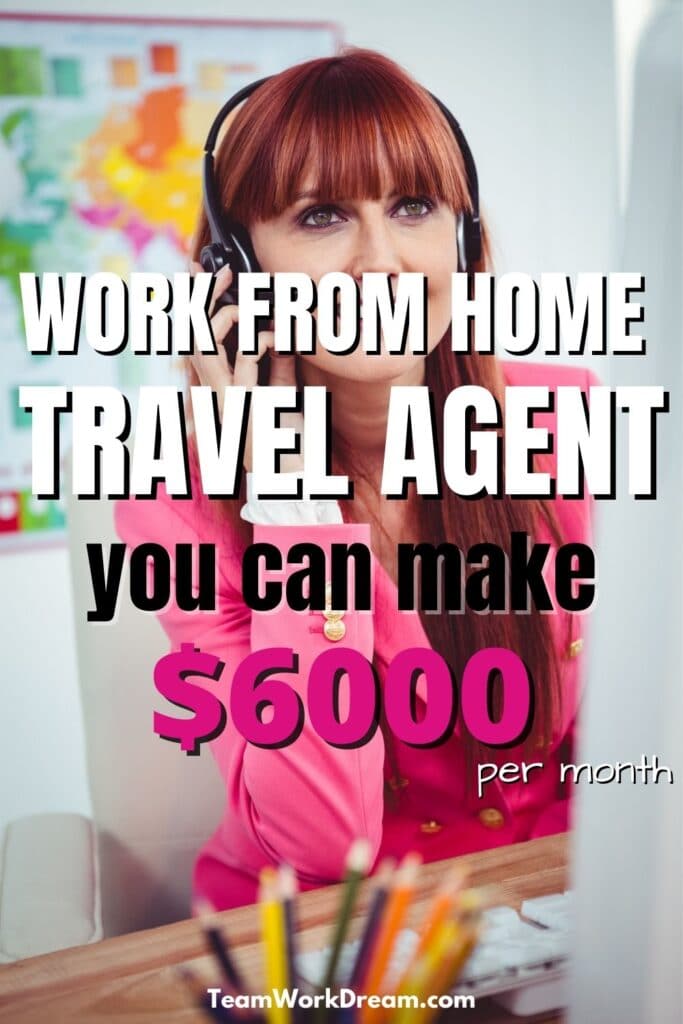 What Equipment Do You Need?
To start up your online travel agent business you will need some basic skills and knowledge that were discussed above but you will also need some basic equipment.
Best Work at Home Travel Agent Companies
If you don't intend to work solo as a travel agent, working with a host agency or travel company can provide you with the resources and guidance to build your experience.
Beginner travel agents are usually offered training and support by some companies. Here are a few companies that may hire and train you to become an online travel agent depending on your experience in customer service:
This company concentrates on travel services in government and the corporate world.
Travel agents who are hired to work remotely must have knowledge of passport and visa requirements, Federal Travel Regulations, and experience with GDM systems.
BCD is a travel company that provides business travel services. They offer jobs to work at home travel consultants but at least three years of experience in the travel industry is crucial.
If you'd like to find work-at-home travel agent jobs Carlson Wagonlit travel offers both part-time and full-time positions.
If you have a minimum of 1-year experience in customer service or travel counseling that further increases your chance of getting hired.
Dream Vacations
At dream vacations not only do you get the chance to become a travel agent, but you can operate a Dream Vacations franchise.
Agents receive commission weekly and there is a low investment requirement with little overhead costs. This way you can be your own boss but have the perks of representing the company.
FROSCH is a travel service company that provides leisure and business travel services.
To get hired as an online travel advisor the company requires experience in business travel, preparation of travel documents, and excellent customer service for all clients. They also offer full-time and part-time remote positions.
Ovation Travel is a US-based company that is a part of American Express that offers corporate and leisure services to clients.
To get hired as a remote travel consultant, experience in organizing travel for corporate and individual or group clients would be an asset.
Uniglobe Travel Center
The UTC company has operated for over 20 years offering travel services in the professional industry. They provide coaching and mentoring for their travel agents and offer competitive commissions.
Other Companies:
Hilton
Oasis
Nexion Travel Group
Montrose Travel
Pana
Cadence
How Much Do Home-based Travel Agents Make?
The amount of money you can make as a home-based travel agent depends on the region in which you operate as well as the effort you put into the job. That is, what is being sold and how well you are able to close deals. Other factors such as:
your level of experience
niche
the type of company or agency you work with
or if you choose to work independently
can limit or expand the amount earned. If you intend to make this your mainstream of income, networking and a significant following on social media can help you make the right connections.
Some travel agents are able to score an annual 6 figure salary.
The Bureau of Labour Statistics (BLS) showed that the average salary earned by travel agents ranges between $25,230 and $73,360. They also earn money in commission.
Final Thoughts on Work at Home Travel Agents
Being an online travel agent is fun when you enjoy talking about travel. You could choose to focus on group travel for families and friends or luxury travel which is in high demand for those seeking to view posh sceneries.
Cruises are popular and pay high commissions while clients have the time of their life with all-inclusive entertainment and tour.
There are also other forms of travel niches you can focus on to meet your income expectations.
I hope this information was able to help you decide how to become a work at home travel agent.
Related Posts