Wondering how to make and sell NFT art? Look no further. This guide will give you the complete low-down on how you can turn your wonderful digital creations into very real currency.
Hold up. WTF is an NFT? Don't worry if this little acronym has got you feeling a little bit confused – NFT stands for Non-Fungible Token, which basically means a unique, completely verifiable item that cannot be replicated.
Think of these funny little tokens as the digital equivalent of famous artwork that you would find in a gallery.
Sure, you can copy a Picasso artwork as many times as you would like, but only one person can own the original. And for NFTs, this is easily checked by scoping out the transaction history of the art.
From the wacky Bored Ape Yacht Club (where owning a token doubles as membership to an exclusive club!), to uber-adorable kittens and even horse racing courtesy of Zed Run, the NFT world is teetering on the edge of a full-scale explosion.
Read on if you're ready to start selling NFT art…
Terms Mentioned in This Article:
Blockchain – A decentralized ledger that records a total list of transactions in blocks. It's very secure and is unable to be hacked.
Minting – Similar to minting a coin, minting an NFT gives it an official place on the blockchain and allows it to be traded.
Gas Fees – These are the cost of transactions and can vary from wallet to wallet.
Ethereum – A type of cryptocurrency that is decentralized and uses smart contracts to complete transactions.
Fiat – A Government-owned currency, i.e. GBP or USD.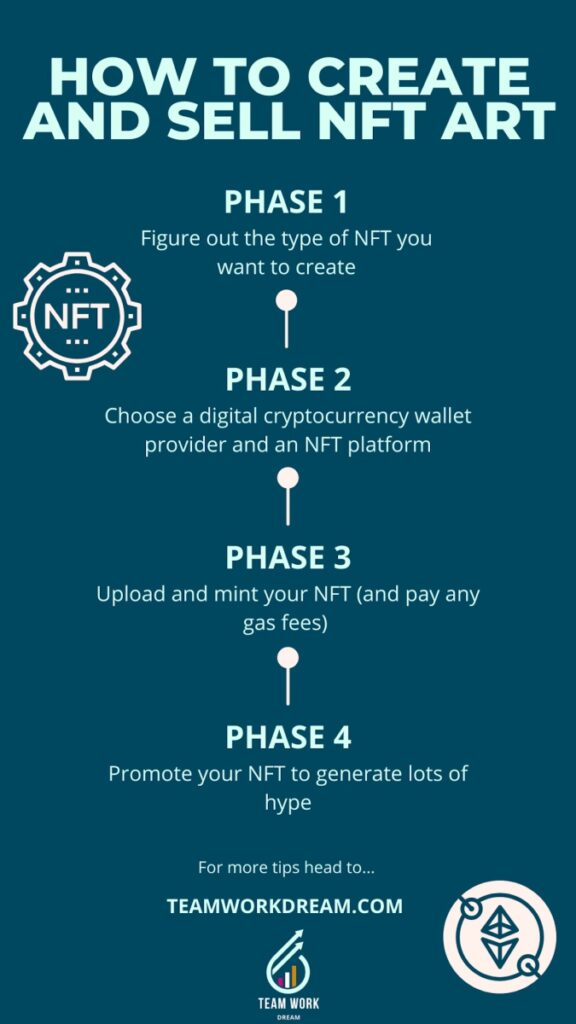 Why Make and Sell NFT Art?
From Twitter's former CEO Jack Dorsey, to Paris Hilton and Jimmy Fallon (a rather eclectic mix, we know), it seems as if everybody and their dog is getting involved with NFTs.
Gone are the days when your social status was emphasized by designer bags and shoes, instead, exclusive digital art plastered across your socials is the next big thing.
There Are Lots of Opportunities within the NFT Space
With its popularity increasing, there are so many opportunities within the space. And if you're looking to make money from the comfort of your own home (or, you know, swinging from a hammock in Hawaii, sipping a Pina Colada. Ahhh, bliss), this is one of the simpler ways to go about it.
Though, it's important to remember that this is not an instant money-making kind of deal. That would be far too easy.
It's true, however, that if your NFT collection is a hit, it can make big amounts. That said, there are a couple of things to think about before going full steam ahead with creating NFTs.
Many big companies are begining to invest time and money into the NFT space, with the likes of Adidas collaborating with Bored Ape Yacht Club and Mcdonalds introducing the iconic McRib NFT. If this isn't reason enough as to why you should learn how to start selling NFT art, we don't know what is.
NFTs are Secure on the Blockchain
Okay – but what does that actually mean? In short it means that, once minted, any work you create is totally secure, unable to be hacked, and unable to be replicated. Unlike with physical artwork, where copycats are rife.
Getting your head around what the blockchain is can be quite a feat, though all you need to remember is that the blockchain refers to a complete list of stored transaction histories that completely verify an NFT.
Making NFT Art is a Relatively Low-Cost Investment
First of all, whilst any costs of creating the actual NFT are minimal (read: totally free in most cases), there are plenty of fees involved with the uploading of these artworks onto digital platforms. More on that later.
Now, it's safe to say that these costs can be a worthy investment in the long term, except that there are no guarantees that your NFTs are going to sell like hotcakes.
It takes a lot of commitment and time to generate NFT sales and, as with anything finance-related, you'll need to make sure you're totally clued up in order to maximize profits and reduce your financial risk.
Trends = Sales
Whilst we cannot guarantee your NFTs are going to be a smash hit, it's worth looking at the trends within the space to influence the kinds of tokens you're creating. This gives you a much higher chance of making money once you've decided how to sell an NFT art piece.
In recent months, the most popular creators have been those selling PFP (profile picture) NFTs, with the likes of the Apes and Punks bringing in significant amounts of money. If you're struggling to decide on what kind of NFT art you would like to sell, it's worth checking out trending pieces and seeing how you can contribute to the space.
There are also ways of creating passive income from NFTs which I talk about in this post.
How to Make NFT Art to Sell
If you're wondering how to make NFT art to sell, let us help to simplify the process.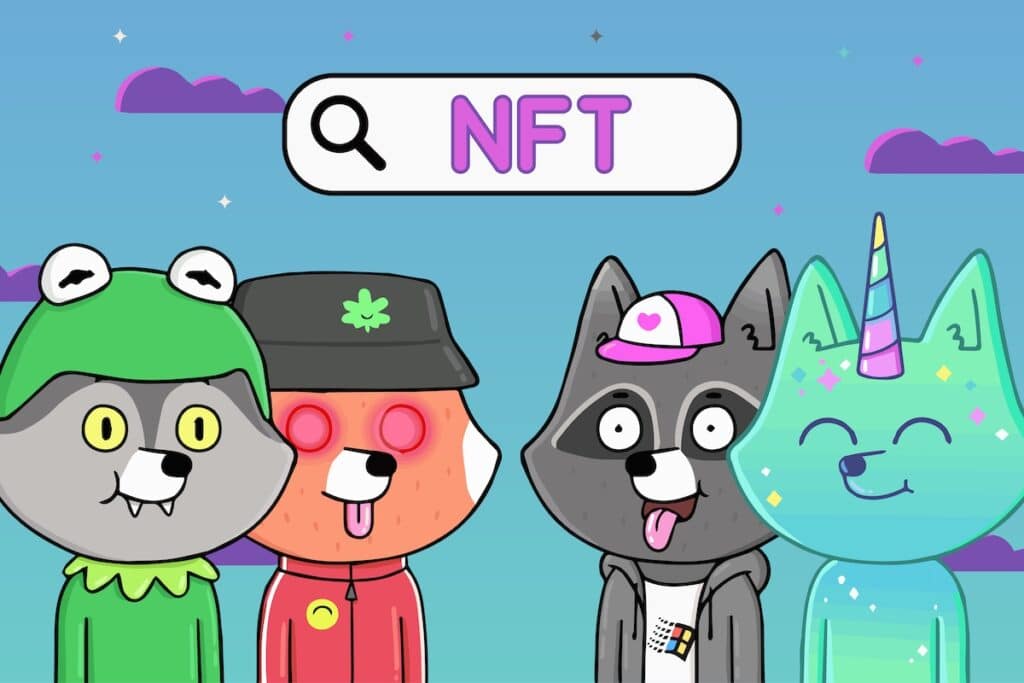 Choose The Format of Your NFT Art
Before you begin the physical creation process of making your NFT, take some time to think about the concept – is this going to be a one-off piece? A collectible item?
Some of the most popular NFTs are collectible items – for instance, Bored Ape Yacht Club and CryptoPunks – where rarer items are highly sought after.
Create Your NFT Art
You'll be glad to hear that the actual creation process of making an NFT can be as cheap and easy as you want (or need) it to be. If you're a Photoshop pro or a whizz at digital drawing, great news – you're already winning.
But, don't stress if your art skills leave little to be desired, as there are plenty of programs out there that do all the hard work for you.
NFTs can be created in virtually any format – from 2D artwork or gifs to collectible play-to-earn game items and digital fashion accessories. And because of this, you can use any program that allows you to create your chosen output.
Popular Platforms For Creating NFT Art
If you're wondering how to make and sell an NFT, you'll be glad to know that there are hundreds of programs out there to assist you on how to sell your NFT art. Our favourites include:
Choose a Name and Description for the NFT
Once you have created your NFT file, it's a good idea to come up with a title and a description for your work. Again, this can be as simple or as nuanced as you see fit. Some creators opt for funny descriptions, whereas others simply describe their NFT in as few words as possible.
Creating some form of cohesive backstory to your collection of NFTs will make them far more attractive to potential buyers – even if that back story is that they are all random musings.
A brilliant example of this is CryptoKitties, where each collectible cat has its own personality which is explained through the description – the weirder, the better. Totally adorable.
Once you've created your art, it's time to learn about how to sell your art as NFTs.
How to Sell NFT Art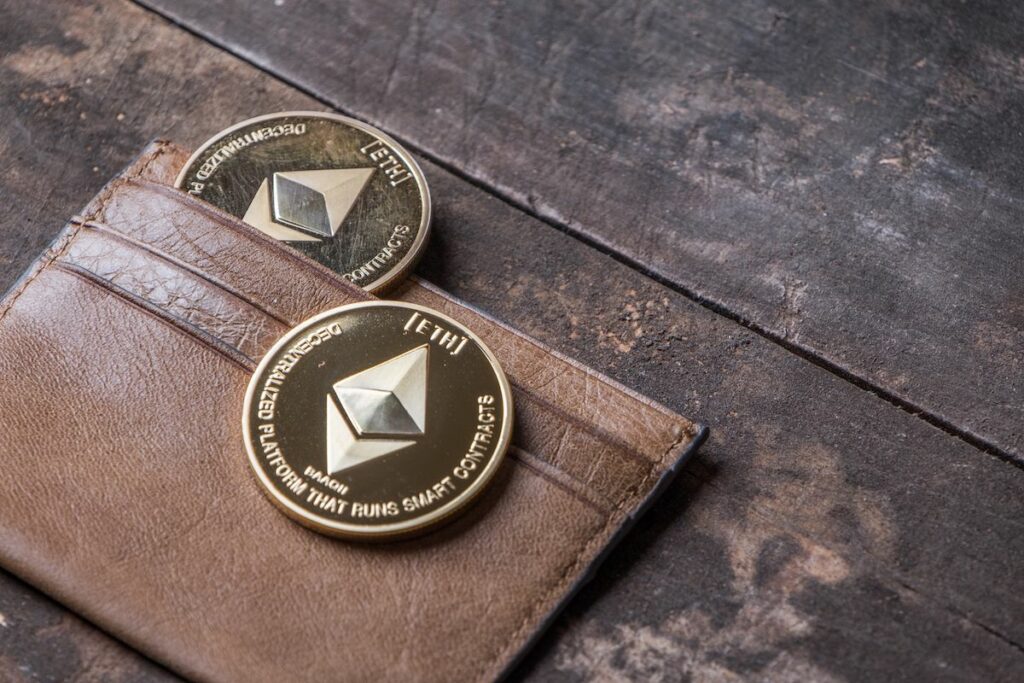 Choose a Cryptocurrency Digital Wallet Provider
Before you can begin to make any moves within the cryptocurrency sphere and start selling NFT art, you'll need to get yourself a digital wallet where you can store currency.
For beginners, the best cryptocurrency wallet is Coinbase – which acts as an exchange. Not only is it very simple to use, but the app also allows you to learn and earn, giving you the chance to experiment with zero risk.
The only downside of using Coinbase is that their fees are some of the highest. Though when learning how to sell your art as an NFT, this can be worth it in the early stages.
Alternatively, eToro is another great digital currency wallet with fairly low fees for transferring between wallets. They also boast Negative Balance Protection, ensuring that you'll never lose more funds than you have deposited into your account.
Binance is also a great option for digital wallets – especially for those who are well-acquainted with the phenomenon of digital currency. The fees are very low, which is great if you're planning on making plenty of transactions, though the app is slightly harder to navigate (particularly for beginners).
If you're wondering just how do you sell NFT artwork, it's worth getting yourself a MetaMask wallet – this works with the Ethereum blockchain and allows you to easily store cryptocurrency and your purchased NFTs.
Add Cryptocurrency to Your Wallet
Before you can sell your NFT on a platform, your work will need to be minted. This term refers to the process of converting your art files into digital assets stored on the blockchain.
You'll need to cover the costs of this upfront (usually with Ethereum), and so you'll need to add cryptocurrency to your wallet beforehand.
If you opt for Coinbase, this is as simple as linking your bank account and purchasing the correct cryptocurrency coin.
It's worth checking the minting and gas fees on your platform of choice – however, most will charge around 2.5% of the final price for each.
Top tip: Make sure you purchase the correct cryptocurrency for the site you will be using.
Choose an NFT Platform
Before you can sell your NFT, you'll need to think very carefully about your chosen NFT platform.
There are plenty floating around online, though OpenSea is by far the largest and most popular platform for browsing and selling NFTs – and it's the one we recommend you start with.
You'll also want to consider the token that is used on the market – OpenSea primarily uses Ethereum, a popular currency that has higher gas fees but is generally more stable than others.
Other popular NFT platforms include:
Once you've decided upon your NFT platform, it's time to connect your wallet so that you can learn how to sell digital art NFTs.
Connect Your Digital Wallet to an NFT Platform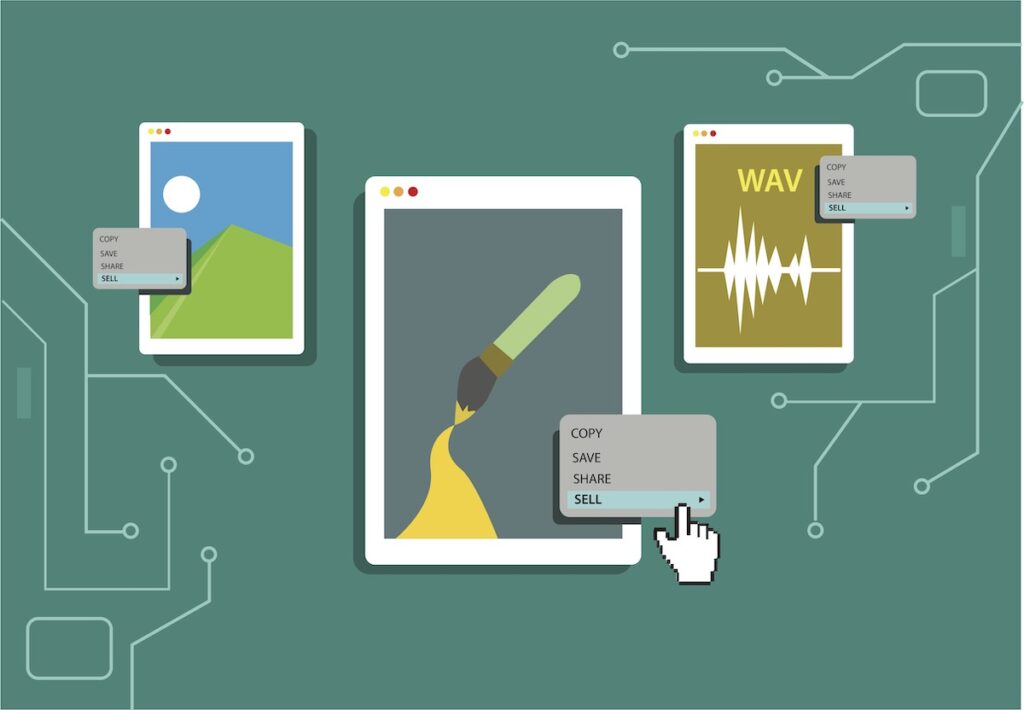 When learning how to sell NFT artwork, there are a few steps you'll need to really understand before diving straight into the process.
First of all: check that your wallet type is compatible with the NFT platform you are seeking to join. Ethereum is by far the most popular cryptocurrency as of right now, but it's important to check in advance to save yourself extra time and fees for switching your currencies around.
Coinbase and eToro are great wallets for holding cryptocurrency in, but to make transactions on marketplaces like OpenSea, it's far easier for you to set up a MetaMask wallet. MetaMask is, by far, the most popular wallet linked to OpenSea, and can be used to store currency and NFTs.
When setting up your wallet, you'll be given a selection of seed phrases that act as backup verification for your account. Be warned: if you lose these phrases, you will lose the wallet completely, along with any currency and NFTs that are being held inside.
The simplest way to do this is to send money from your Coinbase wallet to your MetaMask (which will cost a small fee), and then use this wallet to pay any minting or gas fees direct to the marketplace.
Upload and Mint your NFT
Before you can sell your NFT, it needs to be minted. Minting an NFT refers to the process of taking a digital file and uploading it onto the blockchain, where all of its future transactions can be recorded.
The minting process is triggered as soon as you've signed your NFT (which happens when you upload it onto the site) and paid the gas fee – any costs associated with uploading your NFT and using a platform such as OpenSea.
Once your NFT has been minted, it can officially be bought or sold on the marketplace. Happy days.
Decide on the Method of Sale of Your NFT Art
So, your NFT is created, minted, uploaded, and ready to go. What's next?
Once your NFT has been uploaded onto your chosen site, you'll need to decide between the different methods of sale: fixed price, open bids, or live auction. Let's take a look at the differences between the options…
Fixed Price
First of all, fixed price is self-explanatory. You can list your art as if it was a virtual store (similar to eBay or Etsy) and a buyer can purchase the artwork in the traditional way.
This is a great option if you have a price in mind and you don't want the extra work of having to run auctions and constantly respond to bidders. Although, it can restrict the eventual selling cost significantly.
Open Bids
If you would like to leave your item open for bids over a longer period of time, you can allow potential buyers to compete in an eBay-style battle, where the highest bidder wins.
This often generates more interest than those NFTs that are fixed price, as the time limit gives a sense of urgency – expect to receive a few different bids towards to end of the auction period.
This is a great option if you're looking to earn as much money as possible – though, remember that nothing is guaranteed, and you could easily make less than what you would have made on a fixed-price auction.
Live Auctions
Alternatively, you can host a live auction, where bidders will compete simultaneously to purchase the NFT.
This is most effective when plenty of hype has been generated around your artwork, attracting multiple interested buyers – this is where some artists see their NFTs go for two or three times the regular floor price, with overexcited bidders skyrocketing the price of the art.
Although, it's worth noting that this is riskier than a fixed price listing as there's no way to tell just how much profit you will make.
You might also see people discussing "off-chain" auctions – where the auction is taken off the platform and can be completed in a vast number of cryptocurrencies and fiat (your IRL, Government currency).
However, if you're a beginner learning about how to sell art as NFTs, it's worth sticking on-chain and using the currency of the site – which is most likely to be Ethereum.
Promote your NFTs
When it comes to creating and selling NFT art, exposure is vital. If you're looking to generate hype around your NFTs (and let's be real, why wouldn't you be?), promotion is key.
Through Social Media
The easiest (and cheapest way) to promote your NFT is through social media.
Utilizing hashtags, hopping onto relevant Twitter Spaces, and engaging with the NFT community online will increase your exposure and – hopefully – increase the amount of interest in your art.
Our top tip is to use Twitter Spaces – they are held particularly frequently within the NFT community, with plenty of big names hosting live audio talks and hundreds of potential buyers listening.
If you're feeling brave, host your own and tell the world why your NFTs are so great!
Giveaways and Sales
Other ways to generate interest around your NFTs include hosting giveaways and sales.
It's also a great idea to join Discord and Reddit servers and use these to promote your work (though remember to follow the group's rules or you'll find yourself swiftly banned).
Many of these kinds of groups will have specific time slots where they allow creators to push their NFTs, without becoming too much of a nuisance on the rest of the group who may not be interested in making a purchase. Make sure that you respond swiftly to potential buyers – after all, networking is key!
Read Next: How to Make Your NFT Stand Out
How to Make and Sell NFT Art: Key Tips
When learning how to start selling NFT art, these are the main steps that you will need to follow:
Figure out what kind of art you would like to create and the programme/s you will need to make this possible. Do some research into the top-selling NFTs and see how you can utilize this. Also, consider whether your artwork will be part of a wider collection or a one-off piece.
Choose a digital cryptocurrency wallet provider and an NFT platform that you would like to use to host your artwork, making sure that you connect your wallet to the platform in advance.
Upload and mint your NFT (and pay any gas fees), add a title and description, and decide upon whether you would like to stick with a fixed price or host an auction.
Promote your NFTs to generate lots of hype.
Love This? Save and Share on Pinterest!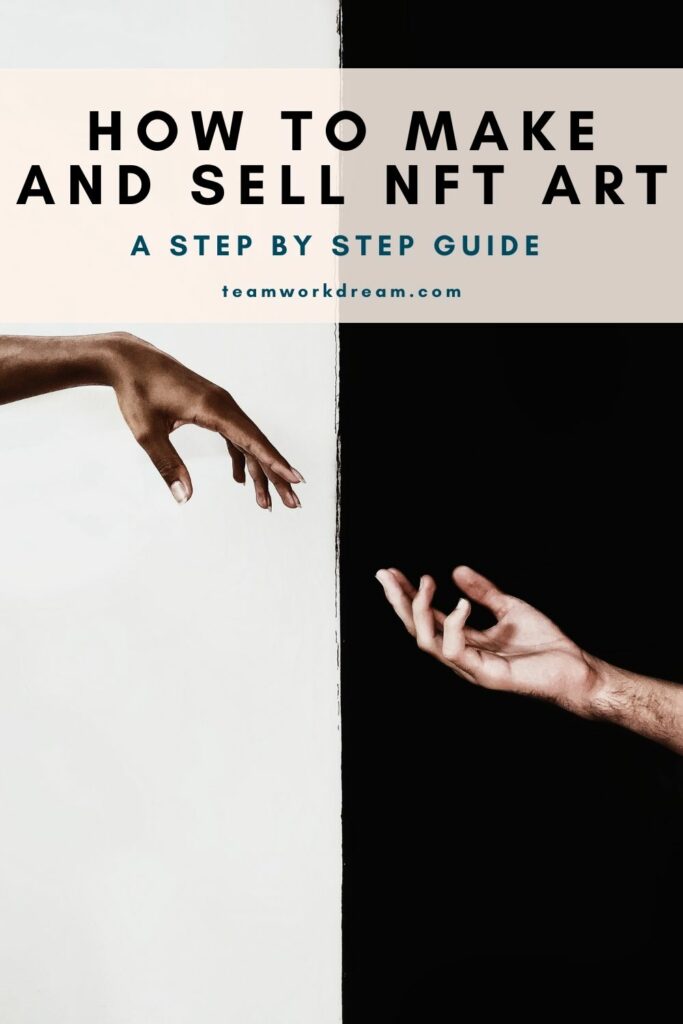 How to Make and Sell NFTs: Read Next