Do you want to earn a passive stream of income? Well, if you're creative why not make printables to sell online?
You've probably read about some popular bloggers who make five, six figures from designing helpful printables and I know you have downloaded a few printables yourself.
This post may contain affiliate links. For more information read full disclosure.
So why not make some money by doing the same creating your own unique printables? Besides, it's not that difficult! Simply design a digital printable, make it available for download, and relax as the sales start flowing in.
Now let's get into the details of how you can do this.
What are Printables?

Printables also referred to as digital products are items made downloadable after purchase to make customers' life easier. These can be printed for personal use and include products such as:
Cards
Planners
Invites
Stationery
Worksheets
Checklists
Charts
Coloring pages
Wall Art
Spreadsheets
Calendars
Journals
Templates
Bookmarks
Kids' Activities
Inspirational Sayings
Printables can be sold in PDF, JPG, PNG, SVG and other formats and when purchased once can be used to make multiple copies.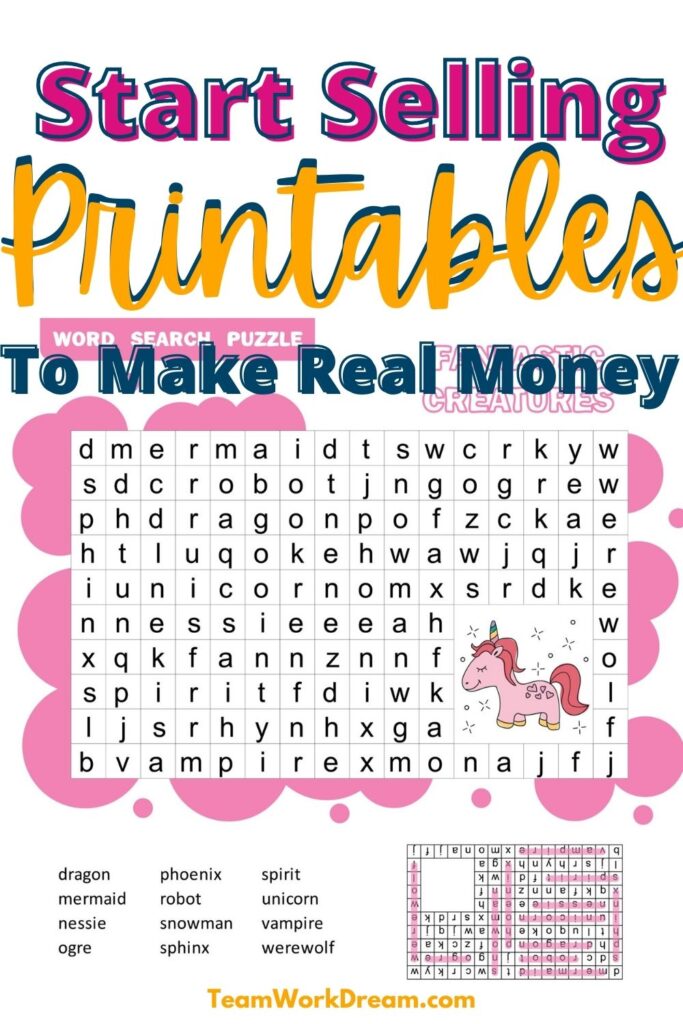 What Software Can Create Digital Printables to Sell?

Choosing software to create digital printables all depends on the type of product you'd like to make. Use software that will create a professional look that potential customers would want to buy at first glance.
Let's take a look at a few design platforms that will help you create the perfect digital printables.
Canva
Canva allows you to create unique graphic printables such as planners, checklists, and wall art. Images can be placed in different areas and are downloadable via the app or you may add your own customized photos.
You can get creative with colors, graphics and it is very user-friendly and quite easy to add text in various fonts. Canva also has a full range of templates for many designs as examples so you can discover and bring out your best creative skills.
You can choose to use the free version when starting out and move onto Canva Pro to use even more features.
Microsoft Office
Using Microsoft Word, PowerPoint and Excel is another great software to create printables. Excel is best used to make spreadsheets, checklists, and calendars. Word or Docs is suitable for creating printables that include a lot of text like charts and journals.
If you're on a budget Google Suite is just as good
Adobe Illustrator
Adobe illustrator is a professional software created for graphic designers but quite simple to use that can spark your creative juices and produce the finest digital printables.
Pictures can be increased or decreased in size without becoming pixelated, and there is an incredible toolset that ensures making customized printables is fun.
This is excellent for all digital printables but supreme for making wall arts, cards, bookmarks, and kids' activities like Wordsearch and coloring books.
Photoshop and Photoshop Elements
Photoshop and Photoshop Elements are other options to create printables if you're not a fan of Illustrator. It makes experimenting with colors and patterns easy. Also adding clipart and high-quality photos is just as fun.
Choose the size your printable will be available in and freely resize without having to redesign the entire thing. With a few clicks and drag, photoshop helps you create captivating products customers will purchase and be satisfied with.
Cutting Machine Software
If you're planning to sell stickers or die-cut printables, a cutting machine like a Cricut will be needed. You can read more about this in How Your Hobby Can Make You Money.
This will ensure you can add registration marks which makes it easier for customers to use their cutting machines to cut out the different designs you create properly.
How To Make Printables Easily
If you've always wanted to make printables for yourself, for others as a passive way to make an income one of the easiest ways to learn how to do this is to follow the simple Printables Plan: Make Printables in Canva.
This in-depth yet simple to use course is created by Mim Jenkinson a six-figure printable success Queen.
You will learn how to use the free software of Canva or you can upgrade to Canva Pro if you choose.
You will learn how to create beautiful planners, helpful trackers, homeschool worksheets, stylish labels, stickers, and other printable products in a straightforward, time-saving, and affordable way.
You will also receive reusable templates that you can easily customize to your own taste to get your printable business up and running in no time.
This course is super inexpensive and once you follow the instructions step-by-step you will make back the cost of the course and then some by creating professional-looking printable designs and earn an online passive income.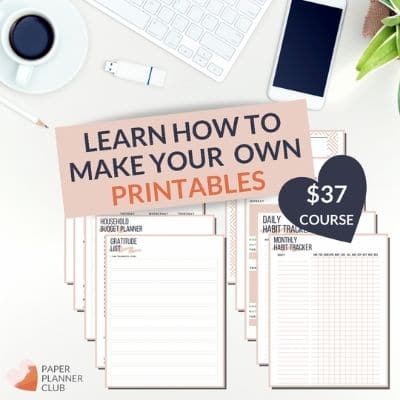 Create Printables Online for Free

Making digital printables is a fun and easy way to generate passive income. Here are five free online sites you can use to begin.
Visme has a wide range of graphs, tables, widgets, and icons for you to choose from with millions of images. Simply signup and start creating the best printables.
Brother Creative Center has thousands of downloadable templates available for cards, stationery, calendars, invitations, and more.
Canva is an online website that can easily be maneuvered to make eye-catching printables. Users can access over 250,000 templates but those cannot be sold. Sign up, upload, or select images you like, then create and save your own products for sale.
Pixlr is an application similar to Photoshop and will allow you to create professional-looking templates, content and digital printables. The Pixlr X version has lots of graphic options and you can easily import Photoshop images and
Desygner is another go-to free website for designing different printables. There are numerous tools and images available to make neat cards, calendars, bookmarks, and more. Choose from a variety of templates or create your own style of products.
Ensuring products look presentable and professional is key to generating increased revenue. Using free online applications can be used in the beginning stages but once fully established and selling well it's best to use professional software for the best quality results for your printables.
Can You Really Make Money Selling Printables?

The answer to that is, yes, you can! Selling printables is a popular method for earning passive income used by bloggers and many individuals. It also attracts buyers to sign up for regular updates on blog posts, keeping viewers interested.
Have you created a printable and want to start earning right away? Below we'll explain all about how much you can make, the best places to post your printable for sale, and how to get customers attracted to your products.
How Much Money Can You Make Selling Printables?

The amount of money you make selling printables highly depends on how you price your items. Yes, it can be difficult to price your products but just do some research on what the going prices are on various sites.
Overpricing can turn away interested buyers and underpricing means you're selling yourself short. Research has shown that printables sold between the range of $2 to $15 generate the most sales.
Using the right methods and selling your printables in the right place, you could make between $50 per week to $1,200 per month and more.
The great thing is printables are not products that require constant monitoring or reloading for users to purchase them. Once it has been made available online for purchase, millions of potential buyers have access.
Where Can You Sell Your Printables?

Printables can be sold on a variety of websites. The most popular places include but are not limited to:
Etsy
This is one of the best places to sell your printables as it has a huge audience that are potential buyers – in fact printables are one of the best-selling items on Etsy full stop. Etsy controls the purchase and delivery of products to customers meaning you won't have to do too much administration as most of the transaction is automated.
Facebook Groups
Facebook Groups is one of the fastest ways to sell your printables. Join groups that sell to other bloggers within your niche so you can attract an audience where clients will purchase and use your products on their blogs.
Shopify
This simple to use e-store builder enables you to quickly build a stunning website using their ready-made customizable templates and plugins.
You'll be able to access SEO features boosting your search rankings and ability to sell on different social media platforms and ecommerce site and easily track your sales.
Fiverr
Fiverr is a freelancing website on which sellers often advertise their printables by creating gigs. To gain sales create an account and become a seller to display sample printables, set your own prices and interested buyers will contact you for orders.
Helpful plugins are used by many bloggers to sell their digital planners, schedules, worksheets, and other products.
Ecommerce Plugins
For the store to work efficiently ensure the plugins have no security flaws in payment options. A great choice for using plugins on your website is WooCommerce but there are many others you can choose from.
Teachers Pay Teachers
The Teachers Pay Teachers site allows sellers with a basic account to set up a shop that earns 55% of sales inclusive of a $0.30 transaction fee.
Once you decide to sell full-time you are able to upgrade to a premium account where sellers receive 80% of sales and a $0.15 transaction fee for sales under $3.
What are the Best Selling Printables?

There are a number of printables that gain sales quite consistently throughout the year. If your products lie within these areas, you are sure to have a number of sales.
Wedding Signs
Table Numbers
Wedding Planners
Inspirational Quotes
Coloring Pages
Journals
Checklists
Table Numbers
Wall Arts
Theme Party Invitations
How To Get People to Buy Printables?

Having very creative printables and lacking knowledge on how to market them can leave a huge gap in your earnings. Simply posting your printables on a website for sale can do good, but with these ideas, you can do even better.
Use Social Media Ads – The average social media user spends at least two hours per day online. Displaying ads will grab the attention of your targeted customers.
Use Your Blog- If you have an existing blog, highlight how purchasing the printable could make the reader's life easier. For example, on your fitness blog discuss the importance of sticking to a proper diet and refer to your meal planner
as a digital downloadable product that helps users stay on track.
Create a YouTube Channel- make videos showing how your printables can be used whether as a hardcopy or softcopy.
Notify Customers- if you operate an existing business notify customers about the new digital products you have to offer via email, messages, and even flyers.
Final Thoughts
Anyone can make digital printables and earn passive income on a weekly or monthly basis. Imagine raking in over $1000 per month and doing nothing after uploading your downloadable products. Sounds awesome right?
Simply decide on what you'll be creating, see what is in demand and find your target market.
Once you've done that you can customize your chosen designs, upload to social media or a website and make them downloadable for customers to buy. It's easy!
This can be done as a profitable side hustle that requires little to no monitoring. Now, you can go about your day as usual, and make money from increased sales for years to come without too much effort.
Related Posts