If you have expert knowledge on subjects you did or taught in school, you could be making extra money by doing homework for others.
Many individuals are not good at varying subjects and are willing to pay to get extra help. This is your chance to offer assistance and earn cash.
This post may contain affiliate links. For more information read full disclosure.
Is It Legal to Get Paid to Do Homework for Others?
Yes! It is definitely legal to do homework for others and get paid as no existing law states otherwise. Tutors have been helping students of varying learning levels and getting paid to do homework for decades.
Students with learning disabilities, time constraints, personal issues, and those lacking understanding of particular concepts have offered to pay for help.
Legit Companies That Pay You to Do Homework Online
There are several platforms from which you can operate and offer your services. However, it is important to look out for scams from websites that collect completed homework and don't issue payments.
This is why we have selected 12 legit websites where you can work and get paid to do students' homework.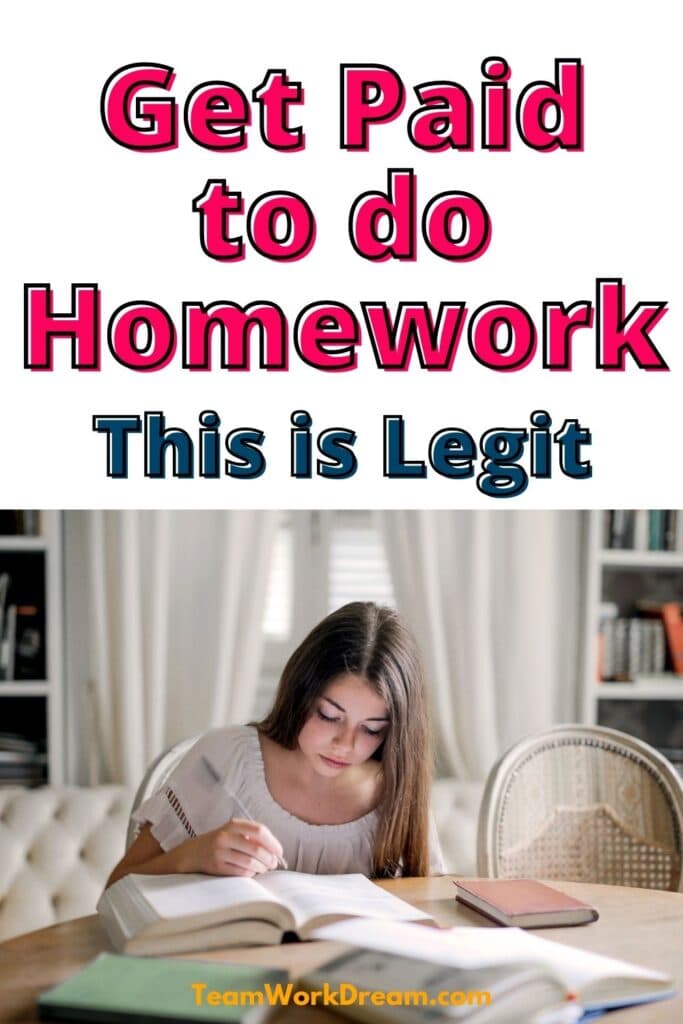 This website is always seeking persons proficient in many subjects especially English. To join and get paid for doing homework provide your credentials and complete the application form.
Once approved, select the assignments that interest you and start working. A valid PayPal account is needed and rates are discussed between tutor and student.
2. TutorMe
You can get paid $16 per hour via PayPal by becoming a tutor to help students with homework on TutorMe.
This website is very thorough with its screening process and to qualify applicants must be enrolled in a university or have a degree with teaching experience.
So if you're ready, sign up, get approved, and choose from over 300 subjects to start.
On this platform, you can help students with subjects like Maths, English, Science, and more. Persons must have either a Ph.D. degree, Master's degree, or two years of teaching experience to qualify.
Tutors get paid $7-$9 per page depending on the difficulty of the assignment.
4. One Class
One Class is a website for tutors to create study guides, teach students, and provide detailed notes instead of directly answering questions. The information is then uploaded to the site's Homework Help section.
You can earn from $1.80 – $24 per subscription but you must have a verified PayPal account. Note-taking earns the most with an average of $470.
5. Chegg
Chegg is well-known for renting and selling textbooks but is also used to tutor students seeking assistance with tough assignments.
With thousands of subjects to choose from tutors are paid up to $20 per hour via PayPal. Simply log in and the database will provide students searching for a tutor.
6. Tutor
Tutor.com is another popular place to get paid for tutoring sessions and also help students with their homework.
Subjects such as computer science and calculus are always in demand and payment rates vary based on the subjects you select and the level of your experience.
To qualify persons are called to several interviews and an assessed teaching session.
Sign up to FlexJobs for legitimate top-paying part-time and full-time remote jobs.
7. School Solver
If you're passionate about helping others learn then School Solver is for you. Tutors help with homework posted by students that have an attached price for subjects like statistics, geology, and mathematics. You can earn over $500 and payment is done through PayPal.
Tutors are not allowed to post direct answers without explanations to ensure students are learning. To register, create your profile and get a 90% pass on a quiz for the subjects you'll be providing answers to.
8. Eduboard
Help students finish their homework with Eduboard which is an online tutoring site. Fill out the joining form, add your academic qualifications and complete an English test before being approved.
By providing your services on this site buyers can rate your work so that you can gain more recognition. You are responsible for declaring your hourly rate and 20% will be deducted as commission.
9. Studypool
Studypool is one of the top sites to join and offer help with homework. You can set your own flexible hours and assist students by writing essays, coding, and researching solutions to questions.
Select a project by bidding on a student's assignment and once it is accepted you may begin to work. With outstanding performance, you could make a whopping $7,500 per month.
10. Sweet Study (previously known as Homework Market)
If you're in college or high school this website is suitable for you to get paid to do homework. Here you will give answers to questions for a variety of subjects and also proofread and edit assignments for individuals in need of help.
All you have to do is simply sign up to Sweet Study and fill in the required information to select and complete assignments.
You get to decide the cost which can fall in the range of $5- $25 after which students will review your work and pay in full.
11. AceMyHomework
The name says it all! Get connected with students on this platform and help them ace their homework. This website has become a popular place for thousands of students who interact with certified teachers.
With excellent writing abilities, you could become engaged and write custom research papers, essays, thesis papers, and dissertations. To become a member of the team, check their website for new job openings.
12. HashLearn
If you are located in India then Hash Lean is a great local Indian teaching website where tutors also get paid for doing homework for students.
It is mainly used by high school students in the 8 to 12 grade seeking answers to questions in preparation for exams.
To begin, apply to be a tutor and upload a valid photo ID after which you'll be required to complete an exam. Tutors earn 0.75 INR per minute along with rewards.
Final Thoughts on Getting Paid to Do Homework
With excellent academic qualifications and great teaching skills, you'll be sure to do well using any of these websites.
Now that many classes are hosted online students are always on the lookout for persons who have experience in tutoring several subjects.
If you want to help and get paid for doing homework for others, select a preferred website, signup, and work your magic.
By the way, don't forget to share this post with your colleagues who might also have the skill and be interested in getting paid to do homework for others.
Related Posts