Did you know that if you have great handwriting you can earn another stream of income? You could make money from the comfort of your home by completing various handwritten orders for yourself and others.
There are many individuals, brands, and professionals seeking personalized handwriting services and you could be the one to do it.
Let's find out the best ways you can start to make money with your great handwriting skills.
This post may contain affiliate links. For more information read full disclosure.
How to Make Money with Good Penmanship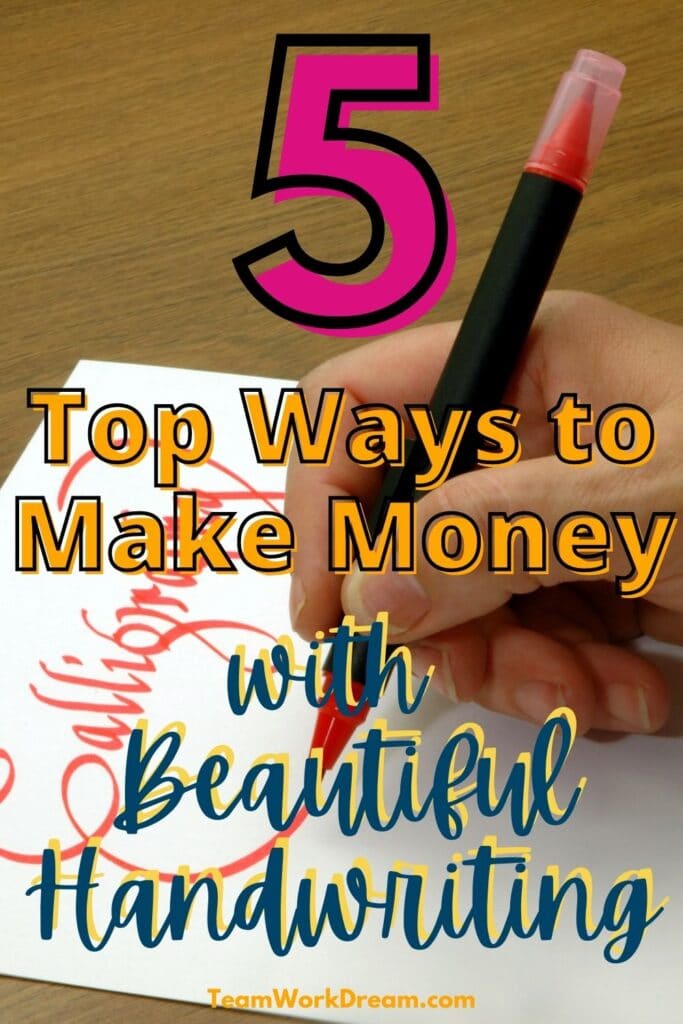 All those times you were practicing writing on lined paper and slowly getting to grips with cursive writing while going to school can finally pay off in any of the following ways:
1. Calligraphy
If you're a calligrapher or willing to learn calligraphy, completing custom orders is a great means to earn from this very traditional and artistic skill.
You can earn good money by doing four of the most common calligraphy projects such as writing beautiful place cards and envelopes, vows, and custom quotes as a total beginner.
Becca Courtice is a modern calligrapher and her tips on how to make money from calligraphy are super useful.
2. Handwritten Invitations
Many persons hosting private parties, special events, or weddings prefer to issue handwritten invitations and are willing to pay top dollar for great penmanship.
With your handwriting skills, you can provide a more personalized and stylish look or a clean and simple one depending on your customers' preference.
3. Personalized Letters
Hand lettering is another way to use up your cursive writing skills. There are people and brands that deliver personalized thank you, get well soon and letters of congratulations alongside products or gifts to clients and loved ones. With neat handwriting, you could be a sure pick for their task.
4. Sell Digital Fonts
Creating digital fonts is a fun way to make money with your handwriting. This is an excellent way to make passive income. You just create your fonts once and upload them to whatever creative platform you choose and forget about it.
This is not an instant money maker but if you design enough fonts and become a familiar font designer you and your designs will be recommended by others within the crafting industries.
There are many online platforms you can offer to sell your digital fonts on such as websites like Dafonts, Envato Elements, Creative Fabrica and So Fontsy.
5. Print on Demand Products
Printing on demand can be very profitable when selling tangible products such as T-shirts, mugs, sweaters, picture frames, and tags.
Having a fixed set of designs that can be personalized at any time makes it easier for you to create custom handwritten designs on demand and in bulk once you save them as SVG and other electronic formats.
I love watching the skills of Susan Lettering Studio. You can find her digital hand-lettering video clips at SCS lettering on Instagram or TikTok and the custom items that she makes are beautiful.
Tools Needed to Do a Handwriting Job at Home
To begin your work from home handwriting job you will need some basic equipment. You may not need to spend too much money as you probably have some of the handwriting tools in and around your home. This will depend on the type of handwriting that you plan on doing.
Ink
Markers
Toner Reactive Foil
Printer
Must-Have Handwriting Knowledge and Skills
To be good at a handwriting job is not only to write and show that you have fancy penmanship. You need to:
Know the proper use of the different tools and materials needed to complete custom orders for each client.
Do Your Research. Handwriting has a lot of history so knowing what style of fonts go well together and knowing the history of lettering will give you the edge over others.
Communicate with your clients to understand their vision and transfer that information on paper to create and deliver reputable orders.
Be creative which is the key to attracting and retaining customers. Create a portfolio of the work you've done before you started selling your writing services.
Market your skill. To generate lucrative income from your handwriting service marketing is a must. Telling your friends and family about what you do and posting your work on social media is a cost-effective marketing strategy to gain business opportunities.
Now there is no need to panic in regards to some of the must-have skills listed above. You love to write in a very decorative way and share your skills with others and that's great.
Anything else in regards to the technical know-how you can definitely learn. This can be through books, YouTube, or by taking an online course.
Where to Your Sell Handwriting Skills?
As a beginner finding jobs for neat handwriting independently can pose a challenge.
Social media is an excellent way to find prospective clients and there are some companies and platforms out there that make it even easier for your writing talents to be found such as:
Fiverr
Freelancer
Upwork
Etsy
Creative Market
Design Bundles
Mighty Deals
You can also set up your own ecommerce website using apps like Ecwid, Gumroad. Woocommerce, Shopify, and others.
Final Thoughts on Earning Through Handwriting
While making money from your handwriting does sound exciting, it's important to note that this doesn't mean you'll make crazy amounts of money immediately.
If you've been doing specialist handwriting for a while as a hobby you can easily transform it into a side hustle work from home business.
Being able to find unique and additional ways to earn extra income especially from a craft, hobby, or a forgotten skill such as handwriting can be a lucrative and passive type of business.
Share this post and start practicing the different ways on how you can earn money with beautiful handwriting.
Related Post