Improve Your Online Business This Season
Now that summer is here you might have noticed a dip in requests for your work from home services. Don't worry, this is very normal at this time of year. You will just have to become a smart remote worker.
Small business owners, bloggers, other online business owners are currently going on short vacation breaks especially if they have school-age children who are now on vacation.
This post may contain affiliate links. For more information read full disclosure.
You can use this time as a great opportunity to regroup, assess and update your skills and offer new services just before the end of summer.
Set up an email message sequence getting in touch with past clients reminding them what services you offer including new ones and let them know that you're still available for work. Plus always ask if there is any particular kind of service that they require. Also, make discounted offers for bulk orders of work as this just might snag the deal.
Get onto YouTube LinkedIn and Facebook groups and find out what are the in-demand online work opportunities, and what are the new applications that are being requested.
I would also suggest that within these groups network with other work from home workers and virtual assistants. They might actually be inundated with work and need someone just like you to take up the slack.
Read the comments and if there are questions within these Facebook groups that you can help answer, do so, as it not only improves your confidence in your knowledge but increases your credibility which will put you in a good place to be offered online work.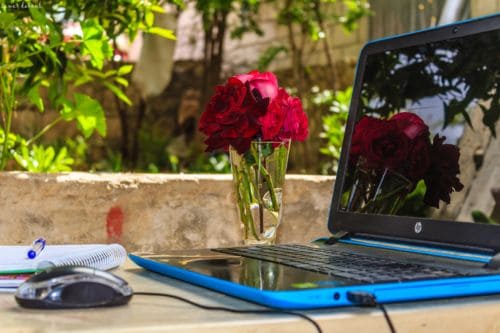 One of the things to remember when working remotely is that you no longer are able to rely on your HR department to train you on all the latest applications so you have to begin investing in yourself and learn from the many free tutorials on YouTube.
**You might be interested in the Best Work from Home Courses to Take**
Do diligent research on Google and check out all the useful bloggers out there discussing work from home opportunities and jobs and what they are doing to keep on top of things.
Also, you can get some very good discounts on ebooks at this time of the year and if you're able to get them in bundles at super discounted prices, that's even better. Udemy is a place to check for deals.
Right now I've purchased quite a few ebooks that I am slowly working through but come September I'll be hitting the ground running with my new found skills.
To be more productive especially during the summer months I tend to have a to-do list and I put it on my phone with an alarm set. It allows me to get myself in order and be accountable for my time. It's an efficient way for me to reclaim my time.
I find that if I just put my tasks in a calendar they will slip further and further down the priority list. But once that alarm goes off it's like a kick up the rear allowing me to get back or keep on track with my work for the day, week and month.
Now if you're a newbie starting out in the virtual world of work then now would be a good time to absorb all the free information you can like a sponge.
If, as a newbie, you're just putting your pinky toe in the water and are on a budget then now is the time to sign up for the many free short email courses available on a range of work from home topics. Here are a few examples:
How to become a Virtual Assistant

How to become a Social Media Manager

How to become a Content Writer

How to become a successful Transcriptionist

How to become a Copy Writer

How to become a Proofreader

How to become a Pinterest Manager

How to become a Subtitle Translator

How to teach English online

How to become an online Travel Agent

How to become a Customer Service Agent

How to start your own Blog

How to promote your Hobby into a Business
**Read 50 Most In-Demand Virtual Assistant Services to Offer**
So as you can see there are a lot of remote working options that you can start to learn or become better at doing, the list is endless. All you need to do is ask yourself these questions:
What do I already know how to do well?

What do I have some experience in?

What can I improve on to be able to learn and start quickly?

What am I comfortable doing?
You might wonder about what are you comfortable doing but you have to be practical in the decisions you make when working online.
Think about whether you live in a very quiet neighborhood so that you can offer Customer Representative Services over the phone. You might have to choose to do online Customer Service email chats instead. So remember, don't restrict yourself as their just might be another way around it.
Learn New Skills For Your Online Business
The slow summer slump is the perfect time to learn new skills. As mentioned before there are a myriad of jobs that you can do but you might need to learn how to do them.
If you're anything like me when it comes to learning you might work better with video tutorials than actual ebooks as you have to be able to motivate yourself to get the tasks done. The best thing that I can advise at this stage is to use both methods of video and ebook tutorials together.
I find that watching a step-by-step video prepares my brain to absorb what's to come in the ebook and it's also good to have the ebook to hand to refer back to.
Another good thing with ebooks is that if you do not have internet access you can still get access to the already downloaded content.
So if you want to be a smart remote worker do your research and look for the free tutorials when starting out that is suitable for you.
A useful tool that I find is Pinterest. You may or may not have heard of it but if you have you may have used it for your own personal pinboard for recipes or crafts. But it's so much more powerful and useful than that.
** You might also be interested in How to Get Paid to Pin**
Did you know that you can use Pinterest to advertise your online products and services and make money? Yep, you can advertise your skills and offer your services or even offer to design pins for others.
I urge you that after you've finished reading this post go have a look at Pinterest or you can have a look at my Pinterest Board to get an idea of what I mean. Also, feel free to follow me.
You could learn how to become a Pinterest Assistant by using a pinning scheduler such as Tailwind or become a Pinterest designer using Canva or PicMonkey. Learn how to make money with affiliate marketing using Pinterest. Advertise your A1 online working job skills using attractive pins on Pinterest to gain new clients.
How about learning how to recommend products that you love to use and make money from it through affiliate marketing. This time of year would be a good time to take an affiliate marketing course. Learn how to earn passively by setting up your affiliate marketing business before the Thanksgiving and Christmas rush.
Have a read of the Beginners Guide of Affiliate Marketing and how you can make money from it. During this down period would be the perfect time to learn the skills on how to make a passive income.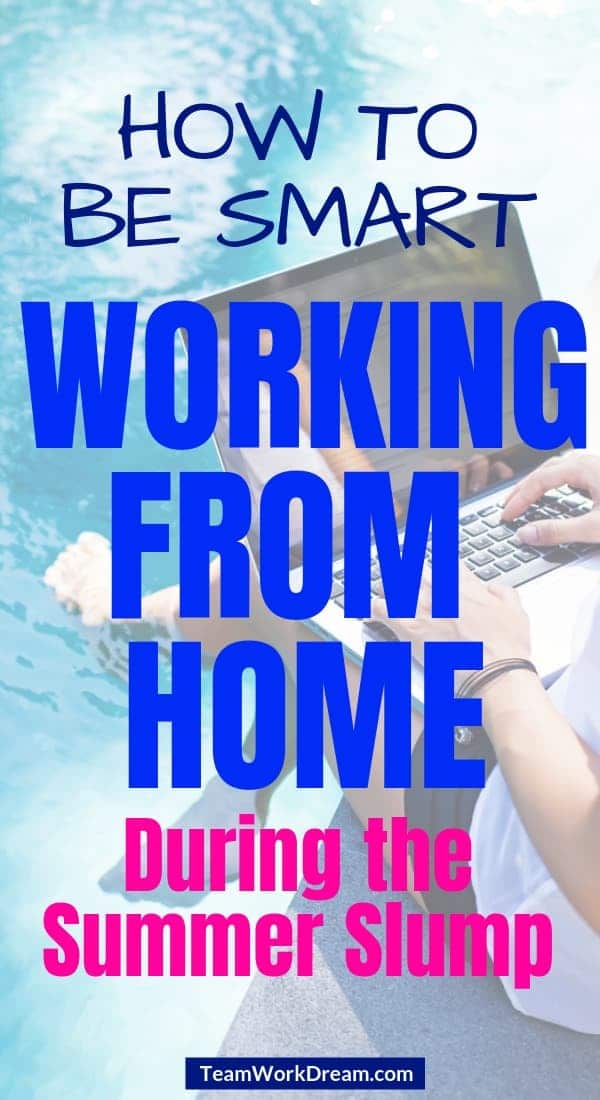 Get Yourself Organized over the Summer
How About Setting Up Your Virtual Business Online
In the first instance, to get the word out, you might want to set up a profile on social media. Set up a business Facebook page offering your services and providing a way for potential clients to reach you. LinkedIn and Instagram are also good for this.
Make sure to name them all with the same name if possible to create cohesion. This is a useful first platform, especially if money is tight before creating a website.
Take a look at an earlier blog post Do First Impressions Count to get an idea of how setting yourself up as a professional business on Facebook is a great first step to get the ball rolling.
Which should you use WordPress.org or WordPress .com?
Get a WordPress self-hosting site. To be clear this means that you have to sign up with WORPRESS.ORG not .COM. There are many reasons for this but the main one is you are in full control of a WordPress.org site.
You can fully design, brand, monetize and maintain your WordPress.org site and call it what you want without having the WordPress extension on the end of it.
You've seen those free ones where the person has called it something great such as virtualofficehands/wordpress.com when all they would have wanted to call it was virtualofficehands.net.
WordPress .com is free but is very limited in all its functions while WordPress.org although free will have a cost once you assign it to a hosting site.
I use Hostinger as my hosting platform for WordPress which is a name that you might not be familiar with but they are super-competitive in regards to price especially when on a budget and have great customer service.
Sign Up to a Web Hosting Service
If you don't have much of an online presence or haven't yet set up a business website or blog site now is the time to do this to impress any future clients. Sign up with a web hosting site like Hostinger who I use myself and I can happily recommend them to anyone. without any reservations.
Like I said before, they are competitive in price starting at only $2.15 per month, have great customer service and best of all they have a premium package for $3.49 per month where you can have an unlimited number of websites (conditions apply) and a free domain name for your first site and best of all their FULL SSL certificate is at the fantastic price of only $9.99.
Having a site that has an SSL certificate is a requirement when setting up your blog or website to keep your users information private and secure.

Hostinger has thought of everyone from beginner, to those on a very tight budget to large-scale businesses. For those on a budget, they offer 3 and 6 month packages so you can test if you like the functionality and also stay within budget at the start of your business. The dashboard is super easy to use, WordPress compatible with a quick start function and I find them to be one of the better hosting sites.
Hostinger is not one of the popular ones that you always hear about but then again I was never one to follow the crowd even though over 29 million people use Hostinger. Have a look at the comparison site below to see what they have to offer compared to their competitors Bluehost and SiteGround.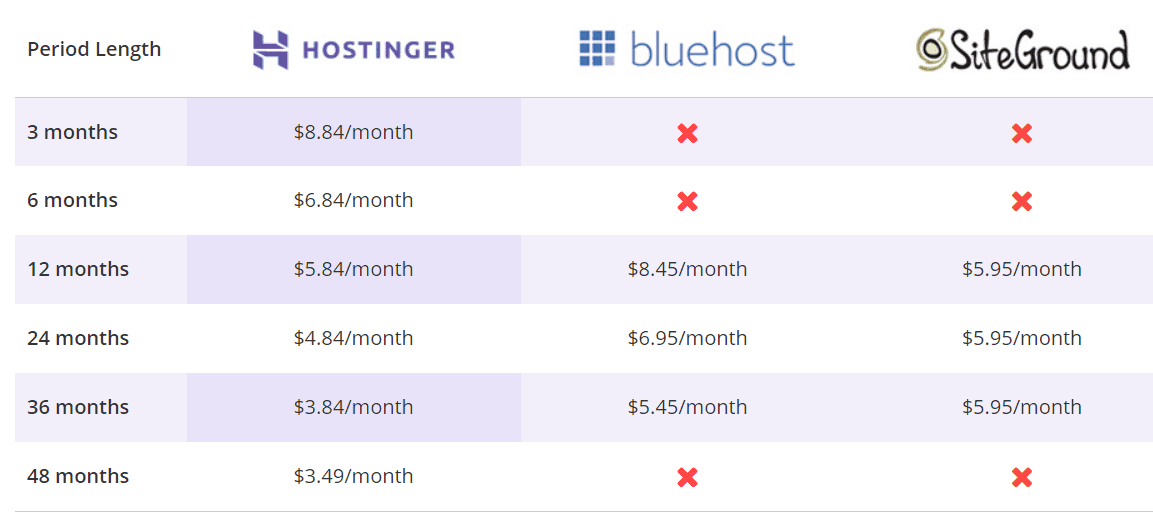 Get Your Email in Order
If you're currently using your gmail, yahoo, outlook accounts or any other email extension to get business you might want to think about getting a more professional email address in due time.
You might be working within the platforms such as Fiverr, Upwork or People Per Hour but wouldn't it be nice if clients came straight to you once you have your website set up where you get all of the fees instead of just 80% of it.
It's also great to have a professional email to obtain future clients and be able to correspond using a professional email address and signature.
Now you would have, hopefully, set up a professional sounding email address through your web hosting site and if you plan on providing your clients with special offers, seasonal discounts or just update them on new services that you offer you may want to get them to subscribe to a monthly newsletter.
A good email service provider that I use is Mailerlite. There are many others popular ones out there but again I like simplicity and also a good bargain, preferably free.
Signing up with Mailerlite is free for your first 1000 subscribers to your account and the platform is very instinctive to use. The customer service is quick and friendly and they have easy-to-use video tutorials which I absolutely love.
You will be able to create great looking embedded forms and pop-up subscription forms on your new website and create simple-to-design landing pages that you can use to advertise your new services.
How to Work Smarter to Get New Clients Over the Summer
Your next question is probably, okay, I've done all that but how do I get the clients during this slow summer spell. Well, my answer to that is you have to think outside the box. I'll give a personal example of mine. I'm an avid reader and I am subscribed to quite a few blog sites, YouTube channels and so on.
Anyway, one evening while checking my emails I received a regular newsletter from one of the blog sites that I am subscribed to and I eagerly read all the information provided but I noticed something. This particular newsletter wasn't like the usual newsletters that I receive from this blogger.
I read it again and noticed that there were a number of spelling mistakes and grammatical errors that were very unusual for her normal high standards. So I decided to do something about it with no idea if it would work or not.
I decided that I would send a reply to this email, not by being a grammar troll but by informing her how very much I enjoy reading her content and look forward to receiving her newsletters.
I then alerted her to the fact that there were a few errors that she might have overlooked during her busy schedule while providing so much consistent content and that this current newsletter was not her usual great standard and if she might, in fact, need some assistance with proofreading.
In case you were wondering, I did some proofreading in a previous life. Well, I sent this email on the off chance, I didn't think I would get a response from such a high-level blogger and YouTuber but within the hour I got a reply asking me for my rates.
I had to think on my feet with this one as I had no idea what the going rates were so I had to quickly do some online research. Not only that, I also didn't have any professional looking automated proposals, invoices or any other formal documentation other than some informal ones I had created in Word and Excel but AndCo came through just in the nick of time.
Think of ways that you can offer your services in a non-traditional way to get work. Podcasters, for instance, will need their podcasts transcribed as having the transcripts of the audio will increase their Google Analytics, increase traffic and better reach their audience. Get in touch with some of your favorites.
A blogger will be trying to concentrate on making money with their affiliate product launch and may need someone to ghostwrite content for them while they concentrate on promoting their new product.
Network and offer your writing services. They might also not have the time or dislike doing Pinterest graphics and you could offer your Pinterest graphic design services to ease their time and or do their pinning for them.
How about offering your social media skills. If you have noticed that they don't have much of a presence on social media, offer to regularly update and look after their social media accounts for them.
What is AndCo?
Updated April 2019 (They now charge a monthly fee if more than one client)
AndCo from Fiverr is a free business software for freelancers who work outside of the Fiverr platform. Anyone who freelances, is a creative, or works from home can use this FREE resource. It's free for one client but as you expand your business you will have to pay a small monthly fee.
There it is again, that word 'free'. It's super easy to use and allows you to send out professional looking proposals with your logo, have electronically signed contracts for both parties. The great thing about this is that AndCo is partnered with the Freelancers Union so you are protected.
Other features on AndCo that is included is you can invoice as per job or on a recurring basis, you can also attach the completed work with the invoice.
**You might also be interested in reading this AndCo Review **
You can automatically set payment dates, send reminders and most importantly you can accept payments by credit card using Stripe or WePay, or Paypal and also straight to your bank account using ACH. It also tells you when the client has actually viewed the invoice. How cool is that!
In addition, you can also track your expenses and track your work time. There is also the option to analyze reports on your income, expenses and time.
What else can you do as a smart remote worker?
These are a few of the things you can start doing during the quiet summer period to get yourself ready for the busy autumn season leading up to the Christmas season.
Get to know what events are happening around the globe. Halloween, Thanksgiving, Black Friday, Cyber Monday, Christmas and New Year and a very significant one that you might not have thought of, Chinese New Year.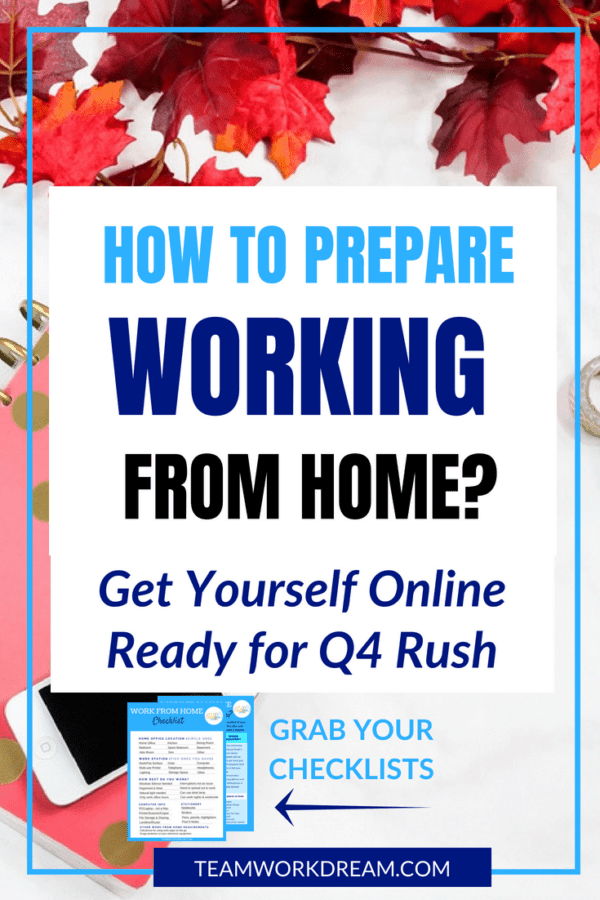 The Chinese New Year period is very important for e-commerce businesses all over the world as all the Chinese manufacturers close down for around 2 weeks. So if you do data entry for dropshippers, product descriptions for Shopify stores, photo editing of product pictures for estores you may get a rush of work a month or two before this time.
In the fall, small businesses are super busy launching products, or marketing new courses, updating and promoting e-commerce stores for the new season.
So just give them a heads up during this quiet time. Aim to be that smart remote worker during this summer period. Let these potential clients and existing ones know that you're around and can help them with whatever they need.
Up Your SEO Game to be a Smart Online Worker
Another great thing to do especially if you are a blogger and want to increase your traffic organically is to update your SEO skills. This slower period is the perfect time to get to grips with keywords for your posts and update them where you can. There are quite a few free applications and Chrome extensions that can help you out with this.
One of the first free ones I started to use was Keywords Everywhere and Neil Patel's Ubersuggest. There are many others that have a free trial but then have a monthly fee.
If you need additional help you can try out these two really simple user-friendly ebooks by Debbie Gartner. One is all about on-page SEO an absolutely excellent resource for a beginner. The other ebook is for easily adding backlinks. to increase your SEO presence
These two books made a world of difference to my blog and made me understand SEO without it seeming like rocket science, They are both absolutely excellent guides for increasing your organic traffic
I hope you find these tips helpful and please share with others who you know are on the work from home journey or thinking about joining the work from home fraternity.
Related Work from Home posts: