One of the easiest ways to earn a little extra cash is by taking surveys but can you do these surveys where you are? Are you able to do international paid surveys?
Advancement in technology has made online surveys a popular way of earning extra income. Companies and businesses are always seeking feedback and people's opinion about the products and services they provide.
This post may contain affiliate links. For more information read full disclosure.
In turn, they are willing to pay you some money for your experiences and opinions. After taking a survey, you can get paid through PayPal, cash, gift cards, or other rewards.
QUICK WAYS TO MAKE AND SAVE EXTRA MONEY
Swagbucks: Sign up to get paid cash and gift cards for doing fun and simple tasks.
Rakuten: Earn a FREE $40 on signup and get great cashback deals.
TopCashBack: Collect coupon deals and receive cashback rewards when shopping.
Honey App: The best way to never pay full price for items from over 30,000 retailers.
Survey Junkie: Answer short surveys to earn some quick cash.
Opinion Inn: Another fast way to earn extra cash by answering questions
How to Make Money Online with Surveys
Making money with online surveys does not have to be difficult. There are many hacks and tips that can help you generate a regular flow of income. However, online surveys may not guarantee a stable income that you can solely depend on.
It provides a great way to save some bucks and earn a little extra side income to make a difference. You can supplement your day job income by taking online paid surveys that will enable you to create an additional source of funds.
You can use the extra cash made by taking surveys to put towards holiday spending, clear small outstanding bills, and even help to reduce debts.
One of the tips on how to make money online with surveys is to create a new email address account.
This email account will keep you organized if you are planning to fill out many surveys, as well as protect your private messages.
The next thing you need to do is to sign up with as many different survey sites to earn a reasonable amount of extra money every month. This is because you may not receive notification from all the survey companies you sign up to depending on the survey topic.
Another way to boost your earnings is to update your profile regularly to be eligible for more surveys offers.
Your profile plays a significant role because it contains details that research companies need to establish if your profile matches their survey offers.
You should also ensure that you keep checking your emails frequently. This way, you will see all the updated and available notifications about offers and won't miss out on any online paid survey that can maximize your earnings.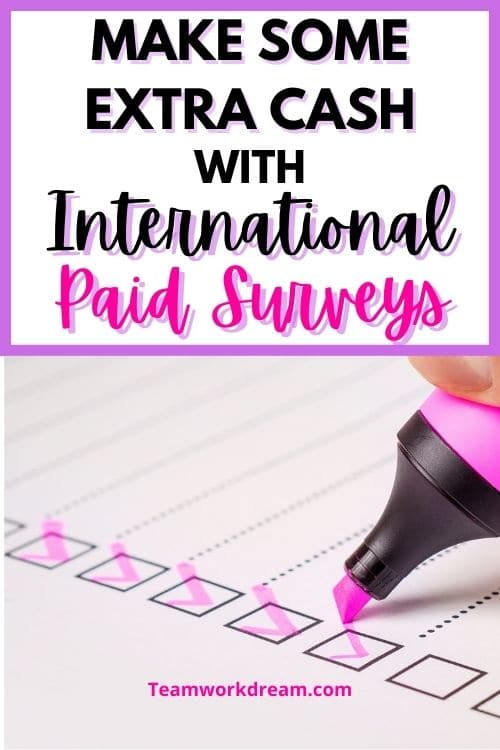 Which Paid Survey Sites Are Legitimate
Although online paid survey sites can earn you some money, some of the sites may promise you high rewards that are not true. A lot of these sites can be scams and may make it challenging for you to figure out online survey sites that are legitimate.
Make sure to check that they are real before entering your personal details by checking out sites like the Better Business Bureau, Glassdoor, and Trust Pilot. Here are some paid survey websites that are legitimate.
Survey Junkie panel is a 100% legitimate online survey website that pays you points that you can exchange for PayPal cash or gift cards.
Vindale Research
Vindale Research is a reliable and trusted survey site that offers you an easy way of making money online. Hundreds of surveys are added daily giving you a chance to participate and earn money.
Inbox Dollars
Inbox dollars is also a legitimate online survey site that works with a system that is cash-based and provides a quick and simple sign-up process.
Cash Crate
Cash Crate is a site that is dedicated to pairing traditional surveys with different unique deals that can make you money.
Surveytime
Although Surveytime may not have a high pay rate, it is a legitimate online survey site that is simple to use and mobile-friendly, allowing you to take surveys on your phone.
Opinion World
Opinion world is a reputable survey company that rewards survey takers globally. You earn points for every survey you complete, which you can redeem for gift cards, PayPal cash, or airline miles.
Valued Opinions
Valued Opinions is another legitimate online paid survey website that is part of a market research group. It sends out surveys to members whose demographic profiles match the requirements.
Are Paid Survey Sites Worth Your Time?
Yes. Some paid survey sites can be worth your time. Choosing the right paid survey site can make a huge difference but you will have to check that you can qualify to take part in some of the surveys that you come across.
Many paid surveys have requirements that determine your eligibility based on your personal habits and demographic information. For this reason, you must ensure that you are not signing up with a survey site that will only waste your time.
While there are benefits in online paid surveys, not all sites pay in hard cash.
They may offer points, which makes it difficult to determine the amount of money you earn as the points are exchanged for things instead of money. Or you may have to wait to receive a gift card.
However, some people still enjoy taking surveys and feel great about having a direct impact on popular brands. Taking surveys is definitely worth your time if you like voicing your opinions and answering questions
Which Survey Sites Pay Good Money?
1. Vindale Research
Vindale Research is one of the highest-paying online survey sites. They pay up to $75 for each survey and receive your payment via PayPal or check, no points.
2. LifePoints
LifePoints online survey site is increasingly becoming popular and provides one of the highest paying sites. If you select surveys that are quick and are paying well, you can earn an hourly rate of $10.
3. Swagbucks
Swagbucks is the ultimate online survey site for making the most possible from doing short tasks such as playing games or watching videos other than taking surveys.
4. Prize Rebel
Prize Rebel is an easy and straightforward survey site. If you are looking to make money by taking surveys online, Prize Rebel provides a fast way to save more money.
5. Toluna
Toluna provides a wide range of online surveys to its members. As such, it provides a great opportunity to earn more money because there are offers readily available.
6. OnePoll
OnePoll is popular because it provides shorter surveys compared to other sites. This makes it easier and faster to make money using the time spare you have at your disposal.
Final Thoughts on International Paid Surveys
From the information provided there are a lot of options for you no matter where you are located to take part in international paid surveys.
Why not sign up to the many suggested above and don't forget to share this post with others so that you can all start making some extra money on the side.
Related Posts