There are so many ways to make some extra cash and one of my dream jobs is how to become a house sitter.
Something about the idea of waking up in a new environment, traveling to different places, living in mansions, cottages and beachside villas I can only dream of affording, and doing this all at no cost to me, has always been a very appealing prospect.
When I was younger I can remember watching movies where people would be housesitting and thinking to myself that there's no way such jobs actually exist.
This post may contain affiliate links. For more information read full disclosure.
Years later I have since found out that becoming a house sitter not only exists but:
A) People make good money from house sitting and,
B) Some people use house sitting as a means of never paying rent. Who would've thought?
I wish someone would've let me in on this well-kept secret in advance. Now that I'm in the loop, it's my time to share with you how you can get paid by becoming a house sitter.
What is House Sitting?
Simply put, house sitting is similar to baby sitting. The only difference between the two is that as the name suggests, instead of being a baby's sitter you will be a house sitter.
By definition, the action of house sitting involves homeowners entrusting the security and maintenance of their homes and sometimes pets to capable sitters for a period as outlined by the homeowner that could range from one week to many months.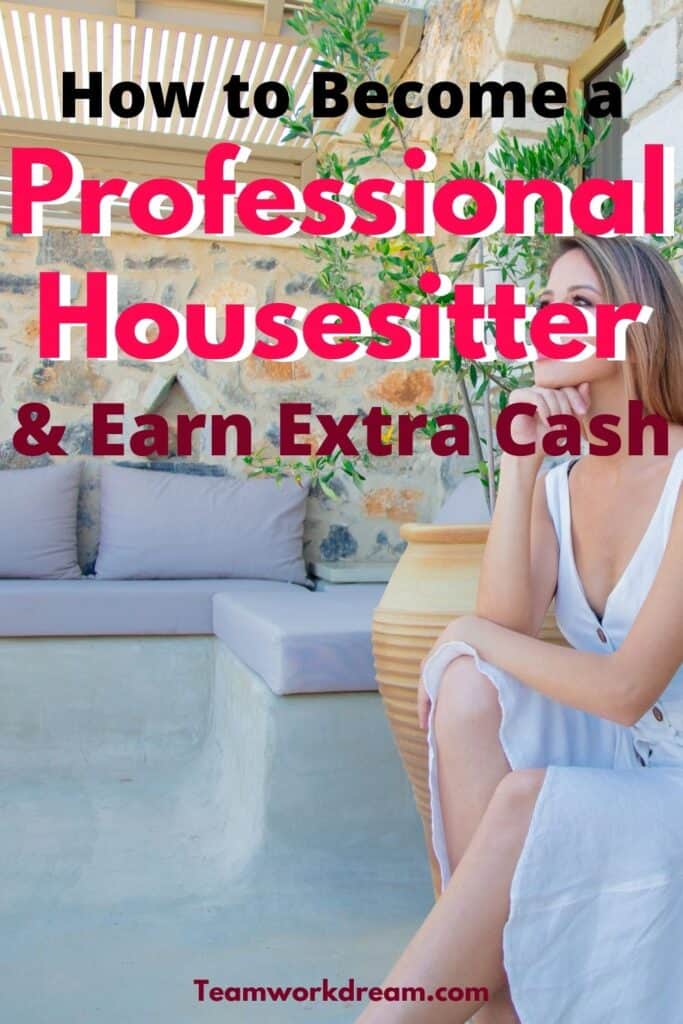 What Exactly Does a House Sitter Do?
The role of a house Sitter is generally a very subjective one as it is likely to vary depending on the particular needs of the homeowner by which you are employed.
However, generally speaking, as a house sitter you may be asked to perform any of the following tasks:
1. Inhabit The House
Most homeowners employ house sitters to not just give an eye to their homes when they go on a vacation, but to operate almost as a tenant and live in the home.

This way the security of the home is less likely to become compromised by intruders and the possibility of break-ins is lessened.
2. Regular Housekeeping/Maintenance
You aren't required to have any previous housekeeping experience, however just to ensure the general upkeep of the home and to keep dust and grime at bay, some homeowners may ask that you perform basic housekeeping duties.
Others may ask you to perform more high maintenance duties such as cleaning the pool, cutting the yard, and tending to their gardens. This way the home is kept neat and tidy, or at the very least in whatever condition it was in when they left it.
3. Pet Sitting
While some homeowners require a house sitter for security and maintenance purposes, others are looking for live-in sitters to take care of their pet(s) while they're gone.

Such duties could therefore include: daily feeding, veterinary visits, walks, and baths (depending on the pet).
As I mentioned before, although the particulars of the job will range from homeowner to homeowner, house sitters are usually made aware of the job requirements they are expected to fulfill prior to accepting the job.
How Much Can You Earn as a House Sitter?
Remember how I started off this post by saying that people make good money to house sit? According to ZipRecruiter.Com, as of October 6, 2020, the annual average salary of a House Sitter in the United States was $70,166 USD. With some people getting paid a high of $359,000USD and a low of $12,500USD a year.
And that's not all, your earning capabilities in this case are not only affected by the homeowner themselves, but also the location of the home you are house sitting and the number of hours you are required to dedicate to your job.
So, let's say you have a house sitting job that is based in Los Angeles, California which only requires you to be at the house a few hours a day, on average you could be earning $45USD a day. However, this number could possibly double or even triple if you are required to remain at the house 24/7.
That's a pretty decent amount to be earning to perform fairly simple tasks while keeping watch of somebody's home.
You might also be interested in line sitting and earn $25 to $35 an hour
Is A House Sitting Job Right For You?
I know after reading this post you are probably thinking that a job as a House Sitter sounds like a pretty sweet deal and it is. But this type of job is not for everyone.

Before you run along and start signing up on house sitter job sites, here are a few questions to ask yourself to know if it's right for you:
Is your schedule a flexible one? – I'm going to be brutally honest with you here, finding house sitting jobs that fit your desired locations and are within a particular date range may prove very difficult.

House sitting jobs are best suited for people whose schedules fully flexible. If that's not you, my advice would be not to waste your time, there are a whole lot of other ways to make money out there.
What are your feelings towards animals? – While not all house sitting positions will require you to take care of a pet, based on the job listings I've seen on a few of the house sitting sites, jobs that require taking care of pets tend to be quite popular.

Bear this in mind before signing up as this can significantly reduce your house sitting choices and income potential.
Will you be able to afford your travel fees? – A very important thing to know about house sitting is that while you are paid to perform the actual job and your accommodations may be free, finding the money to travel to the various locations where you intend to house sit, will be your responsibility.

So, make sure to weigh up all the pros and cons before you decide to become a national or international house sitter.
If you're looking for work at home or work from anywhere jobs FlexJobs can help you with your search to find legit remote jobs with some of the world's top companies. Sign up now to join FlexJobs.
Where to Find Paid House Sitting Jobs?
A simple Google search will pull up quite a few websites from which you can find House Sitting jobs.
The catch, however, is that most of these websites will state that your pay is in accommodation rather than in cash. If you are looking to find house sitting jobs that pay in cash then here are some of the most popular sites.
Site dedicated to US and Canadian participants. It has regularly updated house sitting jobs available.
Similar site to HouseSitte.com that members use to find the perfect pet and house sitter.
House Sitting Sites to Save Money on Overseas Accommodation
If you are a retired single or couple and a pet lover this might a flexible dream job to fulfil a bucket list now that you have the time. A great way to go to new places, meet new people and also save money on a short or long semi-vacation.
This is also an excellent opportunity it you are a remote worker
Here are a few sites that can help you to save on rent while traveling. These sites make their money by offering home owners a membership site where they can safely find a responsible and dedicated person to take care of their home and pet.
Although House Sit Match does not pay cash this is a great site if you already work virtually but want to save money on travel, rent and utilities.
If you want to experience a way to travel around the world cheaply without having to pay for accommodation, house sitting is a great way to achieve this.
As long as you have a love of pets and willing to do a little household maintenance you can find house sitting opportunities in far flung places like Costa Rica, Belize, Sicily and more metropolitan places.
I can also let you into a little secret for those house sitting companies that do not pay direct cash. They offer a membership site with free house sitting service instead and as a house sitter you could earn through their affiliate programs.
By promoting the house sitting company on your social media accounts you could end up earning a little passive income.
If you're lucky enough in your search you can even find house sitting opportunities on sites like Indeed, and ZipRecruiter but make sure to do your due diligence.
Final Thoughts
There are a myriad of untraditional ways that people can make money. House Sitting is just one of these ways where people who have a love for traveling and for pets, can combine their loves and get paid to do both.
As the job requirements to become a house sitter will change depending on the job and the homeowner, be sure to read the job descriptions and requirements in full before applying.
If you found this post helpful or have friends and family who you think the idea of getting paid to House Sit would be very appealing to, don't forget to share it with them.
Related Posts