What Does Your Digital First Impression Look Like?
I have seen a few things recently and I just thought that I should bring it all to your attention just in case you hadn't noticed. The question I have for you all is do first impressions count working online, yes or no?
This post may contain affiliate links. For more information read full disclosure.
As you know I try to provide information about how to make money by working online and one of the things that I stress is the importance of having a great first impression.
Your potential client can't see you face-to-face in their office but they can see you through your online profile name and pictures on Facebook, Messenger, LinkedIn, WhatsApp and these days some clients are requesting video resumes and video call options for some of these applications.
Yes, one of the first things that people do now is that once they get your name they look you up on Google to see who you really are.
Those incriminating pictures of you where you might have partied too much, drank too much, looking a bit rough around the edges. What kind of impression do you think you give? So you see your digital online impression matters.
Do First Impressions Count Working Online? Some Common Mistakes
You're looking for a potential online opportunity, you have a growing business that you want to promote or items that you wish to sell, how professional does your online profile look? Does your profile name reflect your interest, your aspirations, your occupation or you in general?
**Read How To Improve and Expand Your Side Hustle**
First Impression Examples
Now don't get me wrong if you want to be a DJ and your side hustle is playing the hottest tunes at clubs, and parties or you're an event promoter for stage shows and concerts calling yourself DJ Sizzle or Sparta For Life Chic it is not a problem because the name fits the business that you are promoting. This first impression is absolutely fine.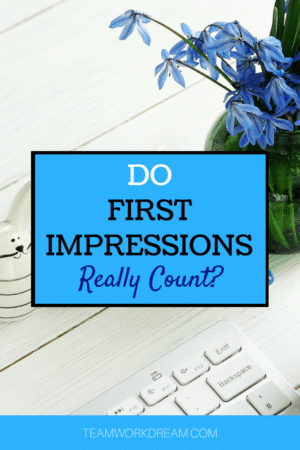 But the other side of the coin is this, you are a computer coding expert or you are wanting to become a successful virtual assistant looking to promote your skills on social media and other platforms but your profile name is BigPimpinKing with a picture of you and all your friends putting up zip code/area code finger signs.
>>>Want some more ideas for online jobs you can start to offer? Read this post!
Or how about this for the ladies, your profile name is Sexy Long Time Diva with a picture of you in your best Kardashian pose.
If a potential client was supposed to come your way offering you a serious online job do you think by their first impression of you they would hire you? What would your first impression be if you were the client trying to hire someone?
How To Make A Good Online Impression
To make a good impression the things mentioned above are just a few that I want you to be aware of.
You might have heard the saying don't judge a book by the cover but in reality, we all do as the first impression is the first thing we see to assess who you are, but there are ways around this.
One of them is keeping your personal social media accounts private. The other is to keep your public profile looking professional and if your public profile is just for social purposes make sure it's just friendly content that's included.
Basic Pointers For A Great Online Impression
Have a professional looking photo, preferably with you smiling which will make you seem open and engaging

Create or get a professional looking logo

Set up a professional sounding name across all social media and use your new photo and logo across all these platforms to create brand cohesion.

Don't forget to do the same for your email address and add your signature and logo at the end with links to your social profiles on Facebook, LinkedIn and your website if you have one.

If you have a site set up a Gravatar which will help boost your online branding.
If you don't have a site and would like to set one up, make sure to use a self-hosting site like WordPress.org and Hostinger, an easy to use web hosting provider.

Update your resume to reflect your latest achievements and most recent skills. Update your LinkedIn profile too.

Create some professional business cards for others to easily remember and communicate with you.
If you are taking pictures or sending out videos make sure that your surroundings are suitable and that your surroundings are quiet. No barking dogs or children popping up during your video pitch.

Check this post out about

working from home with children

Now that you are fully up and ready to go start networking online and offline to get your name out there
How To Set Up A Business Facebook Page To Advertise Your Services and Get Work Online
On FaceBook you can have more than one Facebook page under your profile name. So you can have your professional profile but you can still have your party profile if you wish but just be careful not to mix up the two.
Now don't misunderstand me, I am not saying not to be true to who you are but first impressions do count.
So for your professional profile take a nice picture of you smiling so that a client can see that you are a friendly person. You don't necessarily need an expensive Canon or Nikon camera or go into a professional photography studio for this. All you need is your smartphone, a great background (not you in your bathroom pouting 😗 ) and get a friend to take a nice head and shoulders shot.
Also, create a logo that reflects your business or job interest. The following video should help you out in how to go about this.
The other thing to create is a professional sounding email address whether it be your name or your professional interest. So if you make beautiful clothes and are a wonderful dressmaker or tailor let your online presence reflect that on your pages.
If you are the best DJ around let your online presence show that with pictures of you on the decks, an audio sample or a link to your SoundCloud page.
If you can offer graphic design services or are an amateur photographer wanting to become professional put up your portfolio. Don't sell yourself short, be professional and start to watch the positive results that will follow.
Final Thoughts on Your Digital First Impression
To get off to the right start this weekend I have a task for you to do. Go and take the time to review your profiles on all your apps and check to see what impression they give to others in a professional capacity.
If you don't have a professional looking profile for any of them start creating them and if you do have a professional one see where it can be improved.
>>>Still a bit worried about starting your online business? Read this post to learn how to fix that fear.
Did you have a quick check just now? How did they look? Now you can see why I'm stressing the point do first impressions count working online. They definitely do. Why not sign up to the step by step ecourse below to get your online business started.
You might also find How To Be A Smart Online Worker really useful to up your remote working game.
I do hope you found this useful and don't forget to comment and share with others. If your time is limited why not pin it for later.
Related working online posts: