One of the most popular New Year's resolutions that individuals commit to each year is the desire to shed a few pounds. For many, the statement "For the year XXXX my goal is to lose 30 pounds" sounds all too familiar. But how motivating would it be to get paid to lose weight?
As the year begins to wind down, and new year's resolutions that never had the pleasure of making it past February, are long since forgotten, goals of wanting to lose weight are again thrown to the back burner. Before, of course, making their grand debut in January of the following year. Don't be that person!
This post may contain affiliate links. For more information read full disclosure.
Committing to a diet food you don't particularly love or having to start your mornings off in the gym when you could be sneaking in a few more minutes of sleep doesn't quite get your endorphins flowing.
But what if as a reward for all your hard work, maintaining a strict diet, and keeping up with a consistent exercise regime, you could get paid?
The prospect of making money while doing something that will benefit you in the long run by making healthy choices sounds pretty good. So, if you want to find out how you can earn money for working out, keep reading.
Do You Need Any Special Equipment to Lose Weight?
Not really, you can start with the very basics of
If you want a bit extra then you can use added devices such as a
basic pedometer for tracking steps plus use free apps such as myfitnesspal to monitor and educate you on your caloric intake.
These are items you probably already have at home. Then start walking or jogging.
If you're a fan of gadgets then you might want to get yourself a fitness tracker device such as the popular Fitbit which helps to measure the amount of physical activity that you do, the distance you've traveled through GPS, and even monitor your blood pressure and heart rate.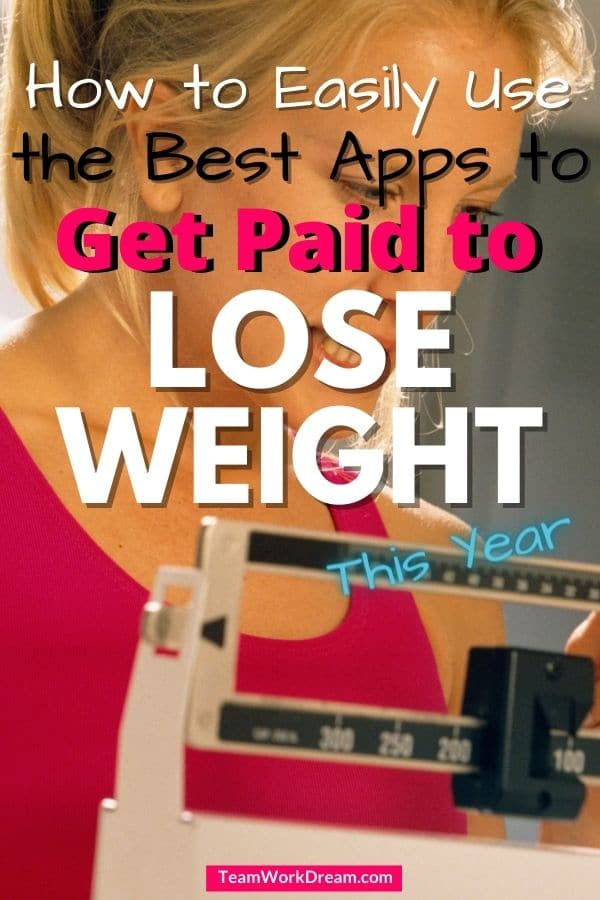 Can You Get Paid For Losing Weight?
I know what you're thinking, there's no way anyone is about to pay you money just for losing weight. But there are a number of weight loss programs that do just that.
Users can take part in individual or team challenges, take up Rewards and create a commitment contract within a certain time frame to reach an ideal health goal.
There are a few companies that have a vested interest in your weight loss goals, so much so that they would be willing to pay you cash rewards, yes, real money (I'm talking dollars and cents here) for the achievement of your health goals.
How Can You Get Paid To Lose Weight?
The idea of getting paid to lose weight may sound a bit far-fetched but in reality, the prospect of getting paid for losing weight has been an activity that has been in existence for years.
In the past, close friends or family members could be found wagering money to earn winnings on the success or unfortunate failure of an individual's weight loss achievement.
Today, such activities where individuals place bets on weight loss goals still exist but on an even larger scale. Now you can get paid via Paypal, straight to your bank account, through gift cards and other methods
If you're interested in earning money through working out, here are some of the simple ways to get paid to lose weight apps you can sign up to:
Top Apps That Pay to Lose Weight
There are quite a few apps that are available that can help you to lose weight with a cash incentive. You can easily choose which fitness program you would like to join. Here are a few listed down below for you.
One of the most popular apps for losing weight, Healthywager is an easy to join program that offers cash incentives for achieving your weight goals.
There are two main types of challenges that they offer and it's a great and fun way for you to get introduced to social dieting.
You don't have to be alone in attaining your goals as you will be part of an encouraging group that are all on a weight loss journey. You can also easily work out how much you could potentially earn by using the prize calculator.
With HealthyWager you can win up to $10,000 for hitting your goal.
1. Team Challenge
Within the HealthyWage Team Challenge, you enter into teams of 5 for the grand prize of a shared $10,000. Check right here to find out when the next challenge starts if you want to join. This is also a great way to encourage team accountability.
Within this program, you get 24/7 online support
12 weeks of motivation for you and team players
5 star mobile app that works on both iOS and Android
2. Community and Corporate Challenge
If you want to involve your community or work colleagues in this kind of health program you can do so by signing up for the Corporate Challenge. Recognized by the US Government as a way to encourage wellness programs within the workplace.
The Dietbet app is very similar to the HealthyWage app and although it doesn't pay out as much it allows you to quickly join various challenges that are in three basic groups.
The Kickstarter
Perfect for beginners that encourages you to lose a minimum 4 percent of your body weight. New challenges start each week and you can even set up your own.
The Transformer
The next stage under the Dietbet app that challenges you to lose 10 percent of your body weight.
Make sure to check how many participants are taking part in the bet to know what kind of monetary reward you will receive.
Walgreens Balance Rewards
This is an excellent all-round app that will help you with lifestyle changes that are beneficial to your health. IThe program recently changed it's name to MyWalgreens
You take part in 4-week challenges and are rewarded with points that can then be used for great reductions on purchases within the store.
So although you won't make a ton of money it is still a good incentive for extra cash savings. This app is available on both ioS and android and is totally free to use.
Stickk
This is another app that can help you stick to your commitment goals. You can even publicly share StickkFlic videos that will help not only you but others as a form of accountability. You can check them out here.
All these weight loss platforms are accessible to use on your phone where you can add and check your progress, take part in healthy activities and receive payments via Paypal, reward points, gift cards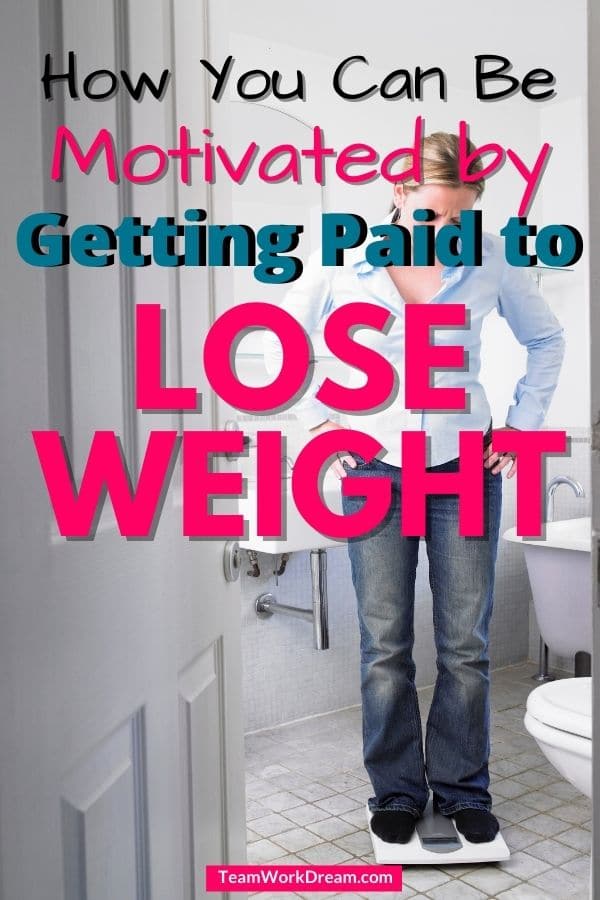 Are These Weight Loss Apps Legit?
It might seem a bit far-fetched to think that a company would pay you to lose weight especially with the knowledge that there are some less than genuine apps out there. But you can rest assured that the ones suggested above are all real, scam-free and they really do pay out great cash incentives.
If you want to know if they are real you can have a read of just a few of the success stories right here.
Other Ways To Make Money Losing Weight
1. Join/Start an Office Weight Loss Challenge
If the prospect of going home with your coworker's hard-earned cash puts a pep in your step, maybe it's time to finally join the companies weight loss challenge, or if it doesn't already exist, set those challenge wheels into motion.
As a group, you can all decide what the requirements of each participant will be, how the winner will be decided upon, and who stands to walk away with the grand prize once the challenge ends.
2. Weight Bet on a Weight Loss App
On the other side of engaging in weight loss competitions with people you know, you can also do this with people you don't know. There are many weight loss apps available that will reward you for your weight loss through the action of weight betting.
As the name suggests weight betting involves you betting on yourself or your team to either individually or collectively lose a predefined number of pounds. To offset your bet each participant will be required to wager some of their money and in the event, you win you'll get to walk away with your money as well as that of your competitors who lost their bet.
If you're interested in weighing in on a weight loss app (lol see what I did there?), then downloading the HealthyWage (my personal fav) or DietBet app is an excellent way to start. You can easily start up a weight loss challenge that offers cash prizes with your friends or work colleagues using the HealthyWage app.
3. Find a Healthy Side Gig that Pays
In case you're not one for weight betting but would still love to earn money for working out, you can consider getting a part-time job doing something in an exercise-related field from which you can still make a profit.
For the more advanced fitness guru's, I would suggest getting a job as a Zumba, Dance, or Yoga instructor or possibly offering your expertise as a Gym or Personal trainer.
On the other hand, if you are not as fitness inclined and haven't previously performed any specialized training, you can look into local jobs on the Tour Guide scene.
By now your problem thinking "Tour Guide scene? Say what now?" But yes, you heard me correctly.
Sites such as ToursByLocals and WithLocals connect travelers with locals worldwide, who can provide walk tours to foreign travelers and get paid to do so.
If you already know all the best spots worth knowing in your city and don't mind sharing your knowledge by giving a walking tour of the area to a visitor, then you can definitely lose weight and earn while doing so.
4. Cash in on your Health Insurance Rewards
One thing I think a lot of individuals don't realize is that their insurance companies are supposed to work for them and not the other way around.
That said, even though they are taking your money to provide you with their various health insurance schemes, there's no rule that says you can't enjoy a few added perks.
Some insurance companies offer rewards for losing weight to clients enrolled in their health insurance plans. These rewards range from company to company but generally include, payment of gym membership fees, store credit/Amazon gift cards, or cashback.
So be sure to contact your insurance provider to find out what rewards are waiting for you.
Final Thoughts on Getting Paid to Lose Weight
Getting paid to lose weight is yet another untraditional way that individuals can earn money. If you've been struggling to commit to shedding some pounds but wouldn't mind getting paid to do it, here's the motivation you've been looking for.
Developing a fitness routine can seem tedious at first but with prize money incentives you can be on your way to a healthy lifestyle. For extra motivation, you can read the inspiring success stories on these sites.
Just one word of caution, before embarking on your fitness goals please make sure to get professional medical advice first.
If you found this post helpful or have friends and family who could use the added motivation to lose some weight don't forget to share it with them.
Related Posts