Getting the Work-Life Balance Right
How are you coping with your work from home business and work-life balance? Do you remember the reason why you wanted to work from home? To avoid busy schedules full of stress but as a mom this can prove to be difficult. With these 3 awesome work-life balance tips for moms, you will learn not to live to work but find simple ways to enjoy both.
This post may contain affiliate links. For more information read full disclosure.
You don't want your job to define you, but as a work from home mom, you want to take pleasure and pride from your work and spend quality time with your family.
What is Work-Life Balance?
Work-life balance is the ideal need of a person to allocate and devote quality time equally between work and other non-related work events like family, personal interests plus mental and social activities for true well-being.
One of the best ways of achieving a work-life balance is by deciding to work from home. Working from home and trying to get the work-life balance right in the first instance doesn't come that easy and you need to be mindful of your goals.
Related posts:
To manage your life and work successfully, becoming more productive and less stressed out, here are 3 easy work-life balance tips that you can try out:
3 Simple Work-Life Balance Tips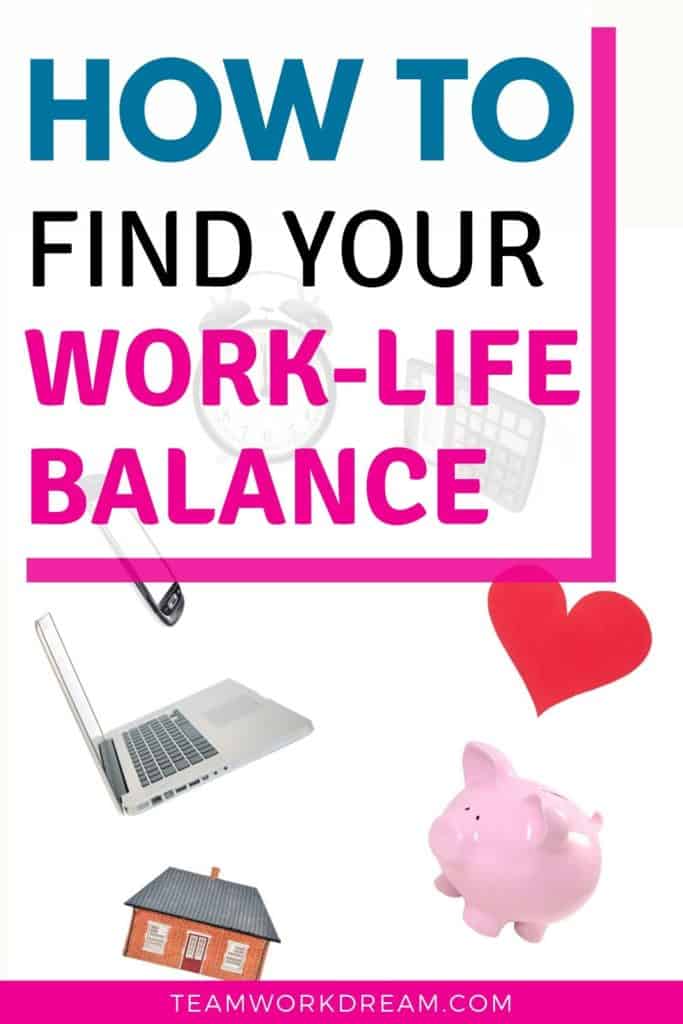 1. Improve Your Workspace
This may sound trivial but I assure you it's not. You may have heard that it's best to have an organized desk, a clutter-free office, how you should tidy everything up the night before and, yeah, of course, you should do that!
A cluttered desk or work area can sometimes lead to a cluttered mind. But how about not just neat and tidy but keeping it looking nice and smelling nice too? How about having a dedicated space in your home to work from?
>>>You might also be interested in Stupid Simple Ways to Declutter and Organize Your Workspace
It can be difficult when just starting out but it is best not to work from your bedroom! Try to find a light and airy area that you can work from.
Dress up your workspace to match your style and personality. Add some attractive and inspiring wall art and positive quotes, get an easy to maintain plant and a gorgeous smelling scented candle. (One that will keep you alert and stimulated)
If like me you're not green-fingered you can get some realistic-looking silk flowers that no one would know the difference displayed on a shelf near your work area. I absolutely love these as they really add the finishing touch no matter where they are placed.
You can be as creative as you want to be, this is your workspace after all. There's no restrictions on what you can add and it certainly won't upset anyone else in the next cubicle or pod of 4 as it's just you.
Add a cool looking lamp, paint or wallpaper a feature wall where you will work from to make your area stand out. This will make you feel inspired and motivated to start your workday.
And don't stop there. Have everything well thought out to make your life better and easier. Pick a comfortable ergonomic chair, go for an ample desk and other furniture such as storage for your home office. You can get well-priced and stylish office furniture from Amazon
Choose home office items so they are not only good-looking but useful with great storage as well. Essentially, surround yourself with things you like and love, even if it's not a whole room but just your own little corner.
If space is an issue why not introduce a screen to clearly separate your work area.
2. Improve Your Health
This is a subject you cannot skip out on when talking about work-life balance. It's very hard to do a good job and provide a great service when your health is not 100%, but, above all, your downtime will suffer too.
It's recommended that you keep your body and mind in good shape by taking on a few good habits, such as:
Exercise Regularly – Notice how the word "regularly" is used. It's ok if you don't have hours of time to work out at your local gym as long as you make sure that you at least do some form of physical activity as part of your routine.
30-minute brisk walks are a good starting point if you have been out of the gym for a while. Never forget to stretch, which you should try to do during your breaks when working from home.
Eat Healthily – Follow a nutritious diet plan. Drink plenty of water, avoid the easy to go to salty and sugary snacks. The more colorful your plate reds, greens, yellows then you know you're on the right path (no beige eating habits around here).
Stock up on dried and fresh fruits and vegetables that you actually like and see how well your body responds!
Ditch the Sitting Disease – Avoid sitting down for too long. You might want to invest in an adjustable sit/stand desk that's perfect for both sitting and standing and strong and durable enough to steadily hold your pc and laptop without breaking the bank. This will help to reduce future back issues.
Watching this video will really get you in the mood to start moving your body to avoid the Sitting Disease, otherwise known as the sedentary lifestyle.
Meditate – If you think only Buddhist monks do this, you have some catching up to do! Meditation is another quick and easy practice that will positively impact your well-being.
You might be saying but I have kids! I hear you, but did you know you can also get your children involved in meditation by having some quiet time and introducing mindfulness practice activities.
Doing this is known to reduce stress, enhance self-awareness, promote emotional health, lengthen attention span. The benefits are endless. This is why there has been an increase in the number of people practicing meditation in their everyday life.
Power naps – You don't need to always rely on coffee as your energy source. When you feel drained out during the day, take advantage of the fact that you work from home and have a 20-minute nap!
It will help you boost focus and performance and it won't affect your nighttime sleep. Just make sure you set an alarm and don't snooze the whole afternoon away.
>>>Read How to Stay Healthy When Working Remotely
3. Balance Your Downtime With Simple Self-Care
This is the part where everything comes together when managing a work-life balance. By applying the previous tips, your productivity and the quality of your work will have increased. Now is the time to reap the benefits of your labor.
Working from home does not mean you have to be working full-time. You need to put aside time to rest and recharge. Set strict working hour boundaries for yourself and your clients along with your home life hours.
Resting and taking breaks should not be considered a luxury but rather as a necessity for the sake of your well-being.
There is no need for you to sacrifice quality time with family and friends to answer a new work-related e-mail at 9pm unless you work the night shift or it's a life and death situation. It can wait until tomorrow morning!
Can you remember the last time you just had a great evening conversation with your partner where you were not discussing finances, or kids or things that needed to be done around the home?
Have a date night or a date brunch or lunch, it doesn't have to be expensive either. It could be simply a couple of homemade sandwiches from the fridge in a brown paper bag that you take to the local park together.
Even when you are spending some alone time, don't let any work activities sneak in. Turn off your phone notifications and dive into that new book you have been putting off reading. Watch that new thriller all your friends said was exciting.
More Work-Life Balance Ideas
How about a vacation! Now a vacation doesn't mean that you raid the Brinks truck and go take a world cruise especially when you're on a serious budget. I personally have taken a day off and acted like a tourist for the day in my own local area just by going out a few extra miles.
**Read How to Work Online When on Vacation**
Have you ever noticed that there are many places like historical sites that other people from outside your area have mentioned they've visited near where you live that you've never been to or even heard of?
Go on, try being a tourist if even for a day. It will not only relax your mind but make you more productive and refreshed on your return.
No matter what you do, enjoy it! You deserve it!
This is by no means an exhaustive list on how to achieve a work-life balance, but it sure is a good starting point. Working from home is a wonderful way to find happiness and improve your well-being. Working for yourself, setting your own hours and getting to spend time with family is essential.
With these 3 easy to do work-life balance tips you're well on your way to having a great work from home business and a healthy and rewarding home life.
If you have any additional work-life balance ideas that you want to add feel free to comment below and share this post with others.
Related Work-life Balance posts: