In this day and age, one of the quickest ways to communicate with someone is to send a text message. We do it all the time with our friends, significant others, and our families. It's fun and convenient for those days you just don't feel like talking on the phone.
But have you ever thought about making money by sending text messages? Yes, you can actually get paid to text from your phone. With a bit of research, I can now share with you 11 of the best companies that will pay you to text.
According to the latest statistics, over 6 billion text messages are sent every day in the US. Amongst adults on average, they text twice as much as making calls so it makes a lot of sense to earn some extra money while texting.
This post may contain affiliate links. For more information read full disclosure.

Can You Really Get Paid for Texting People?

Yes! You can definitely get paid to text and it's a side hustle that anyone can do. With a few taps on your phone keyboard, you could get paid to work for agencies or even make money to flirt with strangers via text.
It may sound unrealistic but it's totally legit, and persons who have tried this are making a lot of cash from it. Besides, some of us spend hours a day on our phones so why not try to profit from it?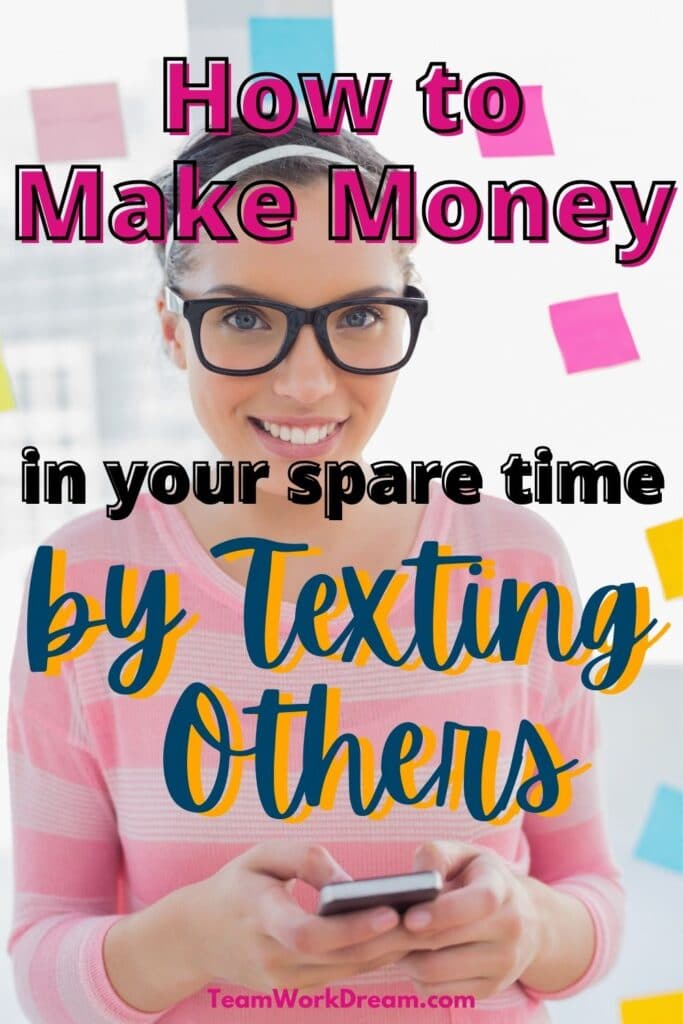 Companies That Pay You to Text

Here are 11 companies that you can work with to get paid to text in English.
1. Flirt Bucks
If you're a woman with a fun engaging personality and enjoy having great conversations with men, this company may pique your interest.
Flirt Bucks hires chat hostesses 18 years and older where you can schedule your own hours and choose who you'd like to converse with.
A hostess can make between $0.10 per minute to text and $0.40 per minute for video calls. Remain actively engaged and every two weeks you'll get paid via PayPal or cheque.
2. TexKings
TexKings is an agency that hires text chat and phone operators in several languages including English, Dutch and French.
Applicants should be at least 18 years with a sexy feminine voice and be able to type 25 WPM when replying to clients with casual and if you don't mind, erotic text messages.
This is a remote position so a capable laptop and a speedy internet connection are crucial. You can get paid €0.6-€012 per message along with bonuses.
3. McMoney
McMoney is an android app where users receive text messages from companies who are testing their SMS marketing for needed improvements.
For each text, you could get paid $0.05 which would gradually increase, it's a great way to use some free moments to earn a passive income. Simply sign up to begin but one downside is that iOS users are not yet able to install the app.
4. KGB
KGB might sound like a super-secret spy agency but it's another platform that you can use to get paid to text online. Users are called special agents and they operate by giving straightforward answers to questions.
Agents are offered two rates which are deposited into their accounts: $0.05 for automated answers built in the program and $0.10 for investigated answers. Sign up, upload your ID and pass the screen test to begin.
5. Chat Recruit
This is a UK-based platform where women get paid to text flirt or talk with men online. The Chat Recruit app allows you to use voice and video calls along with text messaging to communicate with clients.
Using an alias, you could earn up to $2 per chat minute and $0.25 per text message which is available for withdrawal per week or every month. Users must be 18+ with a laptop and a flexible schedule.
If you enjoy conversing with men then this website is a great choice to make quick cash. Guys who do not have time for a relationship visit this site to find internet girlfriends.
A lot of these men send large sums of cash for great interactions, fetishes, and original content. If you're open to talking about anything under the sun you can spend several months with this company and who knows how much you can make in a year. Possibly quite a lot!
You can make money online in other ways by signing up to FlexJobs for legitimate top-paying part-time and full-time remote jobs.
This company pays users in the US to receive text messages without the need to reply. For persons who enjoy leaving messages on seen, this is for you.
Reviews from previous workers reveal that you can make up to $300 per month and more if you refer your friends. You may also unsubscribe to stop getting SMS at any time.
8. Hummr
Do you enjoy setting your own rates? Hummr allows users to get paid to text and set their own prices. This platform helps connect people with qualified experts in specific fields who can answer their questions.
Answers may be given via text messages or video chat. Sign up with Hummr and start answering questions to attract customers.
9. Ginger.io
Mental health is important and Ginger.io is a platform where wellness coaches provide chat support to people dealing with depression and anxiety. You will be hired to offer counseling sessions to those individuals and other necessary advice.
You could get paid up to $21 per hour or more. Sign up and present the requisite credentials and ensure you have high-speed internet for video and text therapy.
10. Rent a Friend
Yes! There are people who are seeking to have platonic friendships and they are willing to do so by renting them. Here, you don't need to reveal your personal identity, and explicit text messages are prohibited on this website.
By reading and following the guidelines you can become an online friend on Rent a Friend and get paid $15-$20 per hour to text on your phone.
11. Fibler
Fibler connects people with experts in different fields who need simple answers to questions. For voice and video call consultations you can make $9-$15 and $3 for texts. You will get paid depending on your field but the method of payment is PayPal and direct deposits.
Final Thoughts on Getting Paid to Text

Please note that you should never reveal any personal information about yourself to strangers. Use an alias and don't use your credentials. It's for your safety. We hope this information was helpful. Select the platform that best suits your personality and get paid to text online.
Related Posts