Having heard your friends discuss the flexibility they enjoy from working at home over the last few years, you are suddenly hit by an overwhelming desire to do away with the traditional work week and try it out for yourself.
So what do you do? You turn to your trusty old pal, Google, for guidance. After a few internet searches, you realize that there are a wide variety of platforms that you can utilize but the one that keeps on coming up again and again is Flexjobs. But is it genuine, the real deal?
You've seen quite a few positive reviews for the popular job site but you still aren't sure it's worth the hype or your money. Don't worry I totally understand so let me show you the ins and outs with a balanced FlexJobs review.
This post may contain affiliate links. For more information read full disclosure.
There are so many free job sites why willingly choose the one paid site that exists? Before you start to cast judgment on others who choose to pay to use FlexJobs, let's evaluate the cold hard facts.
What is FlexJobs?
On the off chance you haven't heard of it before, FlexJobs is a job listing platform that bridges the divide between companies seeking full and part-time employees, remote workers, freelancers, and individuals interested in securing one of these roles.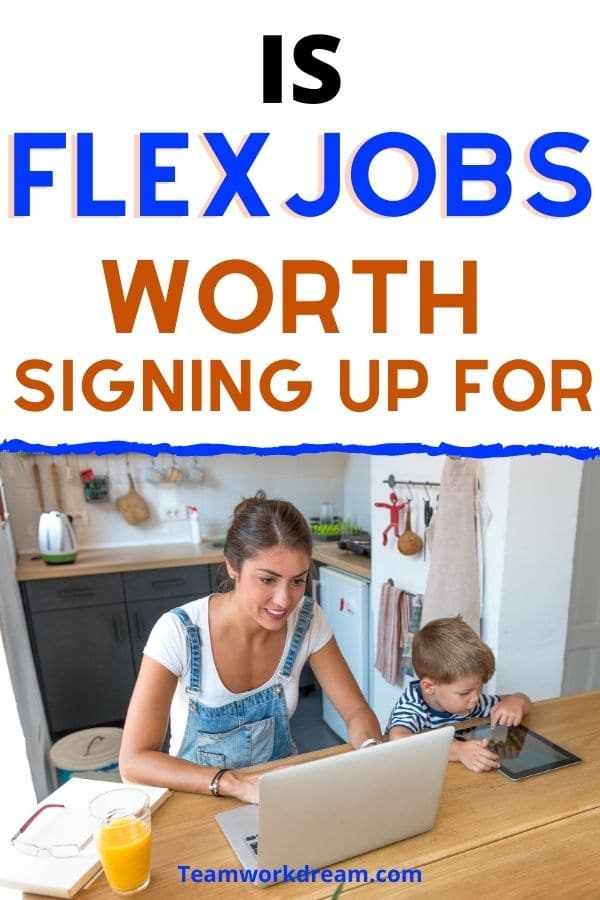 Who is FlexJobs for?
Simply put, FlexJobs is for someone who is looking for jobs outside of the regular in-office 40-hour work week. If you are interested in job opportunities that provide flexible work schedules in a variety of job fields, marketing, data entry, and writing, just to name a few, then FlexJobs is an excellent platform to use in conducting your search.
You can, in fact find a wealth of information on FlexJobs. through all the many social media platforms that they are on. You can find FlexJobs on Twitter, Facebook, Instagram not forgetting LinkedIn and they also have a very useful YouTube channel that has helpful guides on how to use their job posting platform.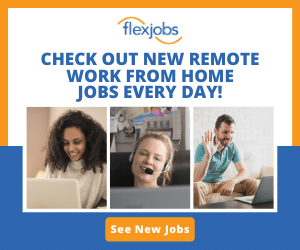 Features of FlexJobs
A large part of the reason that FlexJobs is so appreciated in the telecommuting and freelancing industry is owing to the numerous features included within a FlexJobs membership. Some of these include:
1. Resume Profile
When you become a FlexJobs member, you are asked to fill out your profile which once completed provides you with a professional resume perfect for applying to job postings found on FlexJobs.
2. Email Updates
We're in the 21st century and I don't know about you but I like a company/platform that realizes this and uses it to their advantage. Unlike job posting sites like some of the other competitors,
FlexJobs sends you regular email updates for job postings befitting the particular skills and interests you indicated on your profile. This means, instead of having to look and scroll through the site daily for jobs, you can sit back relax and check your email for suitable job postings that will come right to you.
3. Skills Tests
Imagine a platform that not only provides you with a list of prospective jobs but also equips you with the resources to win over the heart of any Recruitment Officer or Human Resource Manager. You're probably thinking to yourself, there's no possible way that such a platform exists.
If you decide to sign up for FlexJobs you will be in for a pleasant surprise because that is exactly what FlexJobs does.
With over 170 offerings of different skills tests FlexJobs gives you the opportunity to be aware of your skills, while simultaneously allowing you to better sell yourself when applying for a job. Best of all these tests which usually retail at $20USD apiece, are completely FREE with your FlexJobs membership.
4. Member Savings Partnerships
Having a FlexJobs membership isn't just beneficial to being able to view FlexJobs postings. It also allows you to get extra savings and discounts through some of its partner companies. These partner companies include some of my personal faves like: Dell, Grammarly, Audible, and even Costco. This is a great way to keep a little extra money in your pocket.
I won't waste your time going on and on about what FlexJobs has to offer because let's be honest, even if they were offering the world, if the cost is too much you won't be able to afford it.
Is FlexJobs Worth Paying For?
With all the features available on the FlexJobs membership site such as daily email job notifications, the various skills tests you can take to upgrade your knowledge and abilities plus, of course, all the information you need on how to become the best candidate for any online openings through the FlexJobs blog posts.
With it being a one-stop-shop for finding legitimate remote jobs taking the stress out of searching on a million different sites or getting duped out of your hard-earned money FlexJobs is well worth paying for and it definitely won't break the bank especially if you want the best start in finding a work at home job.
How Much Does FlexJobs Membership Cost?
Personally, and I'm not trying to tell you how to spend your hard-earned cash but I am of the opinion that for all the features FlexJobs offers its members, a FlexJobs membership comes at an affordable price. You can actually join up for a whole week for the price of 2 large Starbuck coffees.
There are various membership packages ranging from 1 week to 1 year, which is another great thing about FlexJobs. Their membership packages are inclusive to almost everybody.
At the time of writing this post FlexJobs packages and prices were as follows: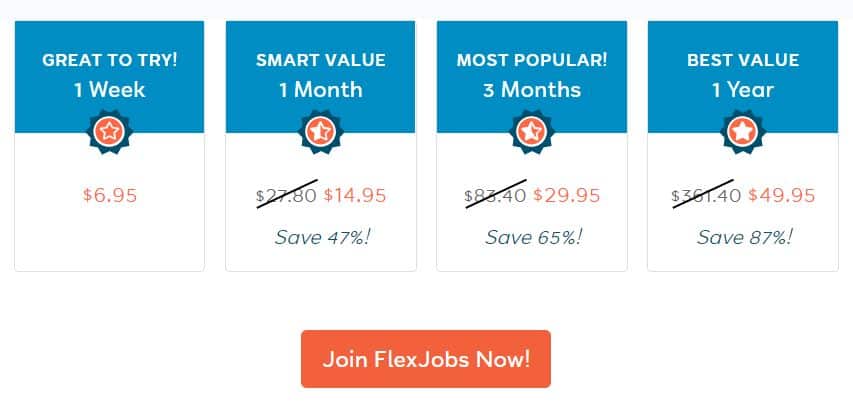 Tips for Landing the Highest Paying Jobs on FlexJobs
While FlexJobs filters out all of the scams, it cannot guarantee that every job will pay well. These pro tips from high-earning freelancers can help you select the best paying jobs on FlexJobs, which in turn will make the platform cost more than worth it.
Pro Tip 1: Know your value before applying for a job
Trinity with The Pay at Home Parent has been a freelancer for more than five years and knows that there is always competition for new jobs. She says,
"It's important to value your time before you put in your first application for a job. You don't have to settle for the first opportunity that fits your skills. Online business owners like myself who hire freelancers know that 'you get what you pay for.' You don't have to give away your hard work for pennies just to prove your value (and hope that you'll get a raise in the future). Instead, prove yourself from the start and apply for the jobs that pay competitively."
Pro Tip 2: Make Sure Your Resume is Totally Up to Date
From my own personal experience, you can lose out on great paying job opportunities due to an outdated resume.
Make sure to review your resume regularly, at least every 3 months as you are always learning new things over weeks, months and years.
Getting to grips with new software applications from beginner to intermediate shouldn't be excluded from your resume even if you're not an expert. Just be honest!
Also, don't dismiss things that you have done for your own personal benefit. Skills you may have developed while doing voluntary tasks are all working advantages that can be shared and used when applying for a new job.
Pros and Cons of FlexJobs
Pros of FlexJobs
Now that you've found out some basic information about FlexJobs let's take a deeper look at the pros and cons for you to come to a fair conclusion.
Value for your Money – with all the features that FFlexJobs provides you cannot overlook the fact that for these membership prices you're definitely getting a deal.
Resources Galore – It's not guaranteed that signing up will secure you a remote job, but you are provided with all the resources and tools you need such as job-hunting tips, and checklists to ensure you're on the right path to getting a job.
Guaranteed Scam-Free Jobs – Unlike other job posting sites, FlexJobs researches and thoroughly vet all companies who want to post jobs prior to allowing their posts, hence avoiding the likelihood of scams when members apply.
Higher Paying Jobs – Due to the vetting of companies you can find a better selection and usually higher-paying remote jobs on the FlexJobs membership site. Companies trust FlexJobs and know that they will get high-quality staff for their vacancies, especially when compared to sites like Fiverr and Upwork where the criteria are not so strict and tend to pay lower rates.
100% 30-day Money-back Guarantee – I appreciate companies who are willing to provide a money-back guarantee. Why? Because to me, the ability to provide such a guarantee shows me that FlexJobs is aware and sure of the quality service they provide, so are not particularly worried about having any dissatisfied customers.
Cons of FlexJobs
Amidst all the Pros that there are to using FlexJobs, it isn't perfect so here are a few of its cons that I have to mention:
Paid Membership – While I agree that their membership prices are fair, some might see it as an added cost considering that some of the jobs listed you could find yourself elsewhere on the internet for free. Not to mention the fact that there are other job posting sites you could use whose membership is totally free.
Getting a Job Takes Time – Even though you are paying for membership and have a lot of resources to hand, you still have to actively utilize the site in order to secure a job. It's definitely not a magic wand for getting a job instantly.
Third Party Job Applications – Although you may find a particular job listing on FlexJobs, you can't always apply for the job directly through FlexJobs as different companies have different processes for screening applicants.
If you're looking for flexible work from home jobs FlexJobs can help you find legit remote jobs. Sign up now to join FlexJobs.
Should You Sign Up with FlexJobs?
To answer the question that has probably been on your mind since you began reading this FlexJobs review, the truth is the choice is entirely up to you and if you see value in signing up with FlexJobs.
From the information provided you should now be able to make an informed choice to search for remote work with the assurance that all jobs listed have been thoroughly vetted plus the option to use various job search resources.
What I will say, however, is if you're new to the work from home job hunt and want to avoid possible job scams, wasted time, and don't mind dipping into your pocket a little, by all means, go right ahead.
If you found this FlexJobs review helpful or have friends and family who are interested in finding a more flexible work schedule don't forget to share it with them.
Related Posts