If you're new to the business of working from home you've probably noticed it has a few upsides and knowing how to celebrate the holidays working from home is one of them.
The many benefits of working at home is that you can enjoy the liberty of having your work environment conveniently doubling as your home and if you're a freelancer, you can revel in the opportunity to set your own working schedule.
While these things might appear enticing at first, when it comes to the holiday season you may start to feel like you're missing out.
This post may contain affiliate links. For more information read full disclosure.
Unlike your friends who are flitting around town in search of the perfect "Secret Santa" gifts, you are sitting at your makeshift home office trying to remain focused on working amidst all of the distracting holiday cheer.
Related Posts
You won't say it out loud for fear of sounding like the grumpy old Grinch but you secretly hope that the holidays will quickly pass and things will get back to normal.
This isn't because you hate the holidays however, in fact, quite the contrary, your issue is that you haven't quite figured out how to celebrate the holidays while working from home.
Lucky for you, you've come to the right place. With years of working from home experience under my belt, I've got a few ideas for you to celebrate I'm sure you'll love.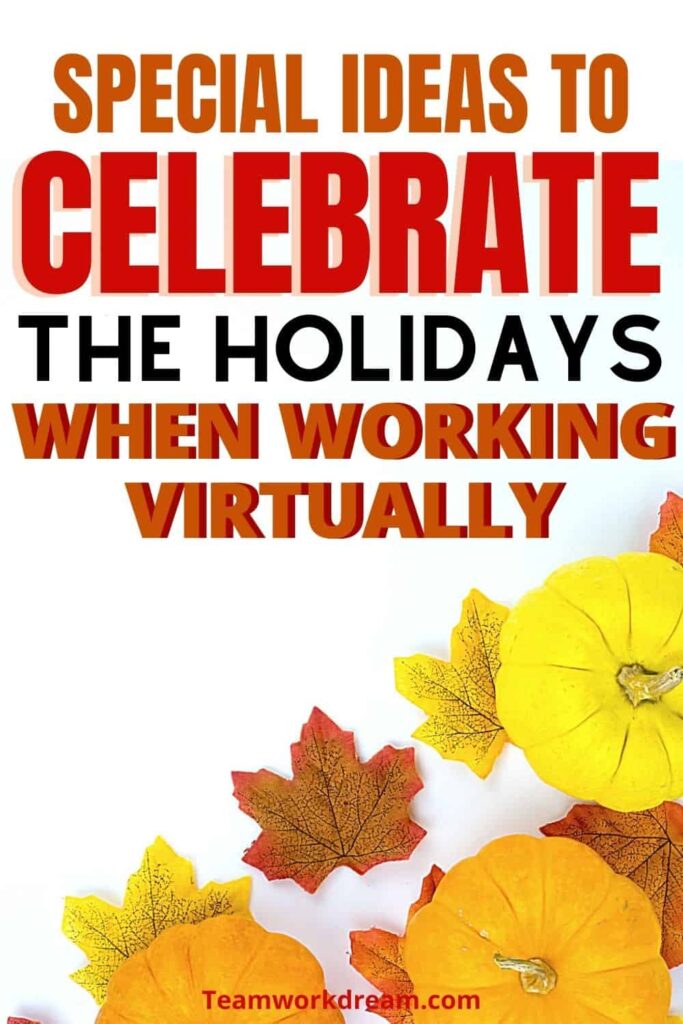 Ways To Celebrate the Holidays in Your Home Office
The first step to brainstorming ways to celebrate the holidays while working from home is acknowledging, that your work situation and work environment are a tad bit different from that of the average person.
This means the ways you celebrate need to be as creative and outside of the box as it gets. For example:
1. Decorate Your Virtual Workspace
Yes, you heard me right. Who says just because your office isn't a physical one you can't join in spreading holiday cheer? Think of simple yet innovative ways you can use to decorate your virtual office then put them in place.
How about this cute home office item to create holiday season cheer. Available as a Reindeer, Santa or Snowman.

If you're more of a minimalist you can always be a bit more subtle when having holiday Zoom meetings with some modern looking LED birch trees in the background.
Available as a pre-lit set of two. Find out the price on Amazon but order early to avoid delays.

Here's an idea to get your creative juices flowing. If regular video call meetings are a part of your work from home schedule, consider utilizing a virtual background that depicts a well holiday-decorated home office.
You can easily create a Christmas Zoom background using Canva.
Alternatively, for days your meetings are via voice rather than video call change your display picture to one more befitting of the particular holiday you're celebrating.
For example, for Thanksgiving you could pumpkins or fall leaves, during Christmas, your picture could be you wearing a Santa Claus hat.
Need some ideas that you can use for virtual gift giving? Here are some budget-friendly suggestions for when working at home.
2. Take Part in Virtual Gift Giving
Nothing screams holiday louder than the prospect of getting gifts. While some people enjoy being on the receiving end, I for one love the feeling of giving someone a gift.
If that inner 'gift-giver' just happens to be apart of your personality, then don't think for a second that just because you're working from home you can't still engage in holiday season gift-giving.
Virtual gift-giving can be just as fulfilling as doing so in person. Unlike in-person gift-giving however, virtual gift giving can take many forms.
Imagine this, you work from home for an international company, so the chances of you actually seeing your co-workers in person is pretty slim. Thankfully, however, the advent of online shopping has created an easy fix to your dilemma.
Find out what gifts your coworkers would appreciate and have it delivered right to their door. Or if you want to avoid the hassle of making the gift purchase yourself, you can consider sending them a gift card for use at their favorite store.
If you're a freelancer who doesn't have a work-family whether virtual or otherwise, you can consider providing a few of your top clients with virtual gifts such as 'store rewards'.
This might involve you running a discount on your services from a period beginning November 27th through to the end of the year.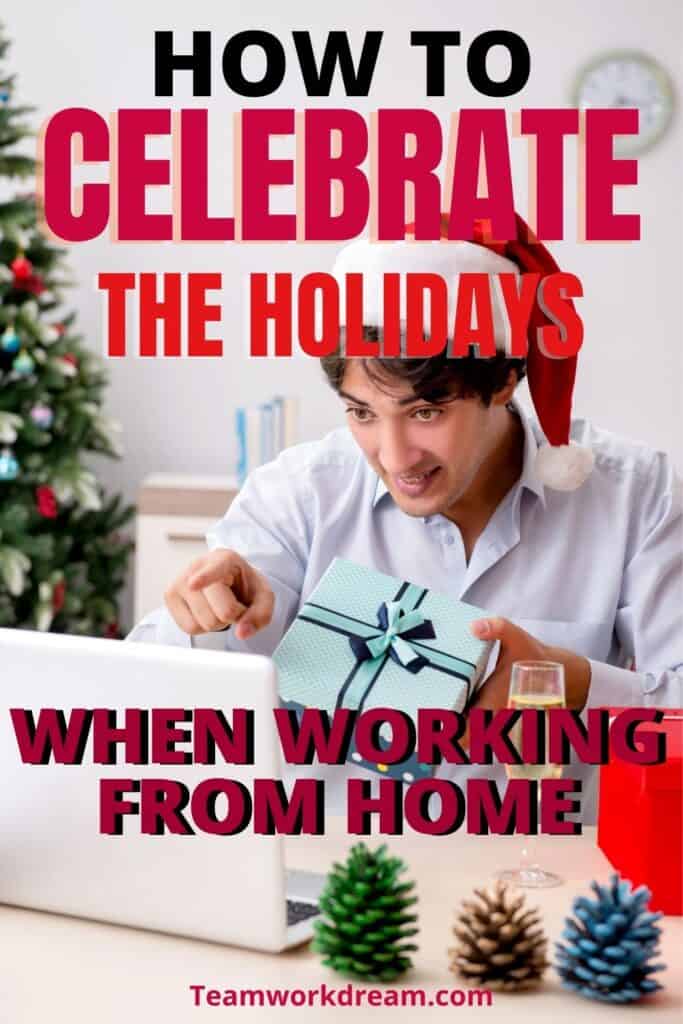 3. Attend a Virtual Office Party
Remember how I started off by saying you celebrating holidays working from home will require you to think outside of the box? Well yes, back to that.
We live in an age where technology is literally at our fingertips. We have all the tools we need to get exactly what we need done and even more, so why not use it to our advantage?
The Virtual Office Party is unorthodox but not unheard of it. In the past large companies with employees based all over the world have hosted Virtual Office Parties to encourage the formulation of meaningful connections between their employees.
Furthermore owing to the impact of the pandemic, companies, organizations, corporations, you name it have been moving their meetings, seminars, trainings, and workshops online. So, really, when you think about it, the idea of attending a Virtual Office party, isn't so ludicrous after all.
4. Host a Virtual Movie Night
The year 2020 has definitely changed the way we interpret the word 'social'. Yes, we're still craving companionship, but contrary to popular belief we don't need to be in each others space to provide it. There are more than enough ways to catch a movie with your friends or coworkers that don't require you to leave your home to do it.
As holidays are generally a time of togetherness of families and friends, a good old fashion movie night is always welcome to put the seasons festivities into full gear.
Platforms such as Netflix allow the traditional movie night to still be a possibility even if your friends, families, and coworkers are miles away. And you know that Netflix always has it's Christmas movie specials.
Simply select the movie you want to watch, create a Netflix Party and share the URL so all your specially invited guests can join in.
Final Thoughts
Like everything else, working from home can take a little getting used to. Sometimes even when you think you've figured it out down to a science, with each day you'll realize there is something new about it you can learn.
As much as possible try to be open to learning these new things and remember traditional doesn't necessarily mean only. As the holidays begin to approach consider all of the out of the box ways you can still celebrate even while working from home.
If you found this post helpful or have friends and family who currently work from and are looking for ways to celebrate the upcoming holidays don't forget to share it with them.
Related Posts