Great Ways Men Can Make Money from Home
For you gentlemen wondering can men do work from home jobs and make good money from it the answer is an astounding YES. Many men who are not in the know (usually those above the age of 50) are under the impression that working from home jobs are for women and that it's just an opportunity for a woman to make some pocket change. WRONG!
This post may contain affiliate links. For more information read full disclosure.
The outlook of the working world is ever changing and with technology at the forefront of everything and outsourcing by many companies work from home is becoming more common. Men doing remote work is on the increase.
The purchasing power of people is no longer confined to physical stores and cash only transactions resulting in thousands of opportunities for men to do work from home jobs and make a decent living by becoming a virtual worker.
No more commutes to the office, the factory, the store or wherever you work. You can now provide for yourself and your family with hard work and creative ways of earning a steady income by working online.
Related must read posts:
One thing you've got to remember that the internet does not discriminate in regards to age or gender when it comes to working remotely.
I mean the client doesn't even know what you look like unless you put a picture up in your profile and doesn't really care as long as the job gets done well!
Working remotely should probably be something you should think about anyway as research has shown that certain types of jobs will disappear within the next 20 years.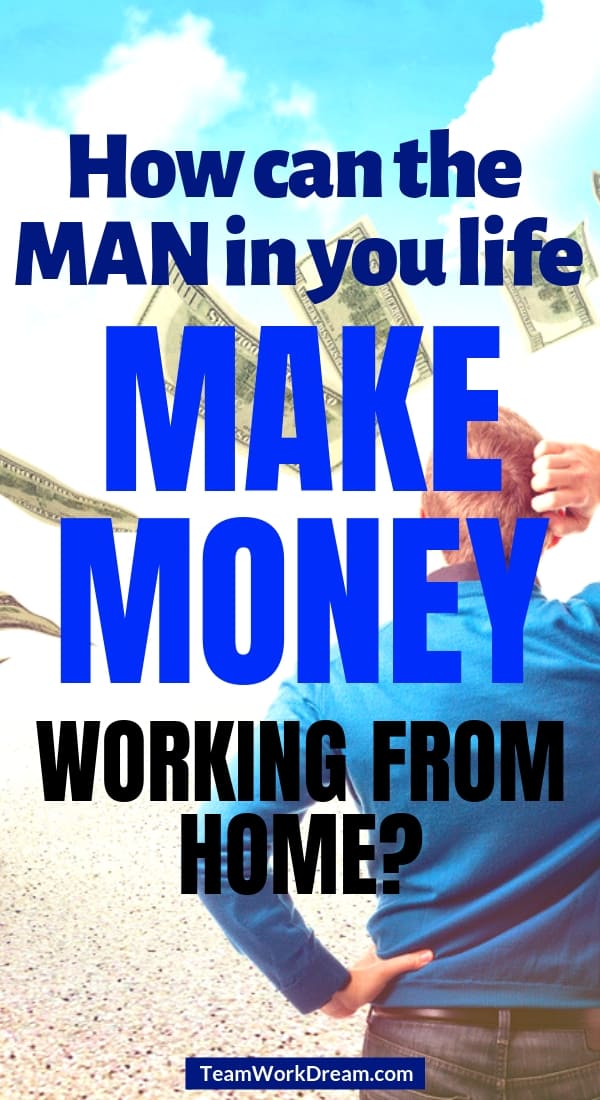 Reasons for Men Wanting to Work from Home
In this current climate of uncertainty, outsourcing, part-time opportunities or reduced hours are what is being offered as permanent solutions when working for companies these days.
Due to these temporary or unstable positions, long commutes and sometimes even low income these are some of the reasons why men want to work from home. Here a few more typical reasons:
Losing your job

Wanting to do what you love

Wanting independence and flexibility

Being your own boss

Having more time to spend with family

Wanting more time to travel
Work Ideas to Think About
Have you thought about lately how you use the internet for information?
I'm sure that you regularly rely on particular websites and various vlogs for information such as the purchasing of financial products, getting reviews on technology, gaming and electrical products. Finding the latest sporting commentary on your favourite team, following training exercise programmes, the list goes on.
Now ask yourself this question, who do you think writes and vlogs on all these topics such as how to fix your carburettor" or "how to change your motherboard on your laptop"?
When you called up and checked your American Express card bill was there a customer service agent at the end of the call? It could have been a man just like you sitting in his home office happily helping you with your query.
Nowadays it's not a large company, it's a man or woman, more than likely working from a home office.
It could be a stay at home dad or mom or even a retiree, a college student and even a teenage boy in some instances (gaming) writing these articles that you read every day or, uploading the vlogs that you watch. I'm sure you've probably subscribed to quite a few too, right.
You might want to have a read of Great Paying Tech Jobs You Can Do to get an idea what is available to you if you want to work for a company.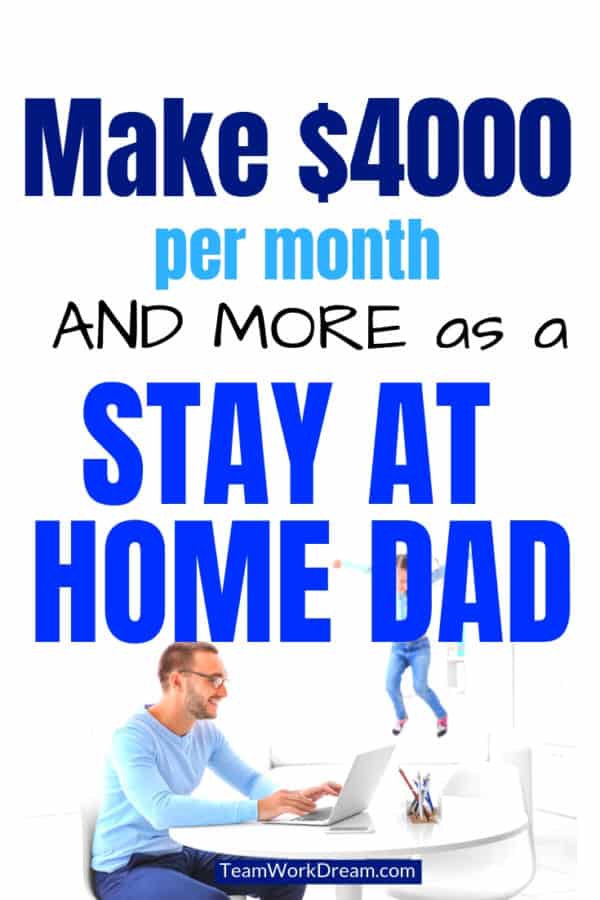 Can Men Do Work from Home Jobs? Doing What?
Well, if you have the experience in a certain field such as DIY, science, a foreign language, love a certain genre of film or comic, you might even be a tech geek there are thousands of options for you ro start your own business by creating your own job.
You can become the go-to expert on DC comics or Marvel characters, provide historical information on rock, country, or the origins of reggae music through blogs, YouTube videos, provide research for others and write content for a variety of clients and earn an extra income by doing something you love.
**READ Beginners Guide to Affiliate Marketing**
You could start an e-commerce store and you don't necessarily need to have the items physically in stock where you are by learning how to do dropshipping or affiliate marketing.
You can do all these things as a side hustle or as a full-time job it's entirely up to you. Or you could provide step-by-step guides on how to give a car service with screenshots or videos.
It doesn't matter what your current occupation is you can earn some extra money on the side by doing it from home.
So if you're a plumber you could easily provide instructional guides online with accompanying videos of you performing a number of quick fixes and make money by linking to various affiliate programs such as Amazon for the equipment or tools you use and can recommend.
As a matter of fact, I have a friend who is currently a security guard and he blogs and vlogs about the latest tech equipment and apps and he personally told me that he makes more money from his blog than he does his security job.
So you see it doesn't matter what you do for a living as long as you have an interest in something and can inform others then you're starting in a good place.
My friend is actually the person who introduced me to the Hostinger web hosting service when I wanted to start blogging.
WANT TO START YOUR OWN BLOG?
As a SPECIAL OFFER from Teamworkdream, you can start a blog for as little as $2.95 per month with a Hostinger Premium Plan and you won't find a better deal. Sign up and get a free domain name, unlimited websites, unlimited email accounts and unlimited bandwidth plus excellent 24/7 support. [/su_note]
Work from Home Business Ideas for Men
Here are a few more suggestions of what you could do to start making some money online:
Product Reviewer – All niches

DIY Tutorials

Voiceover artist – Podcasts, Audible Books, Animation

Gaming Expert

Online Tutor

Content Writer

Ghost Writer

Affiliate Marketer

Online Sports Commentator

Computer Programmer

Chat Support

Helpdesk Support

Translator

Graphic Designer

Blogger/Vlogger
The list is endless and if you are a man already working from home let me know what you're doing.
**Best Courses to Take to Make Money Online**
I'm forever thankful for an online vlogger guide on how to get chemical scratches off of my dashboard screen just by using baking soda, toothpaste and cooking oil.
He gave simple instructions and showed the viewer just how to do it. My screen never looked so clear! His video has had over a hundred thousand views and it is monetized.
What about you dads? Did you know you can make money by having fun with your kids? Have a read of this post for some great ideas.
Check out the guy in this video below too. He probably started out in his garage and now his working from home business has grown into a YouTube channel.
He has a massive female following and it's great to see and get instruction from a man in an industry that is traditionally considered one for the ladies.
If photography is your thing you can take stock photos and sell them to the various photo stock companies like Shutterstock, istock and there are many others.
Now that you know that you can get great work from home jobs go get the laptop fired up and get to work.
In case your a wife, girlfriend, sister or mom reading this why not share this post with the men in your life by pinning any of the images or sharing on Facebook. If you want more ideas feel free to check out my other posts to get a feel for what is out there and you will no longer be asking the question how can men do work from home jobs?