Why You Should Start an Online Business
One of the best and easiest ways to set up a business especially as a beginner quickly is to start an online business.
If you've been thinking about ways to work from home and how to make money setting up an online business is now known as one of the best ways to achieve success super fast. Using other business models such as renting office space or opening a store often involves a lot more risk and will take longer to establish.
[thrive_leads id='2311′]
What is an Online Business?
It's pretty self-explanatory, as the clue is in the name. Simply put an online business is the provision of a service or the buying and selling of products over the internet. A great definition can be found here.
This post may contain affiliate links. For more information read full disclosure.
Different Ways to Start an Online Business
As mentioned earlier in the post it's pretty easy to set up an online business and you can do so in a number of ways. Here are just a few ways of how to start an online business from home:
Set up an Etsy Store

Sell on Amazon or Ebay

Become an Affiliate Marketer

Start a Virtual Assistant Business

Promote and sell online courses

Sell digital products

Sell physical products through a Shopify store

Provide an online freelancing service

Start a Blog

Promote your business on Pinterest
What are the Advantages of an Online Business?
There are a number of advantages that an online business has over other business models, and I'm going to share 7 of them with you.
1. Setting Up an Online Business is Cheaper
By setting up an online business, you have very low upfront costs. It's actually free to create a website using a service such as WordPress, and all you pay for is the hosting. Compared to setting up a physical business which can cost thousands and more starting an online business financially it's like a drop in the ocean.
2. Automated Online Business Processes are Easier
One of the great advantages of an online business is that you can easily put automated processes in place by using the right software and apps.
For example, you can automate email responses, schedule social media posts, set up chatbots for FAQs, pre-arrange automated marketing strategies. You can even deal with a lot of the queries on the go with the right apps as you do not have to be physically present.
Related online business posts:
3. Online Businesses are Open 24 hours a day
Want to know what else is good about an online business? Your business is open 24 hours a day without you having to be there.
Just think about it, anyone can purchase a product or service from your site, read your blog or go through your social media at any time of day or night. You also have the flexibility to work on your own schedule. Your online business is never closed.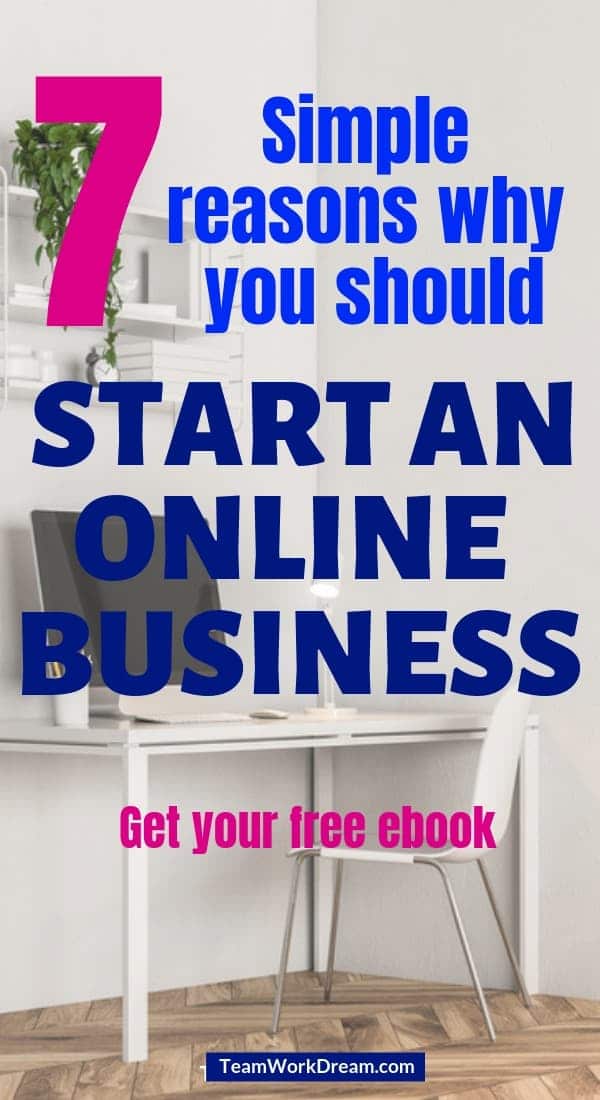 4. Your Online Audience is Global
With an online business, people can look at your site from anywhere in the world and you can promote from more than one online platform.
According to all the latest statistics, more and more people are going online for information, services and purchases. This means that you can take full advantage of the large global audience and the many ways in which you can reach them online.
So, for instance, you can have your website, blog or ecommerce store. For social media, you can promote your online business through Instagram, Facebook, Twitter and your Pinterest accounts.
5. You can Grow Your Online Business Quickly
You can quickly scale up your online business compared to an actual storefront. Websites, blogs and ecommerce sites are usually much easier to scale and grow rapidly compared to a physical business. This is mainly due to cost.
For example, if you had a well-established clothing store and due to progress you've outgrown the size of the store and now need to buy or lease bigger premises. If it was an online business the capacity can easily be increased to facilitate increased traffic.
You can also use paid search methods to gain more traffic. Plus, if you sell digital products such as eBooks, courses, and software products, it will cost a minimum amount to regularly keep products updated and to maintain fees for the payment platform so that you can keep on earning.
[su_note note_color="#b2faf4″ text_color="#666666″ width="600″]WANT TO START YOUR OWN BLOG?
As a SPECIAL OFFER from me, you can start a blog for as little as $2.95 per month with a Hostinger Premium Plan and you won't find a better deal anywhere else. Sign up and get a free domain name, unlimited websites, unlimited email accounts and unlimited bandwidth plus excellent 24/7 support. [/su_note]
6. Quicker Online Success
You've seen the pictures of the many online gurus, the Instagram influencers, YouTube Vloggers and how quickly some of them start to make 4, 5 and 6 figures in a short space of time.
First of all, check out the real facts. Online businesses can grow very rapidly with the right marketing methods and tools. But it takes real hard work in the beginning. Like anything you have to build a solid foundation and once the right steps are taken positive results can start to appear realistically by the 6th month.
In the traditional way, it would take roughly 3 years to start to see real success and take decades to become a millionaire unless by absolutely sheer luck. But it is possible to earn a good income using a solid online model in a reasonably short time frame.
7. Have Full Creative Freedom and Financial Flexibility
It is so much easier to manage an online business as there are more available options. Brick and mortar businesses are restricted by the footfall of customers passing by. You're limited by the cost of hiring skilled employees and the benefits that you have to pay out for space and staff.
With an online business, this cost of running an online business is largely reduced. First, you can outsource your work to skilled freelancers based anywhere in the world. This can help you to keep your costs down and help you to expand your business a lot quicker.
You too can work remotely from anywhere if you feel the need. By outsourcing your tasks you are able to concentrate on the more pressing business of making new products. creating more content and promoting your business even more.
Another positive to having an online business is that you are your own boss and once you are fully established you can take your foot off the gas a little bit and work fewer hours, spend more time with family and friends and generally enjoy the fruits of your labor.
Final Thoughts on Starting Your Online Venture
Starting an online business is a great opportunity to start working for yourself. It's a way for you to break away from the 9-5 and start to work from home or from anywhere that you desire.
An important point to share is that you do not need a lot of money to start a successful online business and a lot of information, including great courses, are available to set you up in the right way.
With the right processes in place you will gain a global reach for your services or products, be able to establish and grow your business fairly quickly, have full control of your creative and financial freedom and have the flexibility due to automation and outsourcing to make your business a money making success. This will allow you more time to do the things you've always wanted to do.
Related online business articles: