Together with all the happy cheer and joy, the holiday season is accompanied by many expenses like family get-togethers, decorations, Christmas parties, travel, extra grocery shopping, gift buying. With all this to consider you need a holiday season budget to avoid sinking into debt or allowing the situation to get out of hand.
This post may contain affiliate links. For more information read full disclosure.
One of the best ways of doing this is saving for the holiday season at the earliest time possible by setting a savings plan and a holiday budget. Here are some saving strategies to help you save money for the Christmas holiday season.
1. Shop Early
You've probably heard this before but shopping early can spread out the stress and avoid a lot of last-minute splurge spending during the Christmas season.
2. Shop Online
Sometimes online retailers sell their products cheaper than if you opt to buy from the malls. During Black Friday you can get some awesome online deals and save money.
3. Combine Your Orders
When you shop online, sometimes you may incur shipping costs. You can buy your items in bulk to avoid high shipping fees for your products by reducing the number of times you pay for shipping costs.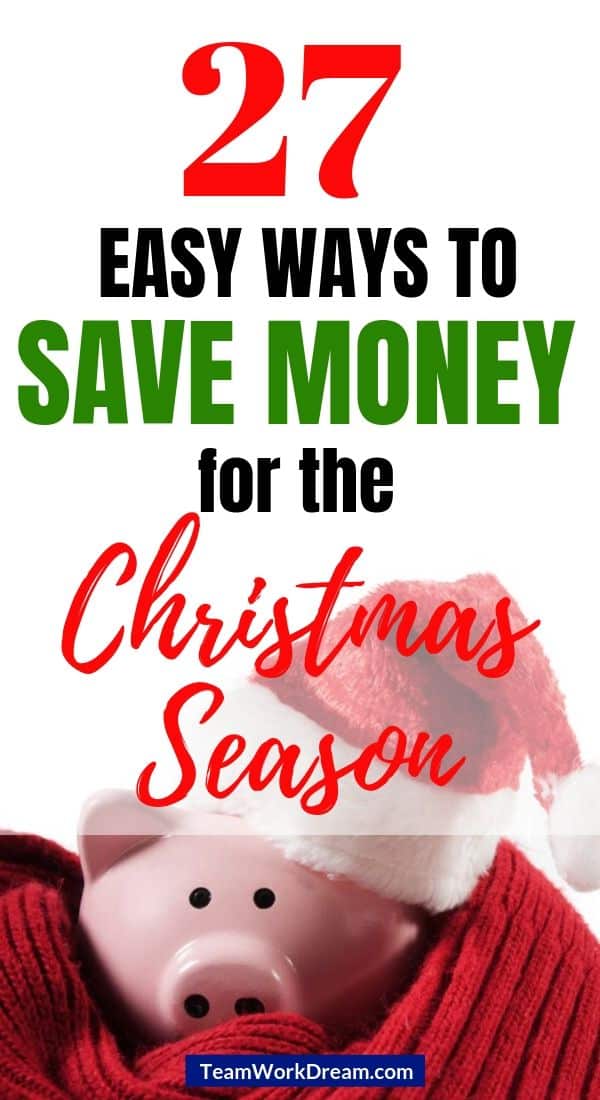 4. Try a DIY Christmas Gift
Social media sites like Pinterest can give you some crafting ideas that you can give as Christmas gifts. Try out recipe gifts or papercrafts that are simple yet unique to make and a great way to get the family to take part in an activity together.
5. Look for Discounts and Promotions
If you shop online through sites like Ebates/Rakuten, or RetailMeNot, they often offer promo codes to cash in during the Christmas season.
6. Negotiate for a Better Deal
If you ask for a discount, many retailers are willing to offer buyers discounts to customers who are brave enough to negotiate. As they say, if you don't ask you don't get.
7. Always Make a List
You can craft a list of all the things you need. The list allows you to buy only the items you need while avoiding unnecessary expenses for things you do not need.
8. Regift Items
Regifting is another way you can save money for Christmas. Sometimes you may have gifts you never use, regift them to friends and families instead of buying new ones. This is not to be seen as mean but a way to give something that will be better appreciated.
9. Sell Your stuff
You may have old stuff that you no longer use. You can sell them to make money, and then spend the cash made for Christmas. No need to dip into your savings.
10. Stick to a Budget
It is essential to set up your planned expenses and stick to it to avoid spending on items you had not budgeted for.
11. Track Your Spending
You can use apps that connect to your bank accounts and track your expenses. Again, this saves you from overspending.
12. Share Fun Experiences
Sometimes you get caught up in the materialism of the Christmas holidays and forget the true meaning of Christmas. You can find Groupon site offers offering discounted rates on dinner dates, spa days, and vacations. You can sacrifice buying an unwanted gift for Christmas to spend time with loved ones instead, doing something enjoyable.
13. Sell Discounted Gift Cards
Cardpool is a marketplace where you can sell your unused gift cards for up to 35 % off. This way, you can save some money to enjoy during the Christmas holiday.
14. Make Money While You Shop
This is an easy way to make money as you spend it. If you use the Shopkick app, you get points for entering the store and even more points when you make a purchase that eventually turns into cash.
15. Compare Coupons
When you have different coupons for the same store, you can get better deals with one versus the other coupon. Some online stores like Kohl's let you combine the coupons.
16. Save Your Receipts
Make sure to hold onto your receipts. You can return and buyback items that markdown lower to get new sale price and get the best bargain. You can also use the Paribus app to get cashback from your receipts.
17. Ship Gifts Ahead of Time
If you have friends or families who live away from home, you can send them gifts using flat rate shipping method ahead of time to avoid paying additional costs on the eve of Christmas or Christmas day.
18. Make Your Own Potluck Christmas Party
Tell your friends and families that your Christmas party will be a potluck party. They will usually bring beverages, dishes or other useful things at Christmas. This can save you money for Christmas and be a whole lot of fun.
19. Compare Prices
Before you do your shopping, you can visit sites like Shopbot that lets you compare the retailer's prices.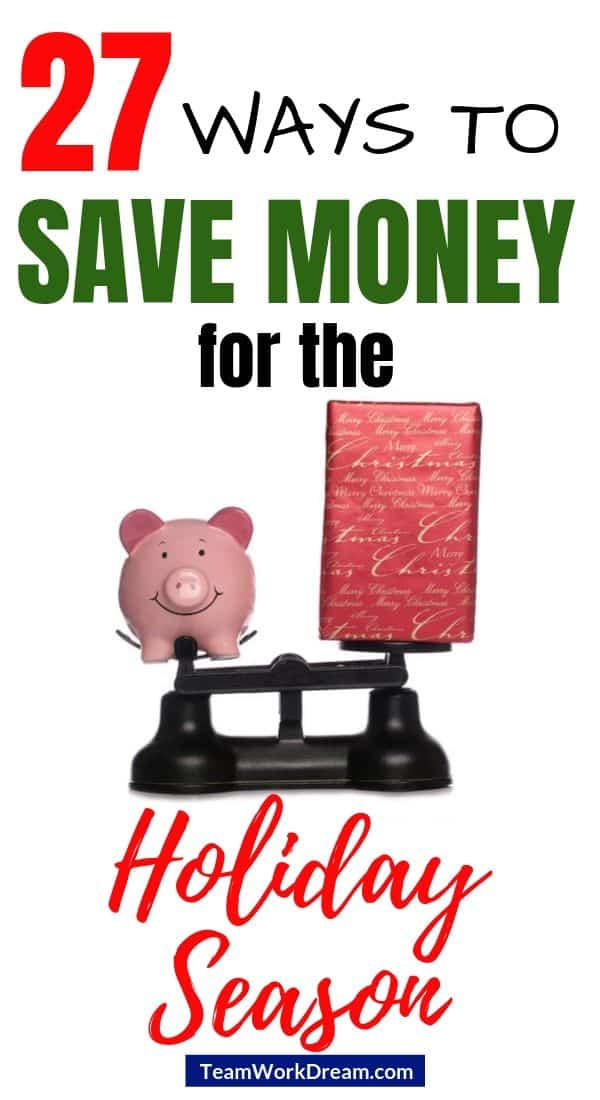 20. Select Low-Cost Activities
You can choose free and memorable activities like caroling for Christmas at hospitals, care homes or read Christmas stories at children homes and other places that would appreciate the true meaning of Christmas
21. Stay at Home This Year
Instead of traveling for the Christmas holiday, you can stay at home with your loved ones to save money.
22. Buy the Same Gift for Everyone
You can budget for the same gift for everyone by taking advantage of buy one get one free to save some money. Make sure it's something that you can make and share, like handmade soap or an edible of some sort. Cookies, fudge, mini rum cupcakes.
23. Recycle Gift Wraps
Be creative when wrapping up your gifts by using reusable bags at a local store to avoid spending too much on colorful decorations. This is also a great environmental saving tip.
24. Try Family Secret Santa
If you have a large family, try using the Secret Santa gifting method and invest in one gift this year within a certain budget.
25. Save on Travel
You can book your tickets online early enough to save on the cost of traveling. a really great tip I learned was to make sure to clear your cookies and use an incognito tab when searching for great travel deals online.
26. Work Part-Time
You can work part-time from home virtually and save the money you make for the Christmas holiday season.
27. Pay for Gifts with Rewards
If you collect rewards on your credit card, you can cash them for money, gifts or other purchases over the Christmas period. You can also sign up for free on cashback sites like TopCashBack to get really great cashback rewards.
I hope that you find these 27 ways to save money for the Christmas holiday season useful and that you share with family and friends to have a happy and debt-free Christmas.
Related posts on saving money