Are you planning on getting your finances in order? Wanting to cut back and stop throwing money down the drain? Well, let the Trim app help you to achieve this goal.
If your aim is to reduce your debt, save more, and take control of your finances there are a number of apps that can help you but today I want to share the benefits of cutting your expenses using the Trim app.
This post may contain affiliate links. For more information read full disclosure.
What is Trim?
Trim is a free web application that allows you to save money by negotiating your bills, and even cancelling any unnecessary bills.
It's a super simple way to lower your bills fast and reduce your spending. In a nutshell, it's like having your own personal finance assistant reminding you via text what memberships or subscriptions you're signed up to.
You can easily save much-needed money every year by using this bill cutting app.
How many times have you signed up for various subscriptions and then never end up using them, that gym membership comes to mind?
Don't just look at it as just a couple of dollars, it all adds up and you really could be putting that money to better use.
$7 a month here, $30 a month there, a $3 online magazine subscription can over a year total $480 that could have cleared a debt, be put away for a rainy day fund or used for a fabulous weekend away somewhere.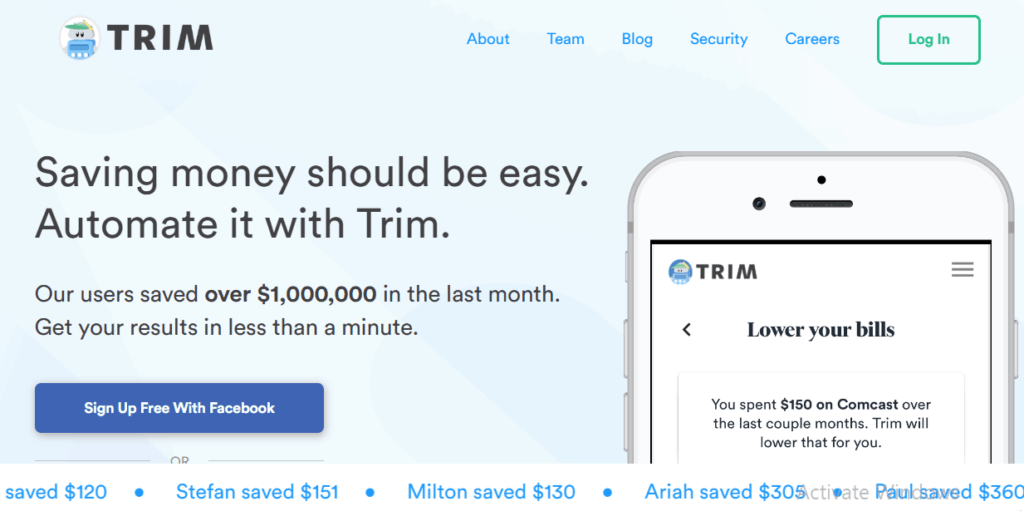 You can easily overlook these kinds of small expenses but having an automated system on your smartphone can effortlessly solve this problem fast.
Think about it, if I came to your house every single month, took money out of your purse, and tore it up in front of your eyes I'm sure you would be utterly shocked, think I was crazy and throw me out the door, right? But that is exactly what you're doing.
Why not simply sign up for the FREE Trim app that will keep that unnecessary spending under control. Let's dive deeper into how this one app can help you reduce your bills.
How Does Trim App Work?
The first step to using Trim app is to sign up for an account using your email address or Facebook account. After creating your Trim account, you are required to choose your primary financial goals. You will answer some simple questions about your savings, debt, and a few other questions related to your financial obligations.
Don't worry it's nothing too hard and won't take too long to do.
Related post
The next thing that Trim requires you to do is to link your financial accounts to their service. This means that you must log in to your credit card and bank accounts.
Now don't groan and close this post, read on. Know that the information you give out is stored safely and securely via encryption and has read-only access to your accounts.
You can rest assure that Trim cannot make any changes without your consent. They communicate to you via email or SMS when you need any adjustments.
What Does The Trim App Do?
Help You Create A Payoff Plan for Your Debt
First of all the debt payoff program is not debt consolidation. Trim simply helps you create a plan and help negotiate on your behalf for lower rates on your bills and subscriptions.
Phoning up any company to negotiate a better rate can be pretty daunting so having an app that can do that for you without you nervously making a phone call is a plus in my book.
The Trim app observes the interest rates on your cards and how much you put towards paying each debt. Trim then contacts the companies, for example, Comcast to see if they can offer lower rates, helping you lower your interest, save money, and speed up your debt payoff.
Trim can also help you to save money as it's a pretty multifunctional app. If you want to set up a plan where you can save your hard-earned money, the Trim app provides you with a simple savings feature.
It finds coupons for you that you can apply automatically when you buy items and you can get cashback towards every purchase you make.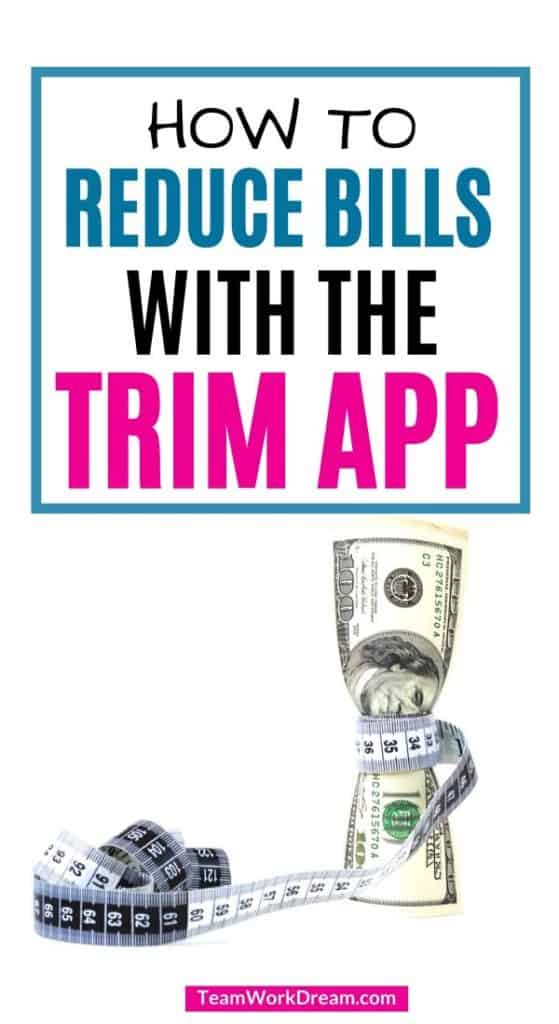 Help You Cancel Subscriptions That Are Unwanted
There are a heck of a lot of subscription companies and more and more are appearing every year. At first, they seem like great deals but over time their services might not be as relevant to you. You know the ones such as baby subscription sites.
One that comes to mind is Bitsy Boxes. Absolutely super cute and useful with great stuff to look forward to but your kids are growing fast so the content is no longer required.
Some of the biggest like Amazon Subscribe and Save, Blue Apron, Dollar Shave Club, not to mention all the existing streaming sites like Netflix, Spotify, Hulu, and Disney+.
What I've listed are just a few of the monthly subscriptions you may be signed up to and there are a whole lot more.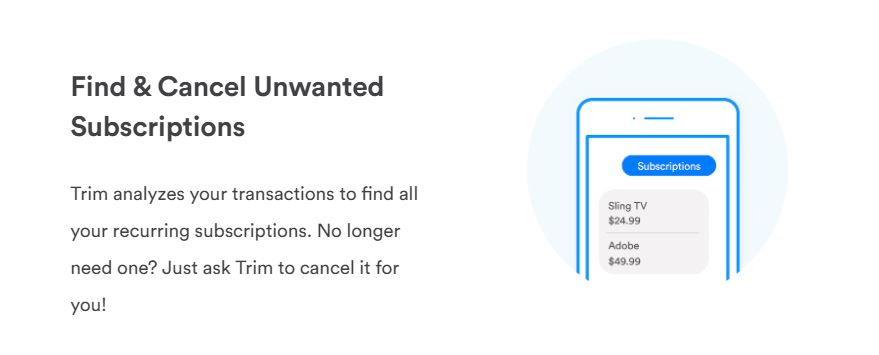 Many of the services offer you a free promotional period, 7 days, 14 days, 30 days and what happens? You forget to cancel.
Trim can help you with that by canceling the unwanted subscriptions by checking the transactions linked to your credit card accounts. It analyzes and identifies the subscriptions that are recurring.
Once it does that you receive a notification telling you what you're subscribed to and shows you the ones that you can cancel.
Monitor Your Spending
Trim runs an analysis of the amount of money you spend every month. The app shows you which categories you spend the most money on, and you can compare by dates or from month to month.
This makes it so much easier for you to know which ones to cut and the ones that you should keep.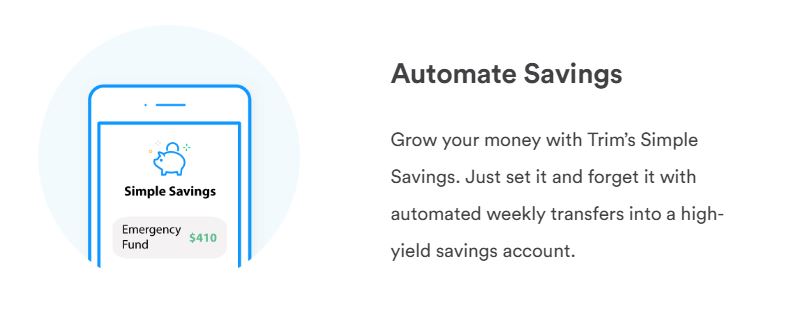 Negotiate Your Bills
I spoke about this earlier but one of the things that people try to avoid is contacting utility or subscription companies to lower their bills whether it's because of apathy or fear, I'm not sure which but now is a good time to use it as motivation to save money.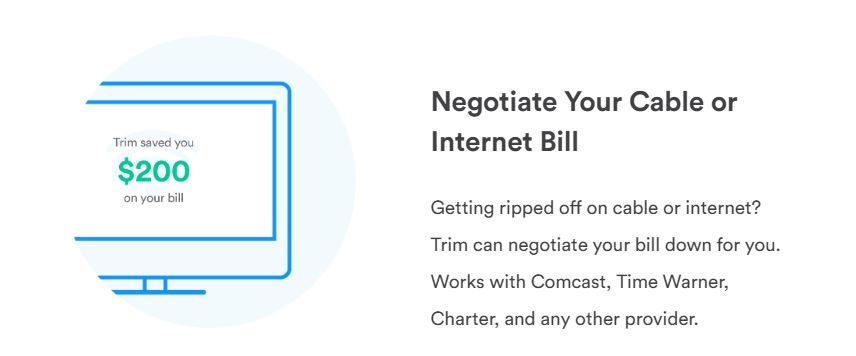 The Trim app takes the difficulty out of negotiating your bills with cable, internet, or cell phone providers. How does this work? All you have to do is link the app to your service providers. If you are not listed all you have to do is upload your bill.
Trim begins to check credits and discounts and use someone from their team or a chatbot to contact the company and negotiate your bill.
On average you can save $150 using the lower your bill feature. Yes, the Trim app acts as your very own bill negotiator. Super easy!
Help You Create A Budget
If budgeting is not your strong point no need to worry, you will get notifications about the progress when putting together a monthly budget and setting up a goal tracker. This is an excellent way to help you to prepare for any expenses that are coming up.
There are quite a few apps that are alternatives to Trim such as Mint, Truebill, BillShark but I'm focusing on the Trim app today.
Trim Review
Trim continues to grow its products and improve on all it's services, offering a range of money-saving features.
However, many people get concerned about whether Trim is safe, legit or it could be a scam. Let me put your mind at ease. Trim is legitimate and it is completely safe to use. Your data is encrypted and nobody can access your account apart from you.
Trim supports over 15, 000 financial institutions in the United States but I just want to share something with you, while Trim is a free service, you may be wondering how does it make money?
Trim makes money by taking a commission on the money they save you when negotiating your bills. Trim takes 33% only when bill negotiation succeeds.
Trim will also charge you if you use additional in-depth features such as the Trim concierge feature. You can find out a lot more information about the concierge service below.
What Does the Trim Concierge Feature Offer?
Trim Concierge is a service that provides more personalized financial advice than the automated financial service. If you want to start using the Trim Concierge service, you are required to answer questions about your financial situation and financial goals.
A concierge will get back to you after reviewing your answers to discuss your goals and how to reach them. They offer you advice on how you can save, and on areas that require assistance in relation to your financial situation.
Pros and Cons of Using Trim
Pros:
Trim is an easy to use application that uses text/SMS email or FB messenger

You can enjoy the simple cancelation of unwanted bills and receive a reduction on negotiated bills

It's a great first step starting app for saving money, budgeting, and clearing debt

You can easily get cashback offers

You are only charged when Trim successfully negotiates your bill

Your data is secure
Cons:
Trim lacks phone support or live chat but you can contact them via email to discuss any issues.

If you have the time you can negotiate bill reduction yourself for free as 33% seems like a pretty high fee that is taken out of your bill savings for a negotiation service. But to note, this is still less than the 40% charged by similar competitors.

The budgeting capability is not full service compared to that of some of the other money-saving apps.

Trim must connect to your bank accounts to analyze your financial transactions.

Trim has faced some criticism in the past in regards to errors made in some customers' negotiations but these were solved satisfactorily with the assistance of the Better Business Bureau.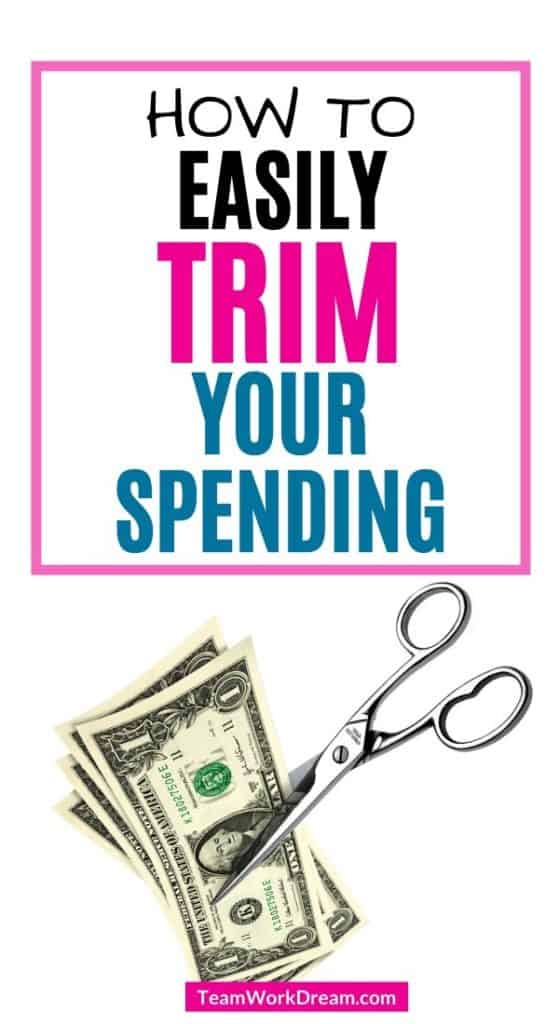 Trim App Main Points
Trim is a good service that many people can take advantage of. You can save money and keep a check on your spending when using Trim.
Trim is ideal for you if you have difficulties saving money or keeping track of your expenses if you think your money is disappearing into a black hole.
Trim makes it easy for you as you do not have to go through a bunch of monthly bills and statements. This way, you are more aware of your personal finances.
You can know your current balances from all your linked accounts, spending analysis and if you prefer you can check out and view all your recent expenses on the Trim website too.
Just remember the Trim app is not a replacement for you to take your eyes off your personal finance ball. It is there as a simple aid and an easy way to quickly see where you are and what you can cut back on in a very convenient way.
If you feel that you need to get a hold of your finances this year why not sign up to the Trim app for FREE or share this post with friends and family who might need a financial savings push.
Related posts on Money Saving