Have you considered what you would do if faced with a natural disaster or as happened recently a health disaster? Are you prepared when working from home?
As the name suggests natural disasters such as storms, floods, hurricanes, tornadoes, bush fires can threaten your virtual business at any time and just as companies and organizations create plans to respond to these disasters, you also need to be prepared for a natural disaster that could potentially disrupt your business.
Are you ready to work online during a natural disaster? This is crucial if you make your money online as a freelancer.
This post may contain affiliate links. For more information read full disclosure.
According to Reliefweb statistics, 315 natural disasters occurred in 2018, affecting 68 million people worldwide. This was at a cost of U$131.7 billion in economic losses.
I don't want to be the voice of doom so let me help you navigate these natural disasters with some tips and measures that can help you prepare for these natural emergencies as an online worker and help keep your clients happy.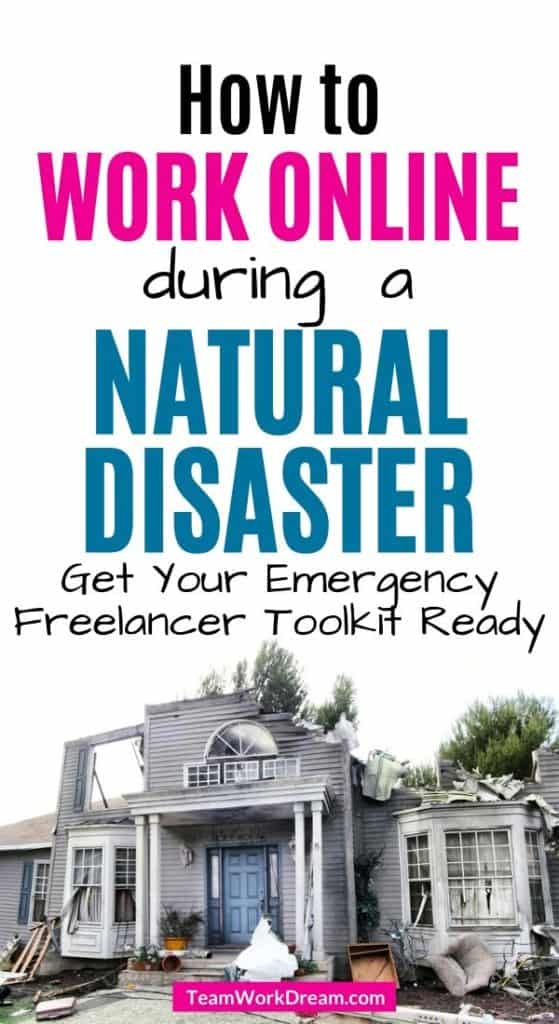 Make Sure to Communicate
As a freelancer, you have deadlines with your clients, contracts to fulfill and work that needs to be completed. When a natural disaster occurs there is usually (fingers crossed), a certain amount of pre-warning.
Make sure to keep an eye on news reports and weather bulletins.
This should be at the forefront of your mind when living in certain regions as it can affect your work and your income as a business owner. This means letting your clients know what's happening where you are.
Communicate with Your Clients Early
Don't hesitate, don't wait, communicate!
Communicating with your clients is of the utmost importance. You probably work with people worldwide and they more than likely know where you are located. Keeping them abreast of any changes is essential.
If there is an indication that your work could be disrupted, you must send an email listing your current work situation.
Communicate to your client If you have any outstanding contracts if you require an extension and also ensure to send out reminders in case you have any outstanding invoices.
Yes, you still want to get that paper during this emergency time as this is when you will need it the most.
Let the client know that you might experience some difficulties and if work could be rescheduled. Hopefully, you would have developed a good rapport and understanding with your client that they will be happy to wait.
Practical Things You Must Do
You can set up a simple action plan to make working online during a natural disaster a lot less stressful.
How To Work at Home During a World Health Scare
Due to the recent health outbreak, I just wanted to note that preparing for a disaster when working at home doesn't always have to apply to physical natural disasters like earthquakes or flooding but also to health disasters, for instance, a pandemic.
There are so many scenarios that we now have to think of that online working options have to be considered.
Not being able to travel and get home due to a city or a country quarantine lockdown, having to spend longer than expected vacation in a foreign country due to travel restrictions are just some examples. So having the right tools to continue work is very important.
If you already work from home then well done you as you are already at an advantage and should already be prepared and set up to work from home if the disaster affects the health of office staff.
You can readily confine yourself to your home and avoid the further spreading of a virus.
If you are a telecommuter who works from home 1 or 2 days a week, during a situation like this your employer may request that you start working from home on a more full-time basis until the health crisis is over.
Do you have all the necessary things you need in place? Continue reading to check out some of the things you might need below.
Don't Panic!
One of the easiest things to do is panic and this really does not lead to anything constructive or productive. Take a breath, take a step back and put rational thoughts in place. Just doing this can save you valuable time and money.
In regards to a health crisis if you intend to work from home or already do check out what you already have in your home. I'm not just referring to your work equipment as I go into more details about this later in the post but the basics of home essentials.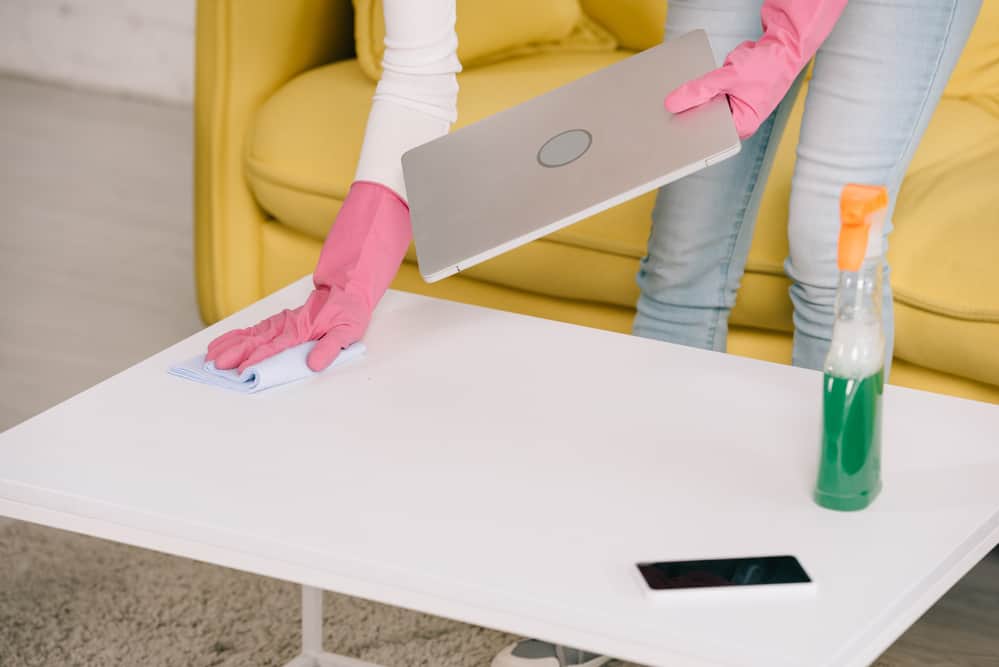 Get Basic and Important Home Essentials
What do I mean by basic home essentials? The various health messages promoted worldwide to prevent the spread of any form of virus is to wash hands thoroughly and to avoid non-essential travel.
You already work from home so the advisable thing to do is to make sure that you have the following cleaning essentials in-house.
If you prefer a more eco-friendly method of preparing and cleaning your home then you can make sure to have the following items:
Another sensible idea is to make sure that you sign up with any of the online supermarkets to make your purchases. This is just a precaution to avoid any unnecessary local travel.
Just as a reminder this does not mean that you overspend and buy out the whole supermarket. Just get a few extra essentials.
Think ahead and be sensible when planning to work online during a natural disaster.
Here a just a few of the major things that you can put in place for your online business emergency preparedness.
Build A Good Support System
As someone who works from home, it can at times get pretty lonely but there are ways to get your family involved or develop online friendships and great working relationships with other freelancers.
In the time of an emergency, these same family members and virtual friends can really help you out.
You could outsource some of your work while you get to grips with handling the emergency.
This could be in the form of a virtual assistant who lives in another City, State or even Country. They could help you with a number of tasks.
Your virtual work from home friend can reply to emails on your behalf, moderate social media pages, write content or create graphics for clients if you are not physically able to do so.
I've been in the situation of not having any power in my area so no internet and was quickly able to make my way to my brother's whose house is fully solar-paneled up allowing me to fulfill my work commitments.
If you have been assigned new projects, rather than starting them and not being able to finish you could recommend to your client that someone else in your network do the project during this period.
Now don't worry too much about losing out on the work, instead consider that you would prefer to provide a suitable alternative rather than let your client down. This will go a long way in getting great referrals in the future.
You will be first in your client's mind as no matter what the circumstances you will always get the clients work done or make great suggestions to get the work done.
Building this kind of support with other virtual workers is essential for a time when you need to be away from your work.
>>>You may also be interested to read how to network and collaborate.
Backup Your Data
The best way to ensure your data is protected is to go paperless. You can do this by creating backups of electronic files through apps like Google Drive, Dropbox and scanning physical documents and uploading them into a cloud-based storage system.
This means that you can retrieve these documents from any computer once you enter your username and password.
If it is not possible to go paperless, you can make copies of important documents and store them in a different location for safety.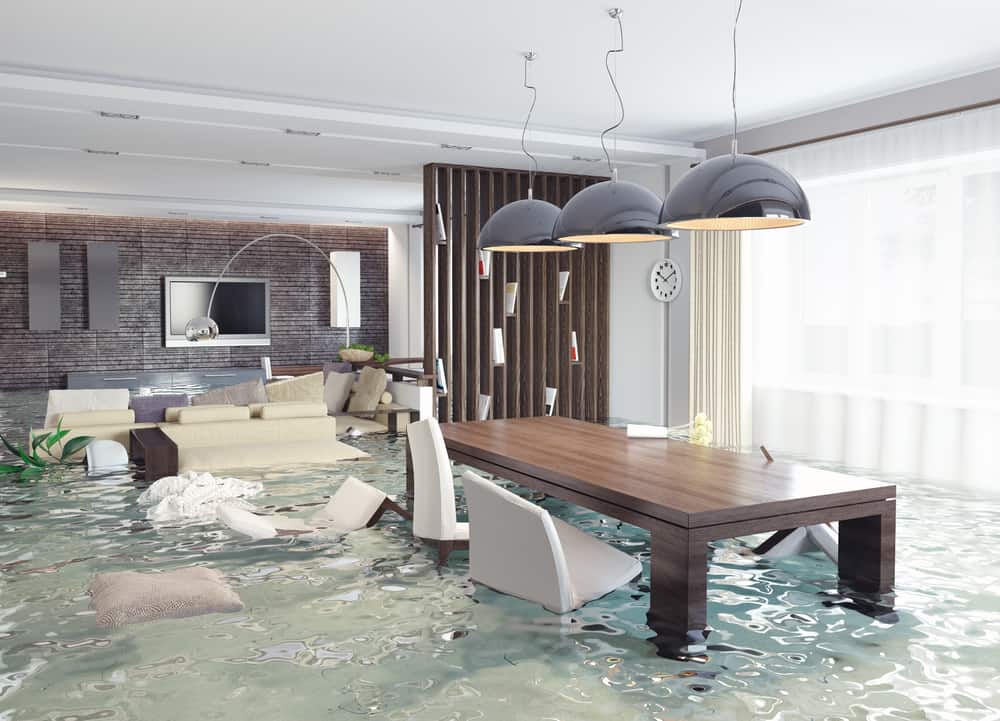 Plan for Connectivity
During a natural disaster, one of the first things to go is electricity which will affect your internet connection. It, therefore, becomes difficult to stay connected to your clients via the internet. This is why communicating with them early on is important.
In cases like this, you must have a wifi backup system. This can be as simple as finding your nearest internet cafe if they are not affected by the natural disaster but please be aware of privacy issues.
You can also use your mobile phone as a hotspot, otherwise known as tethering or get yourself a portable wifi router in case you need to be on the move for longer periods.

This rule applies even when there is no natural disaster. As a work from home freelancer, there are essential accessories that you must have in case of emergencies.
Emergency preparedness for your home and your work should not be taken lightly but in this post, I'm only going to focus on what you will need for your online business.
Create an Emergency Freelancer Toolkit
You've watched the news and natural disasters are not restricted to only underdeveloped countries. It can happen absolutely anywhere.
Bush fires in Los Angeles and certain parts of Australia, hurricanes in Florida and the Caribbean, flooding in Texas and Venice, blackouts in New York, monsoons in India, and don't forget the snowstorms and earthquakes elsewhere.
During these times you might be asked to evacuate your home and you will need to move quickly. In situations like this you will need to have your emergency freelancer toolkit ready.
So what kind of things will you need in your emergency toolkit? Here is a list of the main things you will need to still be able to work online during a natural disaster.
Hopefully, you will already have most of what's on the list but if not you can easily get them through the suggested links below.
A copied list of all your usernames and passwords to all your apps, accounts, affiliates, etc. Unless you have a photographic memory or you use one username and password for everything, which is not advisable you will definitely need this list in the emergency toolkit.
A laptop. If you're able to grab your laptop and go that's great. I myself have my everyday laptop and also my old slow one.
Yes, I won't get rid of that old slowpoke as it has saved me a couple of times allowing me to do some basic tasks when my other laptop decided to freeze for a day. You can find a list of the best selling laptops to buy right here on Amazon.
A tablet. Even though tablets are not the flavor of the year anymore it's still a great device to have and if you have a good quality one you can do almost everything your pc can do. I've even updated my WordPress site on my tablet a few times. Get a great deal on a tablet right now.
A Powerbank. During a natural disaster, you want to make sure that you're able to recharge your devices in the absence of electricity. It's essential to have a powerbank or two and make sure to have them fully charged up. You can easily find some great bargains online.
One of the smallest and lightest powerbanks out there is the bestselling Anker. It is seriously highly rated and you can easily order it from Amazon.

Portable Router. I mentioned this before but it really should be on the list. This one comes highly recommend and has great reviews.
External hard drive. A very useful device to have if you are unable to access cloud base storage. You can find a range of portable storage sizes here.
Universal Adapters or Chargers and Charger Cords. Have spare chargers for your devices in your toolkit. If you're able to use universal ones that's even better.
There's no point scrambling around at the last minute from bedroom to living room to home office looking for the right charger just have a spare set in your toolkit. Find out more about universal charger cords and adapters here.
A Portable Solar Generator. This is a great item recommended to me by a work from home colleague and she wouldn't be without it. Great for both on the go leisure like camping or in an emergency.
Don't be deceived by the sound of the name. It is not a big bulky and noisy generator like those diesel things. This is a neat, fairly lightweight portable power pack that can be charged up via the mains or by those foldable solar panels used by campers so great if on the move.
After her recommendation, I'm in the process of getting one myself. This is the one that I have my eye on and it's a great price.

Team up the portable generator power station with this foldable solar panel especially if you live in the tropics like me and you're good to go. It can work your laptop, tablet, phone, a small fan plus a few other devices.
A notebook and some pens. Simple and fairly standard you can't go wrong with the good old basics to get your thoughts and plans down in writing along with emergency contacts. You can get bargain sets in various colors and designs.
A bag. To complete the emergency freelancer tool kit you need something to carry all your accessories in so that you can just grab and move quickly.
It's up to you how practical and stylish you want it to be but the main priority is to make sure that the bag can hold all your toolkit essentials plus keep them safe, secure and dry. Here's one of the bestselling waterproof backpacks you can get.
Access to Emergency Savings
One thing you should prepare for is that you may experience a lean amount of time in your business if a natural disaster strikes you. This can happen especially if you are yet to build multiple streams of making an income.
For this reason, you must ensure that you put money aside for emergencies, no matter how small. This can make a huge difference when it comes to having money for essentials.
Have Multiple Streams of Income
When a hurricane hits, you can expect power loss for days. By having multiple streams of income especially passive income it's reassuring to know that you can still earn even when you're not able to do your work from home job. You can do this through many methods.
You've heard the term make money while you sleep, well now you can still make money in the middle of a disaster too with well set up passive income streams.
For example, if you design printables you can have templates that buyers can purchase online and everything is automated. You may work online as a web designer, why not create readymade WordPress themes and sell them on your blog. How about an Etsy or Shopify store?
Do you have ads or affiliate links on your website or blog posts? Why not schedule a few affiliate links within your social media posts using an app like Buffer? Your Paypal, Payoneer or direct deposit account will still get that ch-ching sound of money coming in even during a natural disaster.
That is the benefit of working online. Your business can be seen worldwide so even if you're unable to go online a customer can with the click of a button still purchase something from your site.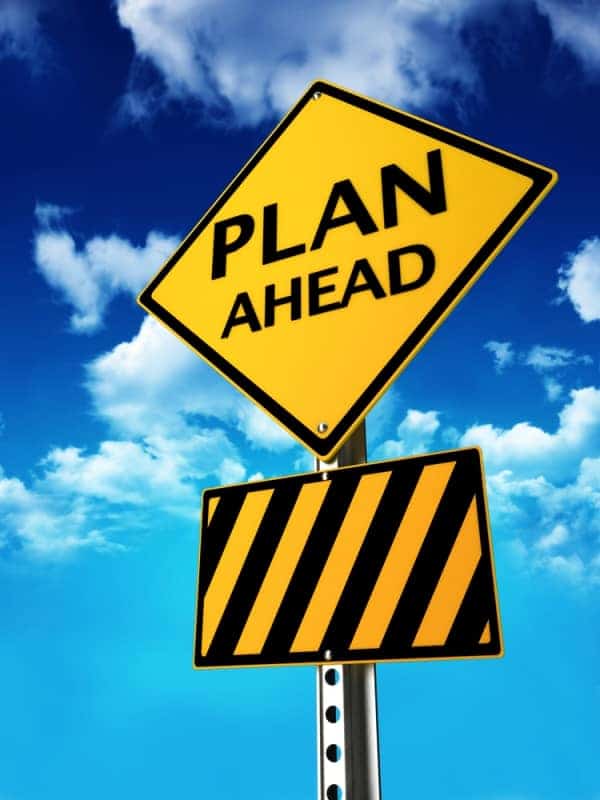 Get Insurance Cover
Another way you can prepare yourself for a natural disaster is to check your current home insurance policy to see whether it covers your equipment and devices.
If you don't have insurance now is the time to shop around for the best deals. You can purchase an insurance policy that can help cover for loss or damage to work equipment.
Some natural disasters like floods, fires can instantly destroy your work and home assets if you work from home as an online freelancer.
Other Things to Consider When Working Online During a Natural Disaster
One thing that I must insist you get and not ignore is to make sure that if you plan on working from your laptop or if charging your devices while plugged in during this time is that you make sure to have it plugged into a surge protector.
The fluctuation of electricity can be somewhat erratic while repairs on the grid are taking place to get power back online and the last thing you need is an additional expense due to the wires getting fried in your laptop.
Take a hint, it's cheaper to get a surge protector than have to buy a brand new laptop.
Another quick tip, if you do get a pre-warning check with your website host that they have things in place so that your site, e-store etc will still be live and can be seen.
Most hosting companies have great external facilities and policies in place but it never hurts to check for your own peace of mind.
Now that you have been made aware of the freelancer emergency toolkit other points that you need to think about are making sure to have an emergency contact list.
Just think about it, now that we're all used to having our smartphones we no longer keep phone numbers in our heads anymore, I can barely remember my own so make sure to write those emergency numbers down in your notebook.
Also, once you pack your toolkit make sure to place it somewhere safe, convenient and not at ground level.
If there are certain times of the year that natural disasters occur in your region, for example, for me I have to be concerned about hurricane season (1st June to November 30th) as I'm located in the Caribbean since leaving the UK. Tornado season is April through June while Monsoon season is June through September.
Double-check nearer to the time that your toolkit is all up-to-date and that everything is fully charged. You can't know exactly when these things will occur and that is why it is always good to be prepared.
You will probably need to update your username and password list as each month you will have signed up to new sites and affiliate programs.
To make it easy on yourself, set up a reminder to update this list every quarter and print out a fresh copy for your toolkit.
The last point I want to share with you in how to handle a natural disaster as work from home person is not to stress.
Easier said than done I know but as mentioned earlier make sure to communicate with your clients, that is key. Once you do that everything else will fall into place and your clients will understand.
If you found this post on how to work online during a natural disaster helpful please make sure to share it with as many of your work from home friends as you can. Remember safety doesn't come by accident!