Save Time and Make Super Quick and Tasty Meals
Working From Home
No matter the season whether it's summer and the kids are off from school or fall when they are back at school the last thing you want to do is spend a lot of time in the kitchen figuring out what family meals to make but with these steps you can learn how to make quick easy family meals when you work from home.
This post may contain affiliate links. For more information read full disclosure.
Now is the perfect time to get creative and get the kids involved to help make colorful, tasty and healthy meals.
Are you one of those organized moms or dads who have all your meal plans set and ready? Your planner on the wall with all the meals that you're going to have over the summer months. Your Fall and Winter recipes all stocked up and waiting for you in the kitchen drawer. Great if you do but I'm not one of them.
Sometimes you just don't want what's on the list and you get a craving for something else. something spicy, something comforting from your childhood or something light.
Related posts:
Making breakfast each day when working from home can be a quick and simple task and as mentioned in the post How To Stay Healthy When Working Remotely making fruit-filled smoothies, or fruity oatmeal bars are a great energy booster for both you and the kids especially when off to work and school or when they go to summer day camps.
Get Kids to Help Make Quick Easy Family Meals Working From Home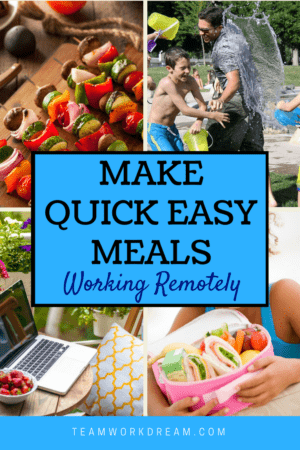 Make lunchtimes into picnics if you can. Prepare scrumptious snacks and packed lunches from the night before or early in the morning just after you start your first online morning work session.
Have the packed lunches and snacks labeled up in the refrigerator so they can help themselves while you handle your online work commitments.
I've started to use this method and try to join them when I take a break. This method is also a great time saver when you're unable to join them due to having tight work deadlines.
Have your ingredients prepped if you're pushed for time as this is a great way for the kids to take part. You can have them add each of the ingredients and mix them together to create fresh crunchy and colorful salads, deliciously layered sandwiches, tasty topped pizzas and so on.
One of the most fun summer meals is the good old BBQ and using great rubs and marinades on your meats and chunky vegetables. Finding family dinner ideas that are quick and easy need not be too hard.
How about the good old one-pot meals. Those casseroles and stews that remind you of your Grandmother during the colder season are not only perfect for warming you up on a winter evening but save a ton of time whether working in or out of the home. So start collecting those recipes from her now.
Do you have a problem getting the kids to eat their veggies? I find that if they help in preparing the meal then they will want to eat their culinary masterpieces. Get the kids to eat their veg by getting them to make a mixture of veg and meat kebabs for the BBQ or get them to add all the sliced vegetables to a salad or a one-pot meal.
Working from home doesn't mean that you have to skip meals or eat unhealthily. Doing online remote work once you've planned and organized your days means that you can spend great afternoons and evenings doing fun activities with the family and cooking up quick easy family meals that are healthy.
Perfectly Easy Recipes for the Family
There's no need to wait on Tuesdays to have Tacos. anytime is a great time. They are simple to make, you usually have most of the ingredients to hand and it's something the kids won't fuss about and will gladly help you make them.
Here's a super-fast Taco recipe that I'm sure you'll enjoy!
Cheesy Peasy Tacos
Ingredients:
2lbs Ground Beef
1 carton of Mexican Style Tomato Soup
12 Taco Shells (unless you want to make your own)
3/4 cup chopped tomatoes
3/4 cup shredded lettuce
1/3 cup shredded cheese
(Should take 20-25 minutes to make)
Cook the ground beef in a shallow pan stirring until fully browned. Pour off any excess fat/oil. Add seasoning to taste, salt, pepper and any of your

favorite

spices like paprika or ground chilli. Stir throughout.

Add Mexican tomato soup to the pan with beef and heat to a boil then turn down to

a low

heat. Cook for 5 minutes or until reduced stirring all the time to prevent sticking. Turn off heat when done.

This is where the fun starts! Everyone around the table can now get to make their tacos with the taco filling of beef, shredded lettuce, tomatoes and cheese plus you can add any other garnish that you like.
For a simple dessert how about my absolute go-to favorite. It's so stupidly simple and takes less than 10 minutes to make.
Eton Mess
Ingredients:
1lb Ripe Strawberries
1 & 3/4 cup Whipping Cream
1 pack of Ready-made Meringues
Puree half of the strawberries. Cut up the rest leaving 4 for decoration.

Whip the cream in a bowl until stiff peaks form and add strawberry puree and crushed meringue pieces (kids will love doing the crushing), plus strawberry pieces. Fold

the mixture

together (no neatness required).

Place mixture in individual glasses and decorate

with

remaining strawberries. Serve and enjoy.
Deee-liciously easy, right!
Excellent Time-Saving Recipe Books
With all that being said, one of my favorite recipe books that I return to ever so often is Smitten Kitchen Every Day. I have to admit though that my favorite cookbook for the last few years has been The Pioneer Woman Cooks: Dinnertime that I received as a gift and I'm so grateful.
Along with the traditional spicy and tasty Caribbean meals that I make with my eyes closed I love using this great book as it really makes my working from home easier. It helps me to cook in batches, use ingredients wisely from my freezer and the Pioneer Woman cookbook always comes in handy when I need to prepare something quick and easy too.
By the way, if you're not familiar with Caribbean cooking this recipe book Ziggy Marley and Family Cookbook might help you to become a loyal Caribbean cuisine fan.
As a friendly reminder, don't forget that there's always a special occasion just around the corner, whether birthday, Valentine's Day, Easter, Thanksgiving or Christmas. I know you don't want to be reminded this early but getting a recipe book is one of the best gifts to give someone.
No matter the time of year with a great recipe book you can get your cooking on with a winter warming favorite or a light summer special that won't take up a lot of time, You might want to get yourself a large colourful Dutch Oven Dish or an Instant Pot Cooker to help you make quick dinner ideas too.
It doesn't matter if you're trying to find easy dinner recipes as a beginner cook or a more advanced cook, I find that with the combination of a great recipe book, favorite family recipes and a well-priced crockpot, that you will never run out of quick and easy meal ideas when working from home.
To make your life even easier in regards to time-saving and money-saving you should also make sure to look out for some super ingredient deals when shopping online. You can easily do this with Amazon Prime Pantry for whatever you need to make that fantastic family meal!
If you have any quick and easy recipes that you would like to share just comment below as I would love to try them out. Also, don't forget to share or pin this post for later.
Related quick meals posts: