The Keto Way to Work from Home and Not Put on Weight
One of the things that happens when working from home is the putting on a little weight around that waist area. The constant sitting at a desk results in bad eating habits and lack of exercise. One of the ways to combat this is to introduce quick and easy keto meal ideas and keto snacks into your diet.
This post may contain affiliate links. For more information read full disclosure.
No more excuses grabbing those potato chips or extra bloating pasta rich dishes. Why not snack on keto foods instead? Let's get into more detail of how to start eating healthy keto meals and snacks when sitting around your work from home desk. It's one of the best ways to help with the sitting disease, otherwise known as the sedentary lifestyle.
You know how it is, the kitchen is not too far from where you're working and those salty and sugary snacks are just calling out your name. BUT STOP! Keto foods are here to save you.
You've heard all the rage and the success of the Keto Diet short for Ketogenic Diet being thrown about for a while now but do you really know what the Keto Diet is all about?
What is the Keto Diet?
I'll break this down in a simple way as possible. In simple terms, the Keto Diet is a low carb, high-fat diet. Reducing your carb intake and replacing it with high-fat foods like eggs, oily fish, red meat, nuts, avocados and many other fatty foods greatly speeds up the process of weight loss. Yes, fat can actually be the fuel to help you lose weight and build muscle mass when taken in the right proportions.
Foods to Include in your Keto Diet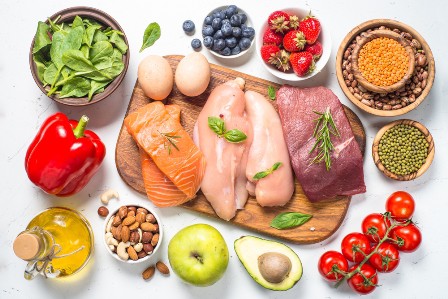 Red Meat
Salmon
Tuna
Sardines
Eggs
Cheese
Avocados
Butter
Oils
Nuts and Seeds
The Keto Diet Ratio
To make the Keto Diet really really simple you can follow this basic principle. As a visual guide just think of your dinner plate as being divided into 3 parts. Half or 50% of your plate to be vegetables, the more leaves the better, quarter, 25% of your plate to be protein and the other quarter. 25% to be fats.
This simple formula should steer you in the right direction to keep the Keto theme going for whatever meal you plan. And just remember you can plan and prep for a week ahead if you want.
So 50% of your plate can be any of the following:
Spinach

Kale

Brussel Sprouts

Bean Sprouts

Broccoli

Lettuce

Bok Choy

Cabbage

Green Beans

Collard Greens

Calaloo

Cucumber
The protein area or 25% of your plate can be
Eggs

Bacon

Salmon

Tuna

Beef

Lamb

Pork

Shrimp

Crab

Chicken

Turkey

Duck

Nuts and Seeds
And the final 25% are the fats so these would be:
Avocado

Coconut Oil

Olives/Olive Oil

Butter

Cream

Cheese

Nuts and Seeds

Algae
All three groups are then combined with herbs and spices to kick the flavors up a notch.
[su_note note_color="#f43ad2″ text_color="#fFFFFF" width="600″]WANT TO START THE BEGINNERS 30-DAY KETO MEAL PLAN?
You've downloaded the 7-day Keto freebie and you know it's great. Why not take it a step further and sign up for the complete BEGINNERS 30-DAY KETO MEAL PlAN. Over 70 delicious and easy-to-make low-carb recipes, super simple info within 188 pages, plus an exclusive Facebook Group of nearly 10,000 members who are there to support you on your transformational journey. [/su_note]
Foods to Avoid in Your Keto Diet
The foods that you need to stay far away from are many of the staples we eat on a regular basis such as:
Bread

Pasta

Cereal

Rice

Potatoes
Common Mistakes to Avoid When Starting the Keto Diet
Adjusting to the Keto Diet
When starting any diet you must give your body time to adjust to the changes. Side effects when on the Keto diet may occur such as cravings for the old ways of eating and the one referred to as the Keto flu will probably kick in where you feel sluggish and fatigued at first as the high carb diet starts to release its grip.
This is a normal reaction to your body adjusting to burning fat rather than carbs. Give it a few weeks and things will start to settle down.
Not Eating Enough Veg
When on the Keto diet one of the common mistakes is to not eat enough vegetables. You have to make sure that you eat enough vegetables as you are no longer taking in high carb foods. Remember to use the 50% plate ratio as mentioned earlier.
Eating Too Much Protein
Another common mistake is eating too much protein. The Keto diet is not an excuse to pile your plate high with protein foods such as bacon. There needs to be a moderate intake of protein, the 25% ratio.
Too much protein can, in fact, be converted to glucose and this will take you out of the ketosis state putting you back onto the old path of too many carbs and you don't want that!
Don't Be Scared to Eat Fats
The final mistake to avoid is actually being scared to use fats. There are healthy fats. Just think of the Mediterranean diet, a lot of the food is smothered with olive oil but does not cause any health issues.
So go ahead, start to use avocados, coconut and olive oil and nuts in your diet along with butter, cheese and cream. But with everything there is moderation this is for the final 25% of the plate.
WHY NOT TRY THE COMPLETE KETO BUNDLE?
Where's the Fruit?
You're probably wondering how come I haven't mentioned any fruit, right? Well, the thing is, fruit is pretty high in carbs so you have to be selective in the types of fruit that you eat when following the Keto diet.
The ones that are a pretty good first choice are the softer, less fibrous fruits such as berries, so any fruit ending in the word berry. Blackberries, raspberries, strawberries, blueberries. Any variety of melon is also great for the Keto way. Star fruit can also be added to this list along with mangoes. grapes and cherries.
You can add other fruit to this list but the ones above are the easiest to use when adding to smoothies and quick desserts.
If you have a sweet tooth you have no need to worry that you won't have anything for dessert. Just keep the fruit intake to small quantities as they are naturally sweet, ie sugar.
You can try out this simple berry keto recipe
How to Cook the Keto Way When Busy with Online Work
Now that you know what to eat and in what proportion especially with a busy working lifestyle how about knowing how to cook tasty easy Keto meals? When working whether at home or out of the home what you want to do is make something fast, healthy and delicious. Using your time wisely to prepare meals in advance or have a weekly meal plan in place is ideal.
If you want to know how to make some quick and easy Keto meals have a watch of this video. It's the perfect 7-day meal plan of delicious Keto Diet foods.
Quick Tasty Keto Snacks
Once you've started the Keto Diet it's very unlikely that you'll get hungry in between meals as the fat burning process is actually slow burning compared to a high carb diet that quickly burns and fizzles out leaving you with a hungry low blood sugar craving feeling.
If you do feel for a little snack while working at your home desk why not try out a few of these tasty Keto snacks until meal time.
Keto Snack Ideas
Babybel Cheese or prepacked cheese sticks. You can just as easily cut up a block of your favorite cheese into cubes

Guacamole that avocado favorite. This can easily be coupled with cucumber sticks and sweet peppers

Turkey Strips

Salami

Pastrami

Pepperoni

Tuna salad

Sardines

Olives

Pickles (no added sugar)

A good selection of nuts such as walnuts, almonds, pecans

Boiled eggs are also a great quick snack that you can have on its own or with a green salad or baby spinach
The quick Keto snack choices suggested above can be store bought but if you are really going for the healthy option and a bit worried about them being highly processed you can always try organic meats and vegetables depending on your budget and prepare your own keto snack platters.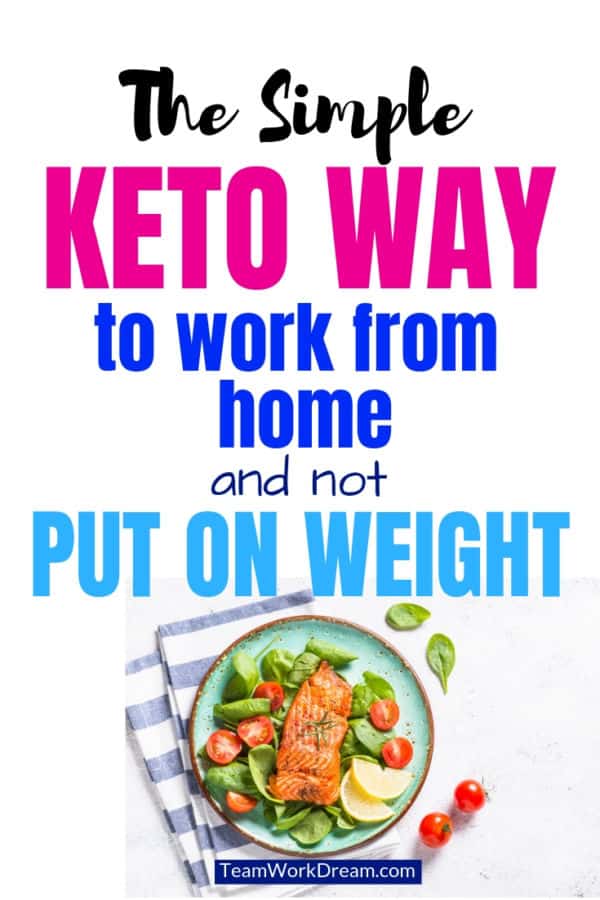 Final Thoughts on Working from Home the Keto Way
Now that you know how easy it is to fall into bad eating habits when working from home and you've decided to challenge yourself by starting the ketogenic diet it's the perfect opportunity for you to get rid of the tempting carbohydrates, and stock up on the right high fat, high protein ingredients.
Depending on your budget you can fully embrace going organic for your Keto diet ingredients but there are many easily available budget-friendly and seasonal products that you can get from your local supermarket and farmers market.
When managing your Keto diet and working from home along with a healthy exercise routine you're well on your way to keeping your weight down and becoming a fat burning machine. Over time eating the Keto way will become second nature and you should start to feel more alert, be more productive, see great results and start working from home like a true boss.
If you want to share this post with others don't forget to pin it or why not sign up for my weekly newsletter.
Related healthy working and eating articles:

The Keto Way to Work from Home and Not Put on Weight