Are you a digital art creator looking for ingenious ways to make your NFTs stand out? Then you've come to the right place. In this guide, you'll get the latest tips and tricks on using various techniques to propel your career as a digital entrepreneur.
Let's not get ahead of ourselves now – before we get to the "how to market NFT art" part, we first need something to sell.
If you're still toying with the idea of what to make or still haven't fully grasped the concept of NFTs, read my guide on how to make and sell NFT art.
NFTs are controversial. Some believe that the NFT trend is a bubble that is very likely to pop. In contrast, others believe that NFTs are revolutionising the art industry, a great source of passive income and are here to stay. I'm firmly in the second camp and I'm guessing you are too.
So, if you're ready to take the plunge to market your own NFTs, read on to discover how to market your NFT art.
Terms Mentioned in This Article:
NFT (Non-Fungible Token) – A unique, non-interchangeable unit of data stored using blockchain technology.
SWOT (Strengths, Weaknesses, Opportunities & Threats) analysis – A method used to analyze a business' internal functions against its competitors.
Blockchain – A digital ledger used to record and secure cryptocurrency transactions.
Crypto Mining –The process of adding and verifying new transactions on the blockchain using the cryptocurrency proof-of-work method.
Bit Rot – The gradual deterioration of data performance and integrity.
SEO (Search Engine Optimization) – A technique used to improve content quality and traffic to a website.
ROI (Return On Investment) – A profitability metric used to measure how well an investment performs.
So You've Made Your NFT – Now What?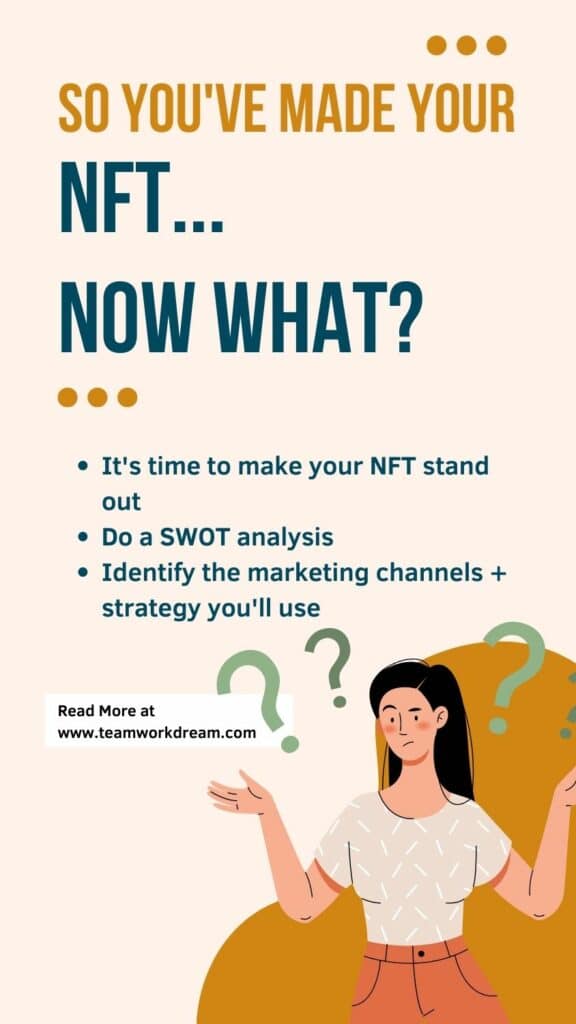 Now that you have a broader understanding of NFTs and have created one or more, it is time to figure out how to promote your NFT.
Whenever you want to sell a physical or digital product, it is crucial to do a SWOT analysis. This technique will assist you in identifying potential gains or losses you may encounter during your NFT promotion. I have identified some of these below.
Strengths
NFTs are unique and irreplaceable with anything else.
They can be anything digital (e.g., drawings, in-game items, essays, music, tickets, web domains, etc.)
Their uniqueness attracts high-paying customers
Weaknesses
NFTs can be copied, screenshot, or downloaded multiple times by others without them having to buy them.
They require crypto mining to be created, which can harm the environment.
You can only use cryptocurrency to buy NFTs.
Opportunities
NFT owners reserve the copyrights and reproduction rights of the digital product.
NFT artists can embed a feature that allows them to retain a percentage fee every time the product is sold (exchange of ownership).
Owners retain usage rights like posting the NFT online or using it as a profile picture on social media.
NFTs allow artists to sell their work directly to customers without third-party galleries or curators.
Threats
Bit rot (e.g., image quality deterioration, computers cannot open old file formats, etc.)
NFTs can be hacked and stolen despite using blockchain technology.
They are illiquid (not quickly sold) and highly volatile (demand-driven).
They breed opportunities for fraud (many artists have discovered their work selling as NFTs without their knowledge or consent).
Now that you have an all-encompassing view of NFTs let's get to the good part.
How to Make Your NFT Stand Out: Marketing & Promotion Strategies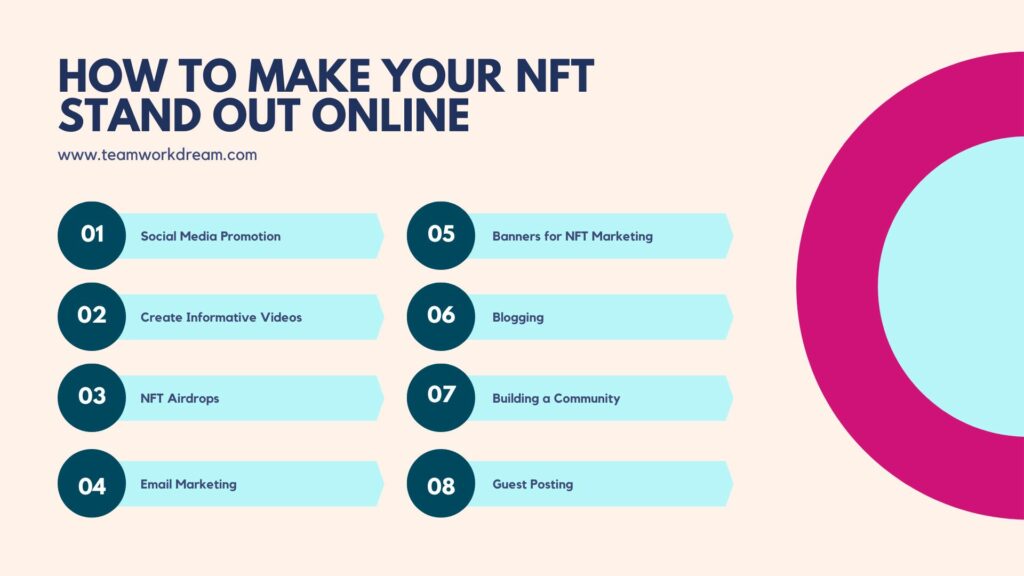 Like selling any other product, the key to making a successful NFT marketing strategy is having access to an audience.
Because a relatively small spectrum across the population are familiar with NFTs, you will need to promote your NFT art to a targeted audience.
Here are a few ways to reach this audience.
Social Media Promotion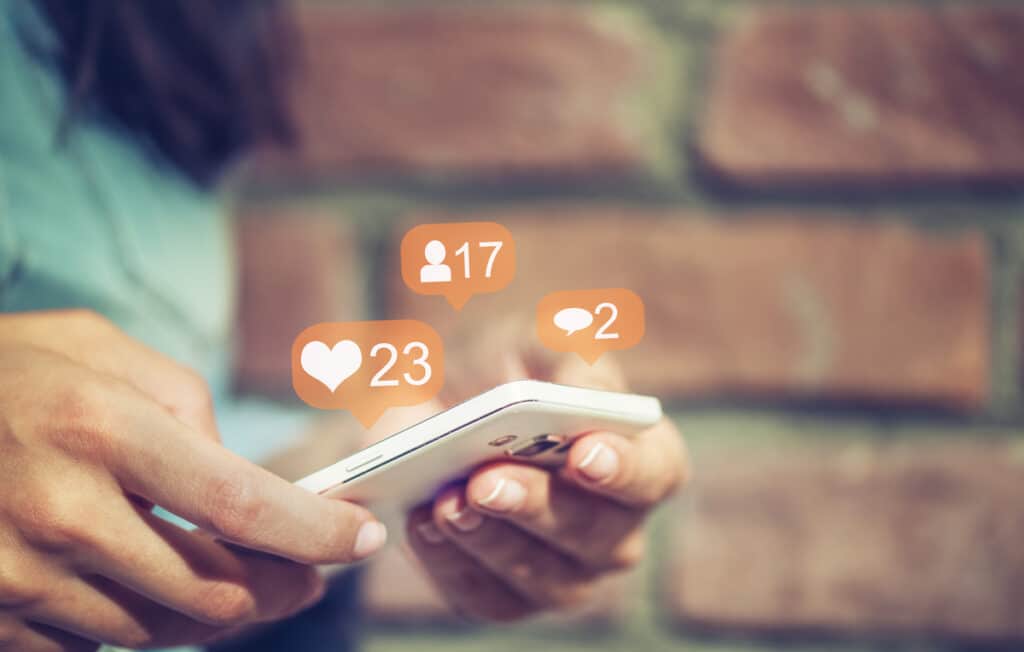 As of 2022, there are more than 4 billion people on social media. The likes of Facebook and Instagram lead the way with 1.9 billion and 500 million daily active users, respectively.
Facebook and Instagram are excellent platforms for promoting your NFT art. The mediums both support photo-based content and have hashtag functionalities that enable organic reach. Using Facebook and Instagram is the best way to get your NFT seen.
These sites are also famous for hosting promotional campaigns and competitions in the form of giveaways. By incentivizing your followers to repost or tag their friends and followers, you'll get access to a broader audience.
Create Informative Videos
Reading is not everyone's cup of tea. Some people receive information better when presented in video format.
Use online tools like YouTube (the world's second most popular search engine after Google) to shed light on NFTs, then leave a link to your NFT art in the description tab.
YouTube also has a comment section where viewers can interact with you, thus creating another direct communication line with your audience.
NFT Airdrops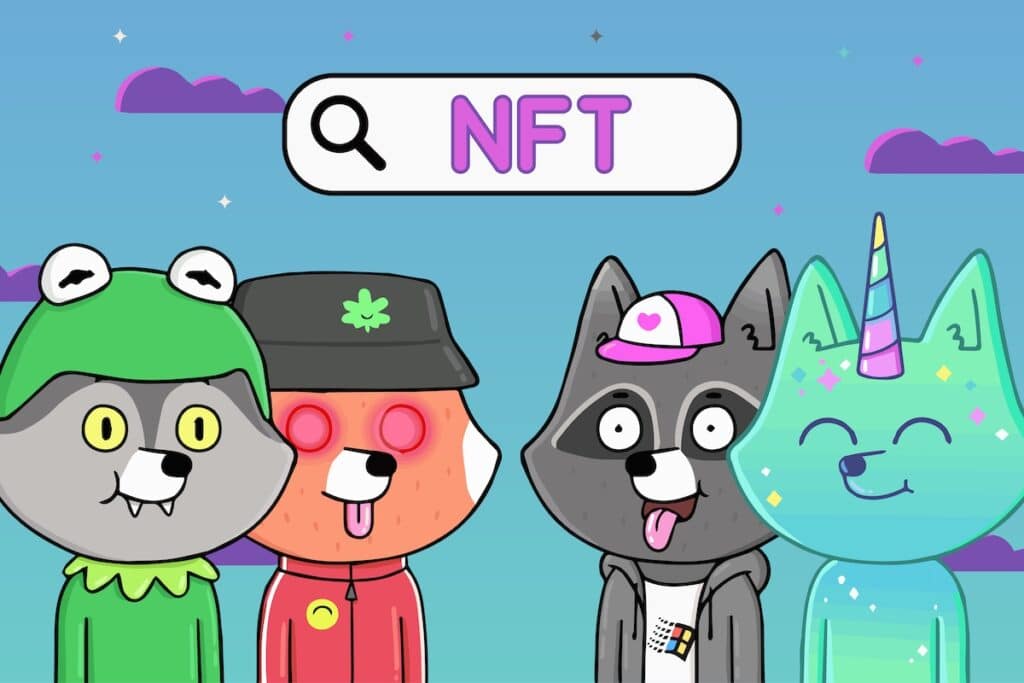 Launching an NFT airdrop is perhaps the best way to market your digital art.
An airdrop is a distribution of free NFTs to users within a blockchain project. This is a marketing tactic to boost popularity by increasing awareness of the NFT and thus adding value to the product.
There are various types of airdrops. Standard airdrops are the most basic. They require users to complete a task to qualify for the NFT. This can be posting on social media or completing tasks like signing up to a mailing list. These are also known as Bounty airdrops.
Exclusive airdrops are for VIP users; these are users who are loyal to the project. Lastly, there are Holder airdrops explicitly given to users who already hold the NFT in their crypto wallet.
Email Marketing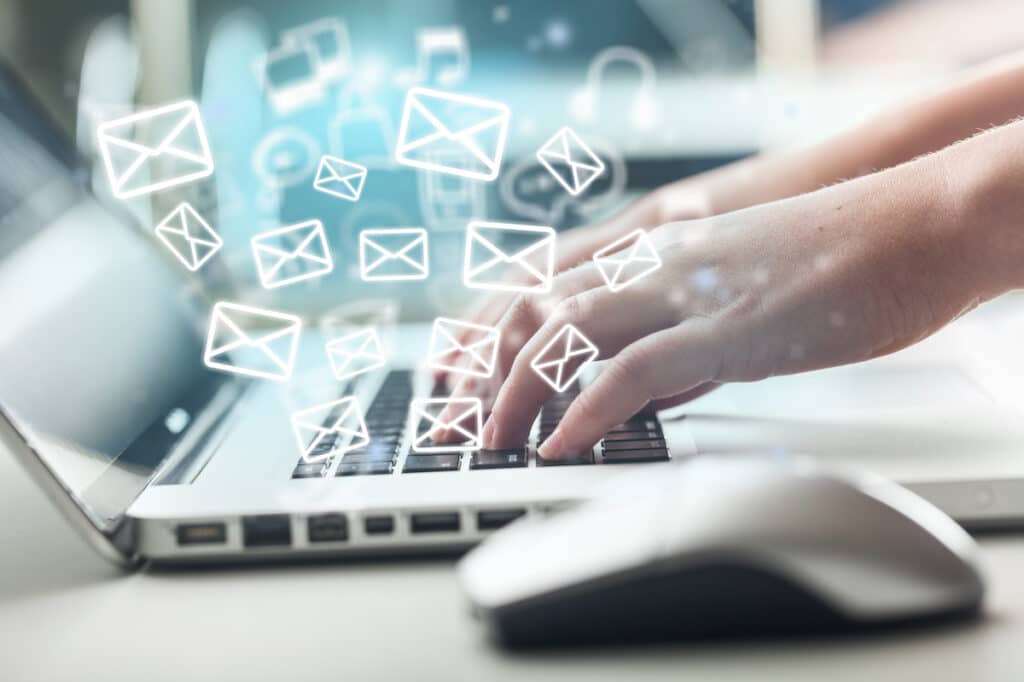 Many businesses use email marketing to communicate directly with their customers – why should you be any different.
By sending regular newsletters to your email list, you can update your audience on the latest blogs, products, discounts, and industry news.
What makes an email list so valuable is that it belongs to you.
You'll have uninterrupted access to it as long as you own it. Depending on third-party platforms like social media apps is risky and may leave you unable to communicate with your audience due to server downtimes or hacks.
Email marketing is one of the best digital marketing techniques to promote your NFT art. With a 4,400% ROI, you can make $44 for every $1 you spend. In contrast, paid advertising will only return $2 for every invested $1.
Again, the biggest hurdle here is building an email list – but if you're savvy, you can direct users from social media to an email signup landing page on a platform like Flodesk – you don't even have to maintain a website to do it.
Banners for NFT Marketing
NFT banners usually go hand-in-hand with the art itself. Users display these banners on their social media to promote NFTs and draw their followers' attention to them.
Banners are easy to make on popular NFT marketing platforms such as Opensea. They are very effective as they give users a preview of what the original NFT will look like. Using banners is the most used way to promote NFT art on Opensea.
Blogging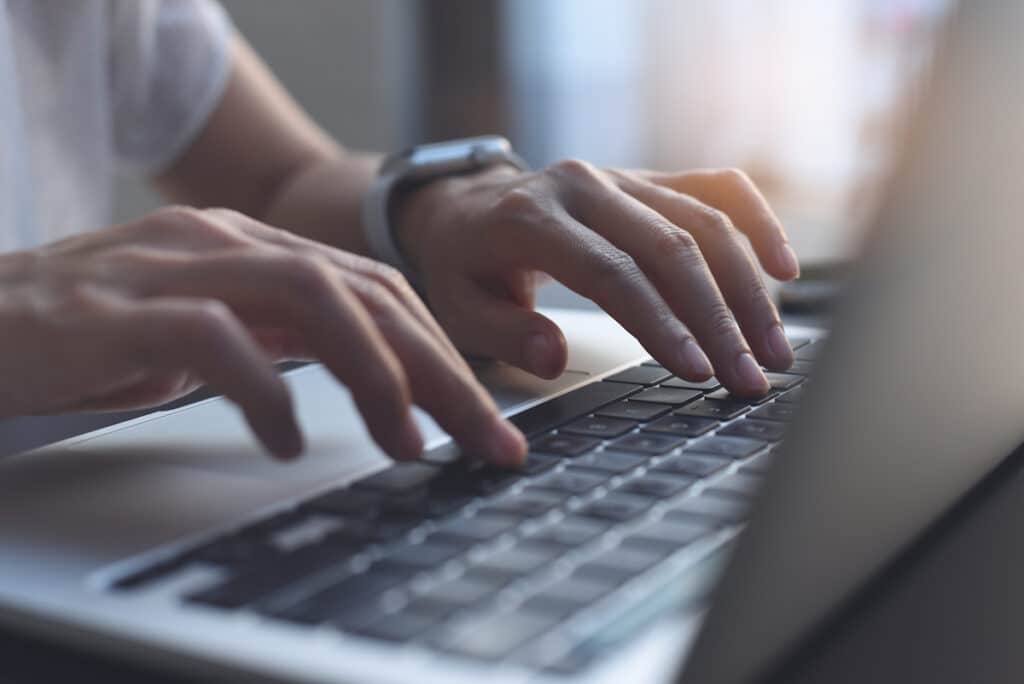 According to a poll by Miami Herald, only 1 in 4 Americans knows what an NFT is. This statistic tells us there is a massive gap in the market for NFT informational content.
This is where blogging comes in. People have been using blogs to drive traffic to their websites by curating informative and educational content and then promoting their NFTs on the same blogs, or even within the informational blog content they've written.
You can promote your NFT with minimal cost and potentially make thousands of dollars using the same technique.
The pro is that this has the potential to drive significant traffic to your NFT drop.
That's not to say this strategy doesn't have its downsides too – namely that it takes a lot of effort to start and maintain a successful blog. As a result, this is probably a better option if you already have a blog in a complementary niche that you can promote your NFT art on.
Build Your Community
Online communities have been steadily gaining popularity since their inception in the early 2000s. These forums are where members or followers of a particular society meet, share knowledge, and ask questions.
Since NFTs are still in their early phase, online communities are the perfect platform to promote and market an NFT. The people in these forums are already knowledgeable about the product and understand its value.
Some examples of popular online communities are Reddit, Quora, and most recently, Discord.
Guest Posting
Guest posting or blogging entails writing content for other blogs within your industry to drive traffic to your website (or a particular landing page such as your NFT listing or email signup landing page).
You usually get guest posts via collaborations with people you already know or via site owners approaching you, but you can also take the initiative and approach these sites first.
If you have a great article doing well on your site (high number of impressions or clicks), it will likely do well on similar websites.
Ensure that your guest post has many internal links that link back to your blog or chosen landing page, thus driving traffic in your direction.
Be Active in the NFT Community and Connect With Other Artists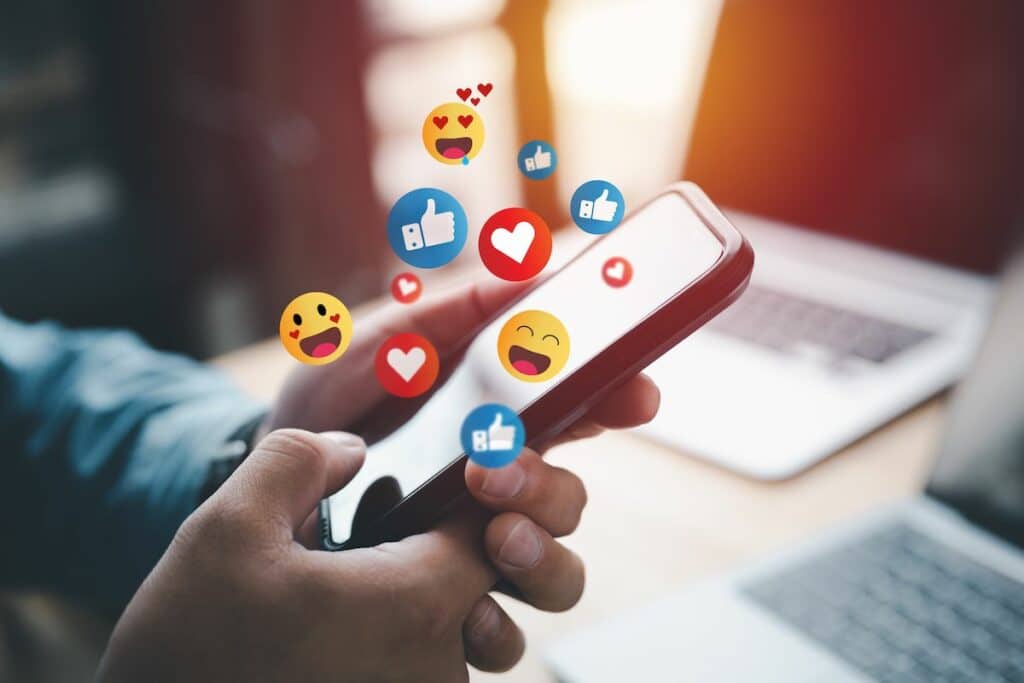 Although the NFT community may make up a small portion of the Internet, there is a lot of value in engaging with members of these communities.
For one, they are already familiar with NFTs and have a strong interest in them. Therefore convincing them to purchase your NFT art will be simpler than convincing others.
Another thing they have is a desire to own these digital products.
They know the value these products could potentially have, and they would like to grab them before the price goes up.
Being active in these communities gives you access to the thoughts and opinions of an interested audience and their likes and dislikes. You will also meet other NFT artists with whom you can share ideas, past experiences, and strategies.
Organize a Giveaway
Giveaways are excellent at drawing attention to digital products; who doesn't like free stuff, right?
That said, it is worth noting that giving away too much may lead others to believe that there is no actual value in your product.
Therefore, you should limit the number of NFT collections you give. Create a demand rather than an abundant supply.
Influencer Marketing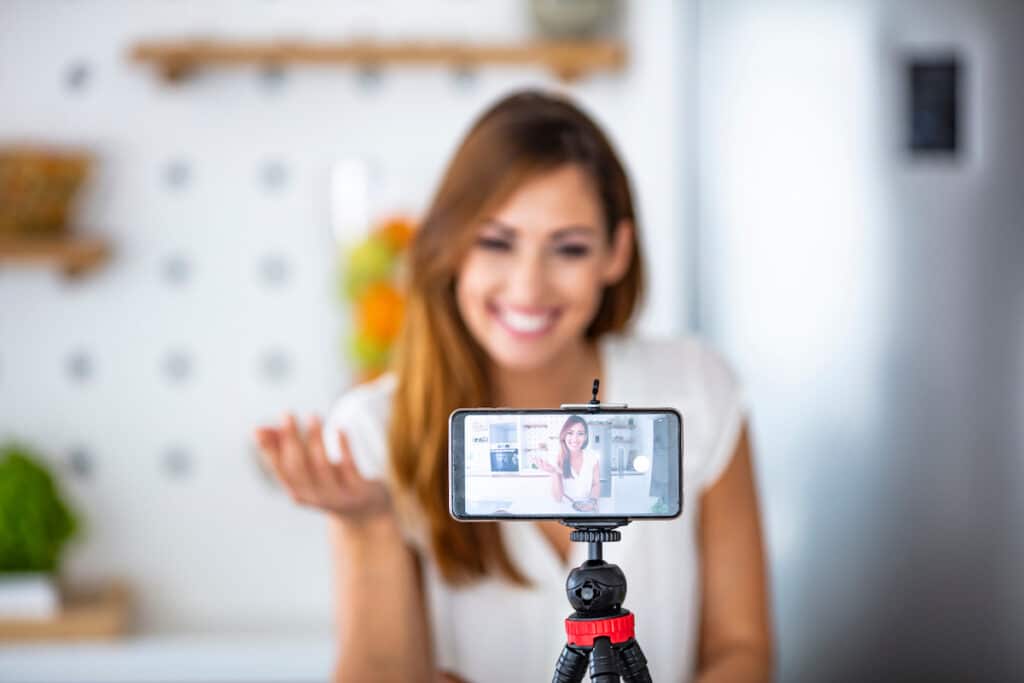 If you want to reach a wider audience and do not mind spending some money on it, you should try influencer marketing.
This is when you pay a popular social media user with lots of followers to post a story or host a giveaway or competition to promote your NFT art.
Influencer marketers make great NFT promoters. They are very effective at making the product more valuable. Using loyal followers who trust and usually engage in their posts is a brilliant way to get your NFT seen.
Join the Themed Groups on Discord and Telegram
Discord and Telegram are slightly different communication mediums; one is an audio-based channel and the other an instant messaging app.
Nevertheless, both platforms are home to digital enthusiasts who actively collect, buy, sell and trade NFTs.
Joining several NFT-themed groups on these platforms will give you a front-row seat to potential buyers, sellers, and even competition.
However, note that simply posting "check out my NFT art" on a group chat will not get people to buy your NFT.
You should always sell the value of your product rather than the actual product. Tell them why your NFT is unique and the different ways they can use it.
NFT Promotion & Marketing: Final Thoughts
With NFTs being so popular, you may think getting buyers is an easy task. Sadly, you would be mistaken.
NFTs may be logistically easier to sell than antiques, paintings, or sculptures. However, they are essentially the same thing; they are art, and therefore the story behind them is always more important than the aesthetic.
Take the Mona Lisa, for example; many may agree that the painting isn't aesthetically pleasing, mainly because it is unfinished.
Some may even argue that Leonardo da Vinci should have broadened her smile. But, alas, the painting is the most famous art piece in the world, valued at more than $850 million.
What makes the Mona Lisa so incredible and fit to be displayed at the most-visited museum on earth, The Louvre, is the story.
Art experts will tell you that the portrait paints a realistic picture of The Renaissance, from women's shaved eyebrows to her coy little smile.
Final takeaway? If you're marketing your NFT art, always remember that you're telling a story. Find a unique way to make your NFT stand out, and people will be more interested in buying.
How to Make Your NFT Stand Out: Read Next
Like this? Save and share on Pinterest!