You have been looking for a while and you're wondering where can you find an international online job? Don't worry there are lots of opportunities out there even though it may not seem like it.
You will have seen job ads requiring work from homers to be based in the US, UK and even Australia but not where you are located but rest assured there are international online jobs where you can work from home so don't think that you're at a disadvantage where you are.
This post may contain affiliate links. For more information read full disclosure.
Where in the World Are You and Can You Find an International Online Job Easily?
Never be put off by location as you might just be the right person for the job. You just have to know how to sell yourself. Have a read of How I Found Online Work to get an idea of how to sell yourself.
One thing that has been proven about people who do real work from home jobs is that they are more productive, more focused and usually have fewer distractions.
If you are located outside the regularly requested countries for international online work you might just have the advantage and the added bonus of having a second or even third language, These are one of the things that can make you standout from the rest.
Another important point is you can be more competitive when charging for your highly sought after skills. I don't mean charging rock-bottom prices for your highly-skilled work but having a great resume, an attractive portfolio along with a balanced price offering will put you in a great place with potential clients.
>>> You might want to read How to Get Clients When Working from Home
So, for instance, an e-commerce site may need a remote work from home person just like you to be a customer service agent who speaks Portuguese for their Brazilian marketplace or a French podcaster may need a transcript translation done, if you're in the French Caribbean, French Polynesia or a French-speaking African country you're in a great position.
In your quest in looking for online work there are many reasons why you may want to do work from home job. It could be to get a better work/life balance, not having to commute to work or you might just want to earn some extra money.
You might only be looking for work from home online jobs part-time rather than a full-time online position. But truth be told when starting out in the world of remote working it can be difficult to know where to look and you will end up asking yourself, where can I find an online international job?
I'm going to touch on just 4 of the most popular and easiest remote work from home platforms for a beginner that you can use as a stepping stone to greater and better paying online jobs.
Once you get to grips with these freelancing platforms listed below you will have to develop and sharpen your skills, develop methods on how to find regular online job opportunities (you can get additional work from home ideas on how to do this in my other posts here.) and possibly find a few long-term contracts.
A steady amount of worldwide online jobs will start to come your way as your online remote working experience grows.
To start out on these freelancing platforms and to be able to do international online jobs you will have to register on freelancing sites. The most popular freelancing sites are Upwork, Fiverr, Peopleperhour just to name a few.
These are online job sites where you place engaging profiles and adverts on what you can do, what services you offer for an introductory price and potential clients can then select you from the attractive and attention-grabbing advert you place.
These sites act as a global marketplace for freelancers to offer their work from home services at an agreed introductory price and as the freelancers experience and reviews increase so does the payment reward. Some of these freelancing platforms are easier to join than others and I will go into a bit more detail about each one.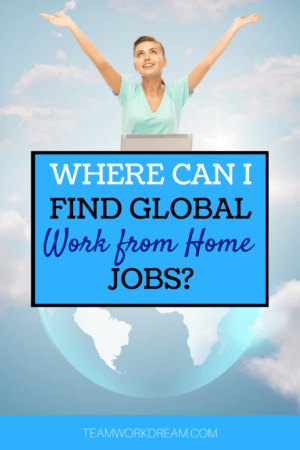 Find an International Online Job on Freelancing Platforms
Word of warning when starting out as a newbie, please do not be excessive when providing quotes to a potential client, get some work experience under your belt first.
As your experience grows and your online skill base advances then you can easily increase your prices to reflect this.
How you deal with your client and handle the tasks offered will be reflected in the reviews that each client gives with 5 stars being the highest review and can lead to repeat online business and even tips.
There are many other freelancing platforms that I will discuss in future blog posts and how you can start branching out on your own. But just take a look at the ones listed above first to get a feel of what is out there for you to find a global online job.
Some of the other freelancing platforms out there are job specific so if you enjoy writing there are many freelance platforms just for writers such as Problogger. For a general remote job board why not check out Remote.co.
If you can do computer programming have a read of Great Paying Tech Jobs You Can Do At Home there are sites just for coders, and so on. Do some research, you'll be surprised at what you will find.
If you have found any other online working platforms that I've not mentioned please feel free to share in the comments or pin this article as a bookmark for later.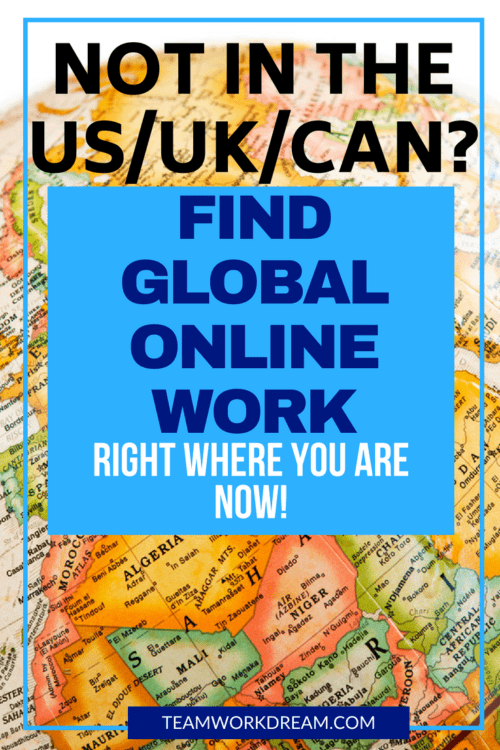 Related international online job posts: