Now that you're working from home and the kids' schools are up in the air it's a perfect time to find the top desk accessories for kids just in case they have to do virtual learning.
You've got your own little space in the corner of the bedroom or living room or your home office setup with your laptop and all your desk accessories but now that the kids are doing online learning they also need their own space to work from that provide concentration and lots of inspiration.
This post may contain affiliate links. For more information read full disclosure.
Creating an atmosphere of learning can be difficult if you don't have the space but using some imagination and some fun ideas can make working and learning at home super fun.
What To Do Before Setting Up Work at Home School Space
Before diving in and buying a ton of stuff for the kids to work on their schoolwork at home you will need to think about your home set up.
Do you have space, such as where to put a desk? Do you have storage space? What are the age of the kids? Are they old enough to not need constant supervision so able to work in their bedrooms?
For the younger ones while you work at home you might consider sharing your work from home space and create a little work pod for you and your homeschooler but where do you get the right accessories for them to want to do homework at home?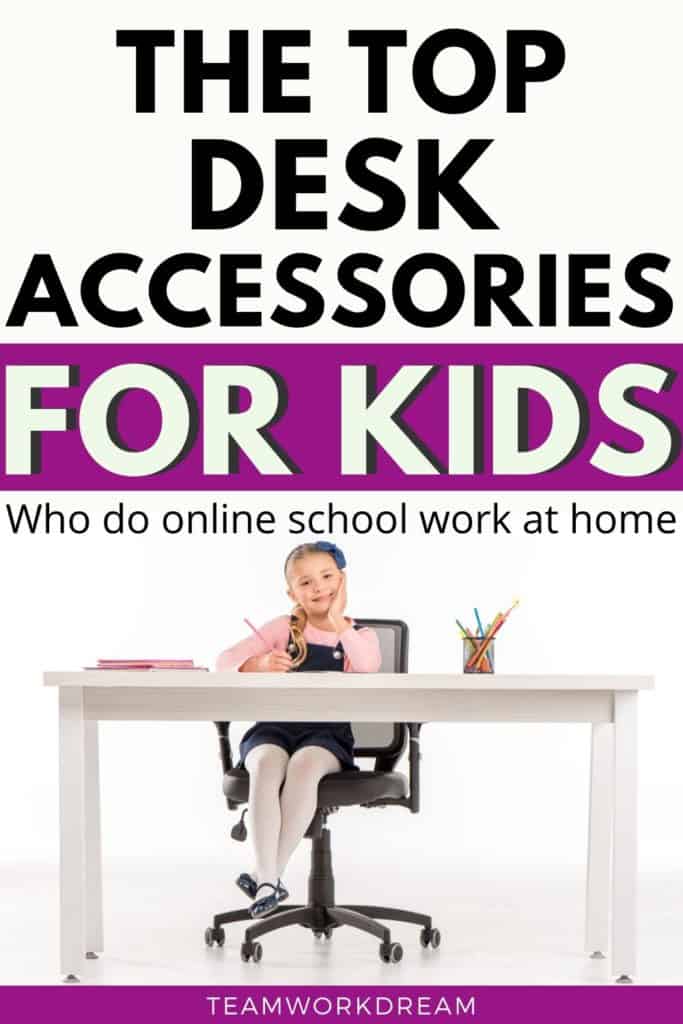 As we go through this list below let me share with you some of the best desk accessories for kids who will be working from home this year.
But before we start there are a few things that you have to consider that will make things as smooth and easy as possible to get them wanting to do school work at home.
One of the best things to do when choosing items for your kids workspace is to get them involved. Allow them to let their personality shine through.
They may have a favorite character, a certain brand, and even a certain color they would love to use to fit in their working space. Let them choose and experiment by finding the perfect accessories for their homeschool desks or work area.
Most of these items are easily accessible from places like Amazon and Dollar Tree and your local supermarket like Target so you don't have to pay the earth to get their working area looking great.
In the beginning, your main outlay will be for an item like a Chrome laptop which has all the features they will need and is at the lower end of the scale in regards to cost plus a headset and all other items they will need will range between just a $1 up to $20.
Right, now that we've discussed the main points, let's get some great ideas to dress up the kids' work at home areas.
Best Desk Accessories for Kids
The most expensive item that you will probably purchase as you won't be able to share your laptop while you work at home is a great little Chromebook. This smaller size laptop has all they need to do online learning and all the Google Apps to get their work done.
You can easily get reasonably priced Chromebooks that are fully functional and have touchscreen features.

Here is a super helpful video review of a range of the top 10 Chromebooks to choose from.
Your kids are definitely going to need a great pair of wireless headphones to listen to lessons without disturbing others, to communicate with both their teachers and fellow students and friends. Yes, they'll discover that they are not just for playing Minecraft and Fortnite.
Make sure to get them a pair that has volume control, noise cancellation capabilities, and a mute function. You can also get headphones in a whole range of wonderful colors and styles.
Check out this review video of the 7 best wireless headphones for kids.
These wireless headphones are the absolute cutest.
There are so many desk organizers to choose from for kids to keep their work area neat and tidy. Which one will they choose, a rotating caddy, one with drawers that will keep everything hidden away or one with a theme?
Although the kids will be working online, more than likely they will also be working from textbooks so one essential accessory that they should have on their desk is the textbook holder so they can keep the relevant pages open while working.
Depending on where you are in the world night can come early in the winter months so having a desk lamp for the kids to see and perform detailed work at home like my favorite fun desk lamp is important. You can get a range of interesting and practical lamps like this one.
How about a wireless mouse so they click to their hearts content. Your kids are bound to love this cute wireless hamster mouse.
Do you want to be the cool kid with the most unique pen on Google Hangouts, Meet, or Zoom? Then get this inexpensive pen set and look like a top work at home student.
A great addition to any kids working desk is the adorable looking desktop sharpener set. Comes in a range of colors and big kids like us will love it too.
Bonus Item
For the perfect item that includes all the essential features of your child working from home. A desk, a lamp, storage features for accessories and stationery then this is a wonderful item that will grow with your child as you both work from home is the answer.
A multifunctional desk that also acts as an easel, a craft desk and comes with a book holder and is available in three colors.
You can see more information about this excellent desk and chair combo by watching this short video overview and don't forget to read the reviews to make a final decision.
Final Thoughts on Top Desk Accessories for Kids
In case you need other accessories and stationery don't forget your local Dollar Tree store for money-saving items and the great part is you can order online and get them delivered. for both your work essential and your kids' school essentials.
So if you need to prepare for back to school for online learning while you work at home this is the perfect list of desk accessories to get your kids.
Related Posts on Desk Accessories
The Best Home Office Deak Accessories
25 Best His and Her Work at Home Gifts
Indoor Activities for Kids When Working from Home
13 Sane Ways to Work at Home with Kids