Interview with a Successful and Ever Growing Blogger
I'm so excited today as I will be interviewing one of my favorite people who I have watched grow and grow online. If you've ever wondered how do bloggers make money you are going to find out how through today's interview.
This post may contain affiliate links. For more information read full disclosure.
One of the many reasons I wanted to start this series is to show you that you can make money online no matter where you are located. The world of work from home opportunities are growing everyday so I hope that you get some inspiration from these real-life stories of people working online from all over the world.
>>>You can also read and watch the video of Interview 2. How a Voice Over Artist Works from Home.
There are so many ways to make money working from home and blogging is one of the most lucrative, with hard work, of course. So if you want to know if you can earn money online by blogging keep on reading and check out the blogging journey of my fellow blogger Virginia.
[su_note note_color="#b2faf4″ text_color="#666666″ width="600″]WANT TO START YOUR OWN BLOG?
As a SPECIAL OFFER from me, you can start a blog for as little as $2.95 per month with a Hostinger Premium Plan and you won't find a better deal anywhere else. Sign up and get a free domain name, unlimited websites, unlimited email accounts and unlimited bandwidth plus excellent 24/7 support. [/su_note]
1. Tell me a little about yourself and where you're located.
My name is Virginia Nakitari and I am the owner of Earn Smart Online Class blog. I've been blogging for the past 18 months and I'm located in Africa (Nairobi, Kenya).
2. What made you want to start working from home?
I started working from home for a number of reasons. I wanted to quit my full-time job, be my own boss and attain financial freedom. But most importantly, I wanted to earn a passive income. I didn't like the idea of exchanging my time for money.
>>>You might also be interested in reading Why Do You Want to Work from Home?
3. Why did you choose blogging instead of a more traditional remote job like being a Virtual Assistant or Transcriber?
I was a transcriber for a number of years. I had many clients and was earning good money doing it, but as I mentioned earlier, I wanted to earn passive income. Sitting for really long hours and going to bed very late in the night was the reason why I switched from transcription to blogging.
>>>Do you want to start earning a passive income? Find out how right here
4. Has your day to day working experience played a part in your work from home job or was this something completely new?
My day to day working experience has played a big role in my success. Having worked as a transcriptionist for a number of years, I understood the discipline that was required for me to succeed.
I planned everything well in advance. As an example, Monday was a day to write blog posts, Tuesday was creating images and pins for Pinterest, Wednesday was a day to do keyword research and SEO related stuff etc. So, everything was planned to ensure the smooth running of the business.
As you can see part of Virginia's success is making sure that she is being productive and highly organized. Planning and setting personal goals is a vital part of all successful businesses and if you want to take a leaf out of Virginia's book have a read of How to Stay Productive and Organized When Working from Home.
>>>Need help with planning your work day, week and year. Why not use the newly released and designed Erin Condren Kaleidoscope Planner to organize your Life.
5. How long have you been doing this and when (how far in) did you realize that, yes, I can really make money by blogging?
I've been doing this for the past 18 months now. I came to the realization that I could actually make money blogging in my 5th month of blogging.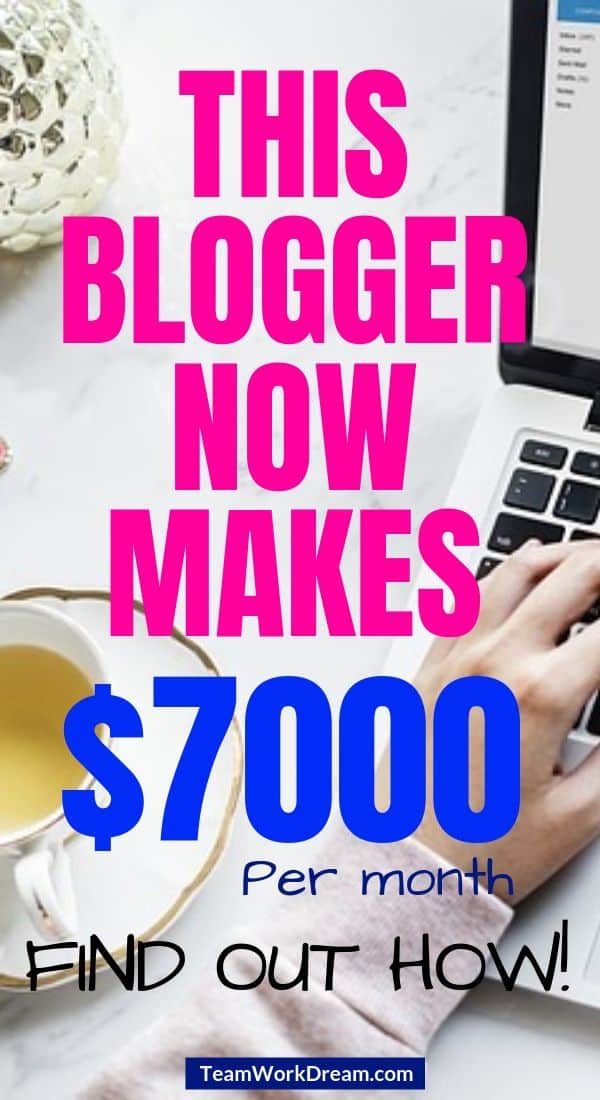 6. If you don't mind do you want to share with us roughly how much you make per month? Just a ballpark figure for those who think they can't make a great income outside of the standard country locations.
Sure. I earned $7,000 last month and I've seen an increase each month since January of this year.
7. Is there any special skill or equipment needed to start doing this job or can it be bootstrapped/ done with minimal investment?
In the beginning, most bloggers don't have money to spend and so they end up doing almost everything by themselves, at least, that's what I did. So, you'll need to master certain skills.
You need to type fast especially when writing blog posts. Learn some design skills for creating images and pins if you intend to use Pinterest to get free traffic. Have good communication skills to enable you to reach out to affiliate companies and when seeking sponsorships.
As for the equipment, you'll need a computer (desktop or laptop) with the latest software installed and a fast internet connection
8. Since starting your blog from home career have you faced any challenges that you wish to share and how you overcame them?
The one challenge I faced was when my Pinterest account got suspended. I attribute a lot of my success to Pinterest as I use it to get a lot of free traffic.
>>>Do you want to generate a lot of traffic to your blog? Use the Pinterest Launch Plan course to skyrocket your blogging business. This personally increased my Pinterest traffic by 211% in less than 30 days.
In my 6th month, my account got suspended and my traffic decreased by almost 60%. This led to decreased affiliate income and ad income. But, networking in Facebook groups helped me out a lot.
I reached out to fellow bloggers and explained my situation to them. They advised me on what to do. I did exactly what they recommended and I got my account back in a matter of days.
9. Is there any special training or online courses that you took or can recommend when wanting to start to blog?
I took a number of courses but the ones I highly recommend are: Making Sense of Affiliate Marketing, Stupid Simple SEO, The Pinterest Launch Plan and Pinning for Pageviews ebook.
10. What would your advice be for someone who wanted to become a successful blogger?
Choose a niche that you are passionate about but make sure that it's profitable. Keep learning and implementing what works then ditch what doesn't. Don't be afraid to invest in your business. Continuous growth requires continuous learning.
11. Now that you've become an expert in your field how has your business grown compared to when you just started?
My business has seen tremendous growth compared to when I started. I'm currently receiving 200K+ page views per month, but I started with 10K+ per month in the first 3 months of creating my blog. I earned $100 in my first month but have grown that income to $7,000 per month.
>>>A great way to get lots of page views to your blog is by learning how to do SEO.
When blogging you must use more than one online method to make an income. This can be done by placing ads on your site, using affiliate marketing, you can learn about this here and also writing sponsored posts.
Virginia is able to make more than a full-time income doing this with a combination of these methods and a great Pinterest Strategy.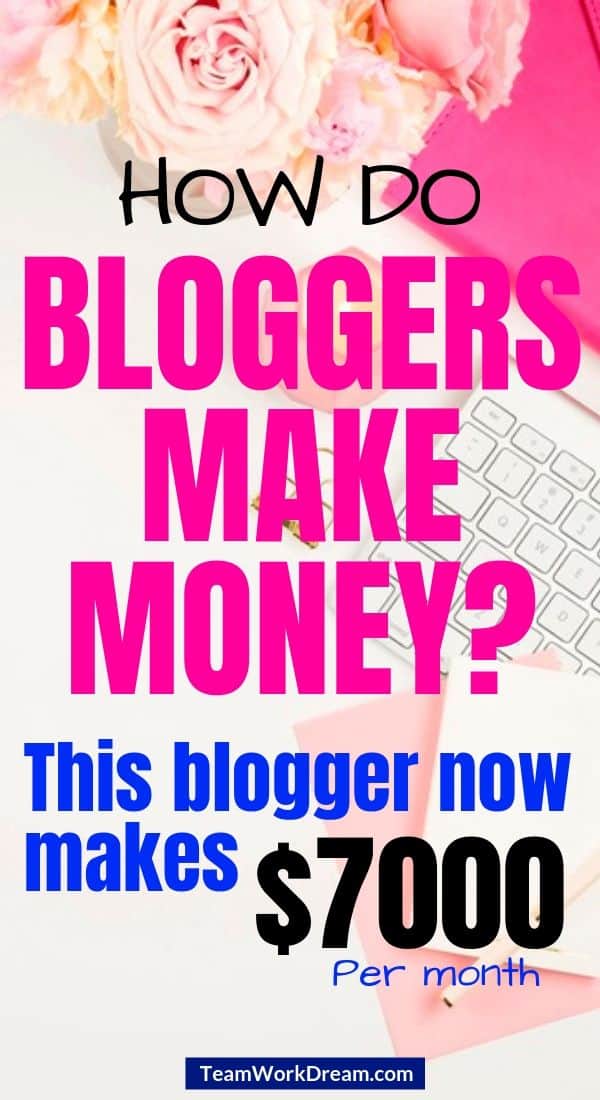 12. Can you share your website/contact information of how we can get in touch with you?
My blog is Earn Smart Online Class the place to go to learn how to earn and save money online.
So there you have it guys. You wanted to know how do bloggers make money and we found the perfect person to explain what she does to make money online.
If you want to learn how to become a successful blogger just follow the steps of our interviewee. Make sure to use your time wisely, be organized and get additional help by taking the right courses and networking with other bloggers.
One final thought. If you found this post interesting and you want to learn about other work from home opportunities why don't you check out my Facebook page? Don't forget to pin the images and share with your friends.
Related post on blogging: