Having a reliable internet service is key when entering the world of remote work and I really had some difficulty. I had to think outside the box and you're going to learn how to get the internet to work without an Internet Service.
Being located outside countries like the US/UK can sometimes be considered to be a disadvantage such as the Caribbean, for instance.
This post may contain affiliate links. For more information read full disclosure.
There may be some limitations due to the small number of internet provider options available but having a good speedy service, a backup mobile, wifi modem along with a data plan on your cell phone is the best way in always making sure you have service.
You're going to need a reliable cell phone service in case of power outages or one of the internet services going down.
Where I am located cannot be compared to the 99.73% population that has broadband internet coverage found in the USA even though there are some remote regions in the US that also has low coverage. But I didn't use that to deter me.
The more rural areas in my location or as I like to call it "the forgotten Parish" may have a few issues but as the service providers increase their coverage this will continue to improve.
When I started in the remote working world where I live not all areas had access to the internet. Unless you were in the Corporate area, main tourist areas or densely populated towns it took a while for it to get rolled out across the different communities.
As mentioned in my first blog How To Find Remote Work Anywhere I was offered a great remote working opportunity for which I needed a phone line based internet service. I found this out via a Skype interview held via my tablet where I was half dressed, professional office appearance at the top for a good first impression and shorts for the other half that could not be seen. 😀
All I had at the time was a monthly pay-as-you-go wifi service which if it rained or was overcast the internet system would suffer from cloudy day syndrome and just not connect.
So I ordered a broadband service from one of the local providers, this was September I wouldn't be starting the job until January, I was over the moon. I was told installation would take place in 2 to 3 weeks time. How wrong that was!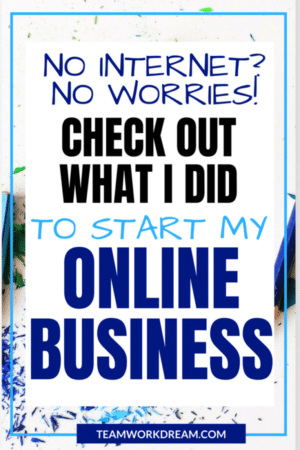 How to Get Internet to Work and the Waiting Game
October and November passed and still no internet. I was up and down between the local office and the Head Office of the internet provider and constantly calling their customer service line stressing the urgency.
It was now December, I was starting to panic, I contacted other providers but they were not in my area I was thinking I am going to fail this before I even start. Then I had a lightbulb moment.
How to Get Free Internet at Home Without Paying
It was now January and my future employers IT department set a date for my laptop to be VPN linked and set up with all the relevant software.
Like I said earlier, I had to think outside the box and my 💡lightbulb moment came with the thought that my neighbour already had an internet service that she barely used during the day, the only problem was she was having some work done on her house so I wouldn't be able to work from there.


I asked if I could connect to her service and that I would pay for the use (my future employer would be reimbursing me for internet service so really I was getting free internet). I then purchased a 200ft internet cable and connected it to her modem in her living room and stretched it over her fence, across the garden path into my house and connected to the internet this way.
I had to do this for the next 3 weeks connecting the cable in the morning and disconnecting in the evening to get the job done until finally, after my last rant to the internet provider they came and set up my broadband at my home. A great relief!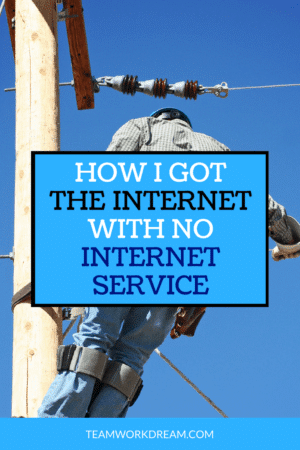 So you see, when you face certain challenges there is always a way around, over, under or through it.
I faced my challenge of how to get the internet without an internet service by asking my neighbour for help. You might face another obstacle but if you really want to work from home or work remotely from anywhere you will have to think outside the box to reach your goal.
Have a read of Why Do You Want To Work From Home to see if you know what your 'why' is.
How about teaming up with your friend or neighbour and you could both learn how to become remote workers and earn online. Or if you're lucky enough you might just have a co-working space in your neighbourhood.
Let me know if you have faced any challenges trying to go the remote working route. You can always send me a quick email, sign up for the newsletter or leave a comment below. Don't forget to share this blog post with others who may be interested.
Related working online posts: